Pope John Paul II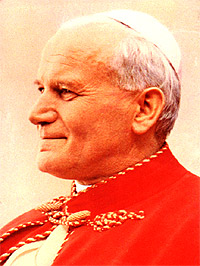 AKA Karol Józef Wojtyla
Born: 18-May-1920
Birthplace: Wadowice, Poland
Died: 2-Apr-2005
Location of death: Vatican City
Cause of death: Heart Failure
Remains: Interred, St. Peter's Basilica, Vatican City

Gender: Male
Religion: Roman Catholic
Race or Ethnicity: White
Sexual orientation: Straight [1]
Occupation: Religion, Head of State
Nationality: Poland
Executive summary: Roman Catholic Pontiff, 1978-2005
As a boy, Wojtyla (voyteewah) wanted to be an actor. He enrolled at Cracow's Jagiellonian University in 1938, and studied drama there until the Nazis occupied Poland and closed classes in 1939. He later joined Rhapsodic Theatre, an underground theatre group secretly performing nationalistic works, and studied in a clandestine seminary.
Several books have been written (and largely debunked) claiming Wojtyla was vitally involved in the Polish resistance to the communists. The evidence suggests he was not, but the future Pope did allow and encourage wide-ranging, open conversation wherever he went, a radical stance in Communist Poland. He rhetorically battled for years to get the government's permission to build a church in the town of Nowa Huta, a so-called "worker's paradise" that had been planned and built as a church-free community.
Wojtyla moved up the church hierarchy, and was elected Pope after the single-month tenure of Pope John Paul I, becoming the first non-Italian Pope since 1523. This pope utilized the modern media and bully pulpit of his office like no other in history. A 1979 visit to Poland inspired millions there, and was widely viewed as a crucial moment in Poland's Solidarity trade union movement -- leading to Lech Walesa's imprisonment and eventual presidency. Though he played an important part in events behind the Iron Curtain, crediting John Paul II with the collapse of the Soviet Union is an understandable exaggeration.
John Paul II took prominent stands against abortion, birth control, the use of condoms to prevent AIDS, homosexuality, divorce, pornography, the ordination of women, and America's sanctions and eventual attack on Iraq. Major problems facing the Church at the time of his death include a decline in the priesthood and church attendance in Western countries, inroads made by Evangelicals and Pentacostals in Latin America and Africa, and the debate over decentralization of power to local parishes. Problematic as his views were to many Catholics, the man was extremely well-loved and an unprecedented outpouring of grief occurred during his mourning period.
---
[1] Dated Halina Krolikiewicz in high school.

Father: Karol Wojtyla (Polish Army officer, d. 1941)
Mother: Emilia Kaczorowska (d. 1929)


Theological: Jagiellonian University, Krakow, Poland
Theological: Catholic University, Lublin, Poland


Roman Catholic Pope (1978-2005)
John Carroll Society Honorary Member
Phi Kappa Theta Fraternity
Assassination Attempt 13-May-1981 by Mehmet Ali Agca
Shot (13-May-1981)
Exorcism (conducted) 1982
Exorcism (conducted) Sep-2000
Exorcism (conducted) Sep-2001
Cholecystectomy Jul-1992
Appendectomy 8-Oct-1996
Hip Replacement Surgery
Tracheotomy 24-Feb-2005
Congressional Gold Medal
Kentucky Colonel 1985
Presidential Medal of Freedom 4-Jun-2004
Time Person of the Year 1994
Order of the White Eagle
Exhumed 2011
Honorary Harlem Globetrotter 2000
Proxy Baptism: Mormon Ogden, UT (11-Apr-2006)
Proxy Baptism: Mormon Madrid, Spain (19-Apr-2006)
Proxy Baptism: Mormon South Jordan, UT (20-Apr-2006)
Proxy Baptism: Mormon Salt Lake City, UT (26-Apr-2006)
Proxy Baptism: Mormon Idaho Falls, UT (25-Nov-2009)
Proxy Baptism: Mormon Logan, UT (23-Apr-2011)
Beatified 1-May-2011
(event:canonized) 27-Apr-2014
Secret Service Codename Halo
Risk Factors: Parkinson's, Arthritis, Colon Cancer, Appendicitis


Rotten Library Page:
John Paul II




Requires Flash 7+ and Javascript.



Do you know something we don't?
Submit a correction or make a comment about this profile






Copyright ©2019 Soylent Communications