Jerry Boykin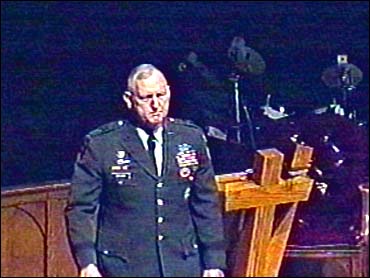 AKA William G. Boykin
Born: c. 1949
Birthplace: New Bern, NC

Gender: Male
Religion: Born-Again Christian
Race or Ethnicity: White
Sexual orientation: Straight
Occupation: Military
Nationality: United States
Executive summary: Pentagon's resident Jesus freak (ret'd)
Military service: US Army (1971-2007, Lt. Gen.)
In late 2003, Maj. General William G. Boykin (serving as Deputy Undersecretary for Intelligence under Stephen Cambone) took a lot of heat when the press suddenly noticed a bunch of his wacky statements. Before being placed in charge of the hunt for Osama bin Laden, the former Delta Force commander had made several in-uniform appearances at church congregations to explain why Jesus is on America's side.
Speaking of Somali militia leader Osman All Otto, captured in 1993: "I knew that my God was bigger than his. I knew that my God was a real God, and his was an idol." After this comment started drawing flak, Boykin backpedaled: "Comments to Osman Otto in Mogadishu were not referencing his worship of Allah but his worship of money and power; idolatry."

Regarding the convoluted 2000 election of President George W. Bush: "Why is this man in the White House? The majority of Americans did not vote for him. He's in the White House because God put him there for a time such as this." On another occasion, Boykin put it this way: "George Bush was not elected by a majority of the voters in the United States. He was appointed by God."

In a slideshow program he presented at various church groups, Boykin showed a photo he had taken from a helicopter over Mogadishu in 1993 depicting black patches in the sky. "Whether you understand it or not, it is a demonic spirit over the city of Mogadishu. Ladies and gentlemen, that's not a fake, that's not a farce."

Another comment from the slideshow: "Well, is he (Osama bin Laden) the enemy? Next slide. Or is this man (Saddam Hussein) the enemy? The enemy is none of these people I have showed you here. The enemy is a spiritual enemy. He's called the principality of darkness. The enemy is a guy called Satan."
Regarding this last point, magician and celebrity atheist Penn Jillette responded thusly:
A guy? A guy? A guy named "Satan." We can't even find a guy named Bin Laden, and now we're looking for an evil tooth fairy? Satan's not a guy, it's just someone else's imaginary friend. How did we end up fighting a war against a sock monkey?
According to Boykin, his religious conversion broke up his marriage: "My wife of 25 years [...] walked in and said, 'I don't love you anymore, you're a religious fanatic, and I'm leaving you.'"

Boykin is now retired from the US military, and employed at the Family Research Council.

Wife: (div.)


University: BS Education, Virginia Polytechnic Institute (1971)
University: Shippensburg University


US Defense Department Deputy Undersecretary of Defense for Intelligence (2003-04)
US Defense Department Commanding General, Army JFK Special Warfare Center (2000-03)
US Defense Department Commanding General, Army Special Forces Command (1998-2000)
Family Research Council Executive Vice President (2012-present)
Air Medal
Bronze Star
Combat Infantryman Badge
Legion of Merit
Purple Heart





Requires Flash 7+ and Javascript.



Do you know something we don't?
Submit a correction or make a comment about this profile






Copyright ©2019 Soylent Communications