Calvert DeForest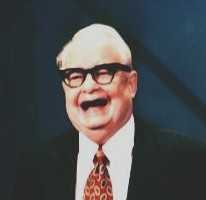 Born: 23-Jul-1921
Birthplace: Conestoga, NY
Died: 19-Mar-2007
Location of death: Long Island, NY
Cause of death: Illness

Gender: Male
Race or Ethnicity: White
Occupation: Actor
Nationality: United States
Executive summary: Larry "Bud" Melman on Letterman
Calvert DeForest always wanted to be an actor, but his mother, who had briefly been an actress, discouraged such pursuits, so he spent many years working at Parke-Davis Pharmaceuticals instead. He was 40 when his mother died, and after that he volunteered to do backstage work for very small-scale local stage productions, and eventually became a performer. Prior to working with David Letterman, DeForest had a small role in an off-off-Broadway production of Albert Camus's Caligula, and appeared in Apple Pie, a bizarre 1976 low-budget gangster comedy.
He also worked for a few days on a short film called King of the Z's, a student project at New York University's film school. Several years later, the filmmakers were on Letterman's staff, preparing for the 1982 debut of his Late Night program at NBC, when they screened the video for laughs in the show's office. Letterman asked staffers to find DeForest, who was then employed as a file clerk at a drug rehabilitation center. DeForest said he thought it was a joke when Letterman's producers called, but when a limousine arrived to bring him to a meeting with Letterman, he went on the ride of his life.
His stage name, Larry "Bud" Melman, was devised by Late Night writer and Letterman's lover Merrill Markoe. DeForest's face was the first thing viewers saw, before the opening credits on the debut episode of Late Night, performing a parody of the prologue that introduced the classic Boris Karloff film Frankenstein:
"Good evening. Certain NBC executives feel it would be unkind to present this show without a word of friendly warning. We are about to unfold a show featuring David Letterman, a man of science who sought to create a show after his own image without reckoning upon God. It is one of the strangest tales ever told. I think it will thrill you. It may shock you. It might even horrify you. So if any of you feel that you don't care to subject your nerves to such a strain, now is your chance to ... well, we warned you."
DeForest-as-Melman became a staple of Late Night at NBC, but when Letterman jumped networks in 1993, attorneys for NBC argued that his stage name was the "intellectual property of NBC". So DeForest was billed under his real name on CBS's The Late Show, where he was again the first face seen on the show's debut, appearing in the center of the CBS "eye" logo and announcing enthusiastically, "This is CBS!"

Under either name, there was really nothing funny about the man, which made him hilarious. For over twenty years he cheerfully offered himself as a visual punchline, wearing a suit and thick glasses, stumbling over cue cards, impersonating celebrities from Neil Diamond to Bob Dole to Barbra Streisand, offering ill-informed advice on "Ask Mr Melman" segments, being thrown through a mock-up of the Berlin Wall, and handing out towels at New York City's main bus terminal, among many other indignities. In one famous stunt, he was sent on a "goodwill tour" to Mexico and Guatemala, which ended early when DeForest -- who was not kidding -- pleaded on the program to be allowed to come home.

In all his years working with Letterman, DeForest once said he never had an off-screen conversation with the host that lasted more than a few minutes. He later said that might have been an exaggeration, but that Letterman was "a very private person". Like Letterman, DeForest revealed little of himself off-camera. Except for scripted jokes, he never spoke publicly about his private life, so virtually nothing is known about DeForest's romantic or personal side.

DeForest parlayed his Letterman fame into numerous film roles, made guest appearances on Saturday Night Live, Pee-wee's Playhouse, and Wings, and starred in his own Couch Potato Workout in 1988. He made TV commercials for AT&T, Cheerios, Doritos, Honda, MCI, Pizza Hut, and Tropicana Twister. He emceed Woodstock '94, wrote (or was at least credited as author of) Calvert DeForest's Cheap Advice, a paperback book of bathroom humor, and released Calvert DeForest's Erotic Experience, a CD of 1960s-style cocktail lounge music featuring Count Basie, Quincy Jones, and Henry Mancini.

In 1997, DeForest launched an amusing website at calvertdeforest.com, where he called visitors suckers and dispensed earnest but awful advice à la "Ask Mr Melman." DeForest made his last appearance on Letterman's Late Show in 2003, his website went off-line in 2005, and he passed away in March 2007.

DeForest's great-uncle, Lee De Forest, was a prolific inventor who patented the first vacuum triode for amplifying radio signals, which allowed the manufacture of tube radios, spawned the broadcasting industry, and made early telephones and radar possible.

Father: Calvert Martin DeForest (physician, d. 1949)
Mother: Mabelle Taylor (d. 1961)


High School: Poly Preparatory Country Day School, Brooklyn, NY


Parke-Davis
Endorsement of AT&T
Endorsement of Domino's Pizza
Endorsement of Frito-Lay Doritos
Endorsement of General Mills Cheerios
Endorsement of Honda
Endorsement of MCI
Endorsement of Pepsi Tropicana Twister
Endorsement of Pizza Hut
Risk Factors: Obesity


TELEVISION
Late Show with David Letterman Calvert DeForest (1993-2003)
Late Night with David Letterman Larry "Bud" Melman (1982-93)


FILMOGRAPHY AS ACTOR
Mr. Write (6-May-1994)
Freaked (11-Sep-1993) · Larry "Bud" Melman
Identity Crisis (15-Sep-1989) · Disbelieving Doctor #2
My Demon Lover (24-Apr-1987)
Heaven Help Us (8-Feb-1985) · Bridge Operator
Nothing Lasts Forever (Sep-1984)
The First Time (24-Jul-1983)
Waitress! (Sep-1982) · Veggies Diner


Official Website:
http://www.calvertdeforest.com/




Requires Flash 7+ and Javascript.



Do you know something we don't?
Submit a correction or make a comment about this profile






Copyright ©2019 Soylent Communications