Edward L. Schrock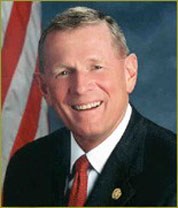 AKA Edward Lee Schrock
Born: 6-Apr-1941
Birthplace: Middletown, OH

Gender: Male
Religion: Baptist
Race or Ethnicity: White
Sexual orientation: Matter of Dispute
Occupation: Politician
Party Affiliation: Republican
Nationality: United States
Executive summary: Congressman from Virginia, 2001-05
Military service: US Navy (1964-88)
In November 2000, Republican state senator Ed Schrock won a Congressional race in one of the most conservative districts in the country -- the Virginia 2nd, home to the headquarters of televangelist Pat Robertson.
At the Holiday Inn Executive Center, Schrock supporters chanted "We want Ed! We want Ed!"

"Well, we did it!" he shouted back. "If you think prayer doesn't work, just look at tonight. Believe me! [...] Now we're off to Washington to do what we promised."

After Schrock's speech, Christian broadcaster Pat Robertson said, "Ed is an outstanding human being. He's going to make a great congressman."
But on August 19, 2004, blogACTIVE attempted to out Schrock as a consumer of gay phone sex.
ACTION: Write Congressman Ed Schrock and ask how he can cruise for gay men and then co-sponsor the Federal Marriage Amendment

When the story of Congressman Ed Schrock (R-VA-2) first came to me, I was quite skeptical. After all, Congressman Schrock's district includes parts of Hampton and Norfolk and all of Virginia Beach, home to no less than NINE military facilities and Pat Robertson's Regent University! Nevertheless, the activities of Congressman Schrock have been documented and verified as thoroughly as any I have seen come before me and what I have learned is, well, ScHrOCKING!

Congressman Ed Schrock has made a habit of rendezvousing with gay men via the MegaMates/MegaPhone Line, an interactive telephone service on which men place ads and respond to those ads to meet each other. What makes this story more amazing? Congressman Schrock not only voted for the homophobic Marriage Protection Act, but he also signed on as a CO-SPONSOR of the Federal Marriage Amendment!

Ed Schrock has a voting record that the most far right conservative would be proud of. The Christian Coalition gave him a 92% rating in their 2003 voting guide.
Eleven days later, Schrock unexpectedly announced that he would not be seeking re-election this year. It was only three days before the filing deadline, throwing the state Republican leadership into disarray.

Father: Ray (d. 1960)
Mother: (d. 1960)
Brother: (b. 1943)
Sister: (b. 1947)
Wife: Judith Adnee Crawford
Son: Randy


University: BA Architecture, Alderson Broaddus College, Philippi, WV (1964)
University: MA Public Relations, American University (1975)


US Congressman, Virginia 2nd (3-Jan-2001 to 3-Jan-2005)
Virginia State Senate (1995-2001)
Friends of George Allen
National Student Leadership Conference Honorary Board of Advisors
Thousands of South Dakotans for Bill Janklow for Congress
Risk Factors: Cancer


Official Website:
http://schrock.house.gov/




Requires Flash 7+ and Javascript.



Do you know something we don't?
Submit a correction or make a comment about this profile






Copyright ©2019 Soylent Communications