Duke Cunningham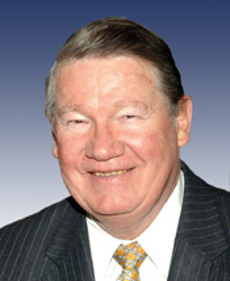 AKA Randall Harold Cunningham
Born: 8-Dec-1941
Birthplace: Los Angeles, CA

Gender: Male
Religion: Christian
Race or Ethnicity: White
Sexual orientation: Straight
Occupation: Politician
Party Affiliation: Republican
Nationality: United States
Executive summary: Congressman from California, 1991-2005
Military service: US Navy (1966-87)
A profitable real estate deal in which Rep. Randy "Duke" Cunningham sold his home to a defense contractor whose firm he has supported in its bid to get federal contracts has led Democrats to demand an investigation into whether the deal constituted a bribe.

Cunningham and his wife, Nancy, sold their four-bedroom, 3,826-square-foot home to Mitchell Wade, president and chief executive of Washington-based MZM Inc., in November 2003 for $1,675,000... Within a month of his purchase, Wade put the Del Mar Heights home on the market and, seven months later, sold it for $975,000 -- a $700,000 loss.

[...]

When the sale was consummated in late 2003, the buyer was listed not by name but by the address of MZM's Washington headquarters.
Cunningham issued an odd denial in June 2005:
"My whole life I've lived aboveboard... I've never even smoked a marijuana cigarette. I don't cheat. If a contractor buys me lunch and we meet a second time, I buy the lunch. My whole life has been aboveboard and so this doesn't worry me... The last thing I would do is get involved in something that, you know, is wrong. And I feel very confident that I haven't done anything wrong."
Nevertheless on November 28th the Congressman ultimately pled guilty to tax evasion and conspiracy to accept $2.4 million in bribes from defense contractor Brent Wilkes.
"I publicly declared my innocence because I was not strong enough to face the truth. So, I misled my family, staff, friends, colleagues, the public -- even myself. For all of this, I am deeply sorry. The truth is: I broke the law, concealed my conduct, and disgraced my high office."
Cunningham retired from Congress rather than wait to be expelled, and was later sentenced to eight years in prison. Also implicated in the scandal was CIA executive director Dusty Foggo, who happened to be a childhood friend of Wilkes.

After serving his time, Cunningham was released from prison and he is now an activist against harsh mandatory sentence minimums for drug crimes.

Wife: Nancy Jones (one son, two daughters)
Son: Randall Todd
Daughter: April
Daughter: Carrie


High School: Shelbina High School, Shelbina, MO (1960)
University: BS Education, University of Missouri (1964)
University: MS Education, University of Missouri (1965)
Teacher: Swim Coach, Hindsdale High School, Hindsdale, IL (1965-68)
University: MBA, National University, San Diego, CA (1987)


US Congressman, California 50th (2003-05, resigned)
US Congressman, California 51st (1993-2003)
US Congressman, California 44th (1991-93)
American Legion J.B. Clark Post 149, Escondido, CA
Citizens for a Sound Economy
Friends of Duke Cunningham
National Student Leadership Conference Honorary Board of Advisors
National Taxpayers Union
Air Medal 15 times
Navy Cross
Purple Heart
Silver Star twice
Prostate Surgery Aug-1998
Conspiracy pled guilty 28-Nov-2005
Tax Evasion pled guilty 28-Nov-2005
House Banking Scandal 1 overdrawn check
Risk Factors: Prostate Cancer, Arthritis





Requires Flash 7+ and Javascript.



Do you know something we don't?
Submit a correction or make a comment about this profile






Copyright ©2019 Soylent Communications