Robert L. Ripley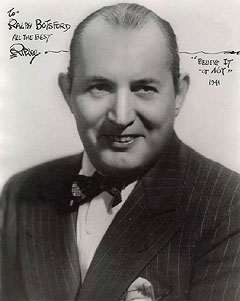 AKA LeRoy Ripley
Born: 25-Dec-1890
Birthplace: Santa Rosa, CA
Died: 27-May-1949
Location of death: New York City
Cause of death: Heart Failure
Remains: Buried, Oddfellows Lawn Cemetery, Santa Rosa, CA

Gender: Male
Religion: Christian
Race or Ethnicity: White
Sexual orientation: Straight
Occupation: Curator, Cartoonist
Nationality: United States
Executive summary: Believe It or Not!
Born LeRoy Ripley, he played semi-pro baseball in his teens, and sold cartoons to Life magazine and the San Francisco Chronicle before dropping out of high school. He worked as a sports columnist in New York, and became 'Robert Ripley' when an editor suggested that 'LeRoy' did not sound masculine enough. On a slow sports day in place of his next day's column he submitted a nine-panel drawing called "Champs and Chumps", about odd but actual sports -- a backward running race, an ice jump, etc. That cartoon drew a much more enthusiastic response than his sports columns, and soon he was writing and drawing "Ripley's Believe It or Not" instead of covering ball games.
In his new beat as chronicler of the unusual, Ripley spun tales and related facts too bizarre to be believed, but always claimed everything he reported was true. After several years with the New York Globe and later the Post, Ripley's cartoon was syndicated beginning in 1929. He employed a full-time fact-checker who, in that pre-Google era, spent virtually all his working hours at the New York Public Library -- so Ripley was rarely proven wrong. He lied about his own life, though, at various times insisting that he was born in 1891, 1892, and 1893, bragging of an extensive education when he was in fact a high school drop-out, and claiming to have visited over 200 countries, including such 'nations' as the Garden of Eden.
He did, however, travel widely in his lifelong quest for the peculiar, becoming something of an oddity himself. He kept a pet boa constrictor, routinely dressed in native wear from several continents, and before and after his brief marriage he reportedly shared his 28-room mansion with up to five ladyfriends at the same time. For many years he was one of America's most well-known celebrities, and regularly received more mail than the President of the United States.
He opened his first "Odditorium" in Chicago in 1933, featuring such attractions as a man who would eat and then regurgitate a rodent. In the movies' early sound era, Ripley was featured in a series of shorts, screened before the feature attraction in theaters. He published a drawing submitted by 12-year-old Charles Schulz, the "Peanuts" cartoonist's first paid work. Several books of his collected columns were bestsellers, and he also had a popular nationwide radio program until the late 1940s, when he took his talents to television. Midway through his first season on TV, after filming his thirteenth episode -- about the death rituals of different cultures worldwide -- he suffered a heart attack and died.
After his death, his long-time radio and television producer took over management of the Ripley empire, and the cartoon, drawn by several different artists over subsequent decades, has never ceased publication in daily papers. Within a year of Ripley's death the display of his artifacts was spun off as its own company, and he continues to be listed as 'author' of new Believe It or Not books. Ripley Entertainments, now owned by Jim Pattison, currently operates dozens of kitschy Ripley's Believe It or Not museums in ten nations, and also owns several Guinness World Records Museums and Louis Tussaud's Waxworks attractions. A mid-1980s Believe It or Not TV series was hosted by Jack Palance, with Marie Osmond co-hosting in the show's last season, and an early 2000s series starred Dean Cain.
Father: Isaac Davis Ripley (b. 1854, d. 1905)
Mother: Lillie Bell Yocka Ripley (b. 1868, m. 1889, d. 1915)
Sister: Ethel Ripley (b. 1893)
Brother: Douglas Ripley (b. 1904)
Wife: Beatrice Roberts (m. 1919, sep. 1920, div. 1926)

High School: Santa Rosa High School, Santa Rosa, CA (dropped out)

Official Website:
http://www.ripleys.com/
Author of books:
Believe It or Not!:A Modern Book of Wonders, Miracles, Freaks, Monstrosities and Almost-Impossibilities (1929)
The Second Believe It or Not!:1930
The New Believe It or Not! (1931)
Ripley's Big Book: Believe It or Not! (1934)
The Omnibus Believe It or Not! (1934)
God Rewards Faith and Service (1940)
Robert Ripley's Double Believe It or Not! (1948)
Ripleys Believe It or Not!: An Odyssey of Incredible Oddities Set Down By a Modern Marco Polo Who Can Prove Every Statement He Makes (1941)

Do you know something we don't?
Submit a correction or make a comment about this profile

Copyright ©2019 Soylent Communications