Mahalia Jackson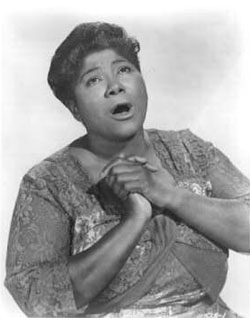 Born: 26-Oct-1911
Birthplace: New Orleans, LA
Died: 27-Jan-1972
Location of death: Evergreen Park, IL
Cause of death: Heart Failure
Remains: Buried, Providence Memorial Park, Metairie, LA

Gender: Female
Religion: Baptist [1]
Race or Ethnicity: Black
Sexual orientation: Straight
Occupation: Singer
Nationality: United States
Executive summary: Queen of Gospel Music
The world's first major gospel performer -- and one of the few to earn mainstream recognition -- Mahalia Jackson was given a particularly inauspicious start to her life, being the third child born to an impoverished family living in the run-down "Black Pearl" neighborhood of Carrollton. Her father John Jackson was a Baptist minister who also earned a living as a barber and a stevedore, while her mother Charity worked as both a maid and a laundress. Her mother's died when Mahalia was only four, after which her father sent the young girl to live with aunt and namesake Mahalia "Duke" Paul, who maintained a strict ban against any secular music in the house; as a result, the younger Mahalia's primary exposure to music was through singing hymns at her family's Baptist Church (although her cousin's surreptitious playing of forbidden Ma Rainey albums had their influence as well). Mahalia's natural singing ability was recognized early in her life: at the age of four she was added to the Plymouth Rock Baptist Church children's choir, and a few years later she became a prominent voice in Mount Moriah's junior choir. By her mid-teens she had already established herself as a formidable vocal talent.
In order to help her family, during the eighth grade Jackson dropped out of school and took cleaning jobs to bring in additional money. In 1927 the sixteen-year-old singer was sent to Chicago to live with her aunt Hannah Robinson, where she began singing with the Greater Salem Baptist Church choir while studying to become a beautician and supporting herself with laundry work. It was during this time that she joined the Johnson Singers, a gospel quartet that also included the three sons of Greater Salem's pastor; generally considered to be the first professional gospel touring group, for the next seven years the quartet performed at churches throughout the region, as well as creating a series of theatrical vignettes. After the dissolution of the Johnson Singers in the mid-1930's Jackson launched her solo career, releasing her debut recording God's Gonna Separate The Wheat From The Tares b/w Keep Me Every Day in 1937 for the Decca label. The record earned her $25 (fortunately, the singer's had already established her own beauty shop, which provided her with a more reliable source of income). Two years later she began a touring with an ensemble organized by gospel composer Thomas A. Dorsey -- a collaboration that would continue for the next 14 years and subsequently be labeled "the golden era of gospel music."
Due at least in part to the poor sales of her first record, Jackson would not return to the recording studio until 1947. It was her third song for the Apollo label, (issued in early 1948), that finally broke the singer to a national audience, selling in unprecedented numbers and receiving attention from the mainstream beyond the confines of the gospel genre. By this time Mahalia had been appointed as the official soloist of the National Baptist Convention and had established herself as the country's leading gospel performer. With the arrival of the 1950's the singer's mainstream exposure was augmented by an appearance on Ed Sullivan's Toast of the Town and frequent involvement in Studs Terkel's television series; in 1954 she was given her own weekly radio program, broadcast by the CBS network -- the only gospel program in the United States at the time. The success of Move On Up A Little Higher was repeated with singles such as In The Upper Room (1952), while her 1949 recording of I Can Put My Trust In Jesus was recognized by the Académie française in 1952. A well-attended tour of Europe was subsequently undertaken, expanding the singer's following to international proportions.
After a less than satisfactory seven-year association with Apollo Records, Jackson switched over to Columbia in 1954; this resulted in an improved distribution of her albums, but also brought about a corresponding demand from label executives for the singer to introduce more commercial (and secular) elements into her music. Notable albums such as Great Gettin' Up Morning (1959), Just As I Am, The Power And The Glory (both 1960), Silent Night (1962 -- obviously a Christmas collection) and Bless This House (1963) appeared at regular intervals over following decade. Jackson also began working with mainstream performers, the list of collaborations ranging from Louis Armstrong and Nat King Cole to Percy Faith and Harpo Marx. In 1958 her list of credits extended to include a featured role in the W. C. Handy biopic St. Louis Blues (opposite Cole), followed by a musical appearance in the Douglas Sirk film Imitation of Life in 1959.
Jackson's popularity continued to grow throughout the remainder of the 1950s and into the 1960s, achieving a scale well beyond that of any previous gospel performer. In 1950 she became the first gospel act invited to perform at Carnegie Hall, and eight years later she broke the same precedent at the annual Newport Jazz Festival in Rhode Island (with accompaniment provided by Duke Ellington); this ever-growing public profile culminated in 1961 with a performance at the inauguration of President John F. Kennedy. During the Civil Rights Movement of the late 1950s Jackson used her popularity to call attention to the issue, singing at pivotal demonstrations such as the Montgomery Bus Boycott in 1955 and the March on Washington, D.C. in 1963, where her version of I Been 'Buked And I Been Scorned preceded the historic I Have a Dream speech delivered by Martin Luther King. Five years later she would perform Take My Hand, Precious Lord at Dr. King's funeral.
Mainstream interest in Jackson's music began to decline in the second half of the 1960's, and -- disheartened by the deaths of both King and Kennedy (as well as the strain of her own divorce) -- the singer retired from political activity towards the end of the decade; she continued to command a large following, however, and her public appearances were always well-attended. Mahalia Jackson Sings America's Favorite Hymns, the last of her albums for Columbia, was issued in 1971, while the last of Jackson's television appearances took place that same year on Flip Wilson's television show. Her final performance took place in Munich, Germany in September of 1971, at the end of which the singer collapsed on stage; four months later Jackson died of heart failure at her home in Evergreen Park. Memorial services for the singer were subsequently arranged in both Chicago and New Orleans; both attracted thousands of mourners, while the former featured a tribute from fellow vocalist Aretha Franklin.
---
[1] Originally from Mount Moriah Baptist Church, New Orleans.

Father: John A. Jackson (Baptist minister)
Mother: Charity Clark (laundress, d. 1916)
Husband: Isaac Hockenhull (m. 1936, div. 1965)
Husband: Sigmond Galloway (m. 1965, until her death)


Mahalia Jackson
Grammy Best Gospel Or Other Religious Recording (for Everytime I Feel The Spirit) (1961)
Grammy Best Gospel Or Other Religious Recording (for Great Songs Of Love And Faith) (1962)
Grammy Lifetime Achievment Award (1972)
Grammy Best Soul Gospel Performance (for How I Got Over) (1976)
Grammy Hall of Fame Award (for Move On Up A Little Higher) (1998)
Gospel Music Hall of Fame 1978
Rock and Roll Hall of Fame 1997 (early influence)


FILMOGRAPHY AS ACTOR
House of Boys (20-Nov-2009) · Herself
The Best Man (5-Apr-1964) · Herself
Jazz on a Summer's Day (28-Mar-1960) · Herself
Imitation of Life (17-Apr-1959) · Choir Soloist
St. Louis Blues (7-Apr-1958)


Author of books:
Moving On Up (1966, with Evan McLeod Wyle (memoir)





Requires Flash 7+ and Javascript.



Do you know something we don't?
Submit a correction or make a comment about this profile






Copyright ©2019 Soylent Communications