T. S. Eliot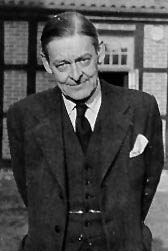 AKA Thomas Stearns Eliot
Born: 26-Sep-1888
Birthplace: St. Louis, MO
Died: 4-Jan-1965
Location of death: London, England
Cause of death: Emphysema
Remains: Cremated, St. Michael and All Angels Churchyard, East Coker, Somerset, England

Gender: Male
Religion: Anglican/Episcopalian
Race or Ethnicity: White
Sexual orientation: Straight [1]
Occupation: Poet, Playwright, Author
Nationality: England
Executive summary: Author of "The Waste Land"
Poet, playwright, and critic T. S. Eliot was among the most respected and influential literary figures of his era. He studied under Irving Babbitt and George Santayana at Harvard, attending while his cousin, Charles William Eliot, was president of that university. His poetic voice was largely inspired by pessimistic French-Uruguayan poet Jules Laforgue, whose work Eliot discovered in Harvard's library. He then joined the staff of The Advocate, the university's literary journal, where he befriended Conrad Aiken. He earned Bachelor's and Master's degrees at Harvard, and wrote a dissertation on F. H. Bradley for his doctorate, but never offered the required defense of his work, and thus never obtained a PhD, which did not seem to hinder his career.
After leaving Harvard, Eliot settled in Paris, where he wrote the first poems that came to the attention of his friend and mentor Ezra Pound. He made his reputation with early works including "The Love Song of J. Alfred Prufrock", "Portrait of a Lady," "Preludes," and "Rhapsody on a Windy Night", all widely read after being championed by Pound. He traveled across Europe, then relocated to London, where he edited Egoist, an avant-garde suffragette publication, and wrote un-bylined critiques for the London Times. With the 1919 publication of "Hamlet and His Problems" and "Tradition and the Individual Talent", his reputation was sealed.
He founded the influential literary journal Criterion in 1922, and edited it until its closing in 1939. His landmark poem of pessimism "The Waste Land", first published in 1922, is now arguably the most famous poem in modern literature. In 1927 he became a British citizen, renouncing his American nationality in the process. His "Four Quartets", published serially over a six-year period in the late 1930s and early 1940s, was, by his own reckoning, his finest work — four lengthy poems, each in five sections, it ponders humanity's complex interactions with the passage of time, the natural universe, and the spiritual questions of Christianity and other religions. "At the still point of the turning world. Neither flesh nor fleshless; / Neither from nor towards; at the still point, there the dance is".
He won the Nobel Prize for Literature in 1948, as "one of the most daring innovators of twentieth-century poetry". His work is so well known that certain lines from Eliot's writings might be familiar even to those who rarely read poetry — "This is the way the world ends / Not with a bang but a whimper" is from his poem "The Hollow Men", and "April is the cruelest month" is from "The Waste Land". Eliot also wrote several plays, and won a Tony for the 1950 production of his The Cocktail Party. He carried on a lengthy written correspondence with comic actor Groucho Marx, and counted painter and author Wyndham Lewis and poet William Butler Yeats among his friends.
Eliot and his first wife, Vivien Haigh-Wood, had been "sexually incompatible" from the night of their marriage, and in frustration she had an affair with his friend Bertrand Russell before being committed to a mental institution, where she died. His second wife, Valerie Fletcher, had been Eliot's personal secretary at Faber & Faber, where he was hired as an editor in 1925 and rose to an ownership position as his collections dominated the company's literary offerings. In addition to his wives, for many years Eliot carried on a cross-Atlantic correspondence with his college girlfriend, Emily Hale, and she visited him several times in England. Hale died in 1969, leaving instructions that his letters to her remain unpublished until at least 2019.
His 1939 collection of whimsical children's poems, Old Possum's Book of Practical Cats, posthumously became the basis for Andrew Lloyd Webber's musical play Cats. His cousin, Charles Eliot Norton, was a respected writer and translator, and founder of the the Dante Society. His grandfather, William Greenleaf Eliot, was co-founder of the college now known as Washington University in St. Louis. His widow, Valerie Eliot, is rich, more from the royalties for Cats than from Eliot's own books, and she still owns half of the Faber & Faber publishing house. Eliot died in 1965, and the epitaph engraved on his headstone is a line from "Four Quartets": "In my beginning is my end. In my end is my beginning".
---
[1] Some biographers have hinted at a sexual relationship between Eliot and his friend and Parisian roommate, Jean Jules Verdenal (1890-1915), to whom Eliot's "The Love Song of J. Alfred Prufrock" was dedicated. Eliot also, between his marriages, spent almost eleven years as a flatmate of critic John Hayward (1905–1965), but the evidence of any gay affair with either Verdenal or Hayward is effectively non-existent. Eliot was known to have a general distaste, disinterest, and disdain for sex of any kind until his second marriage.

Father: Henry Ware Eliot (brick company executive, b. 25-Nov-1843, d. 7-Jan-1919)
Mother: Charlotte Camp Stearns (poet, b. 22-Oct-1843, m. 27-Oct-1868, d. 10-Sep-1929)
Sister: Ada Eliot Sheffield (b. 30-Sep-1869, d. 2-Oct-1943)
Sister: Margaret Dawes Eliot (b. 2-Dec-1871, d. 10-Jun-1956)
Sister: Charlotte Eliot Smith (b. 29-Oct-1874, d. 22-Aug-1926)
Sister: Marian Cushing Eliot (b. 25-Jul-1877, d. 28-Apr-1963)
Brother: Henry Ware Eliot, Jr. (b. 7-Dec-1879, d. 5-May-1947)
Sister: Theodora Sterling Eliot (b. 25-Jul-1886, d. 5-Dec-1886)
Girlfriend: Emily Hale (teacher, dated in college, corresponded at length for decades, d. 1969)
Wife: Vivien Haigh-Wood (dancer, m. 26-Jun-1915, sep. 1933, d. 22-Jan-1947)
Wife: Valerie Fletcher (secretary, m. 10-Jan-1957 until his death, d. 9-Nov-2012)


High School: Smith Academy, St. Louis, MO (1904)
High School: Milton Academy, MA (1905-06)
University: BA Comparative Literature, Harvard University (1909)
University: MA English Literature, Harvard University (1910)
Scholar: Literature, Sorbonne (1910-11)
University: Literature, Harvard University (attended, 1911-14)
Scholar: Literature, Merton College, Oxford University (1914-15)
Teacher: Highgate School, London, England (1915-16)
Professor: Poetry, Harvard University (1932-33)


Faber & Faber Ltd. Editor, Co-Owner (1925-65)
Criterion Founder & Editor (1922-39)
Lloyd's Bank Foreign Finance Dept. (1919-25)
Egoist Editor (1917-19)
The Times Literary Supplement Contributor
Nobel Prize for Literature 1948
Order of Merit 1948
Tony 1950 Best Play, for The Cocktail Party
Emerson Thoreau Medal 1959
Presidential Medal of Freedom 1964
Tony 1983 Best Book of a Musical, for Cats
Tony 1983 Best Original Score, for Cats, with Andrew Lloyd Webber
St. Louis Walk of Fame
Accademia dei Lincei Foreign Member
Renounced US Citizenship 1927
Naturalized UK Citizen 1927
Converted to Anglicanism 29-Jun-1927
Hemorrhoid Operation
English Ancestry
American Ancestry
Risk Factors: Smoking, Hemorrhoids


Author of books:
Prufrock and Other Observations (1917, poetry)
Poems (1919, poetry)
Ara Vos Prec (1920, poetry)
Three Critical Essays (1920, essays)
The Sacred Wood (1922, essays)
Andrew Marvell (1922, essays)
The Waste Land (1922, poetry)
Poems, 1909-1925 (1925, poetry)
Wanna Go Home, Baby? (1927, poetry)
For Lancelot Andrewes (1928, essays)
Dante (1929, essays)
Tradition and Experiment in Present-Day Literature (1929, essays)
Ash Wednesday (1930, poetry)
Thoughts After Lambeth (1931, essays)
The Use of Poetry and the Use of Criticism (1933, essays)
After Strange Gods (1933, essays)
Elizabethan Essays (1934, essays)
Collected Poems: 1909-1935 (1936, poetry)
Essays Ancient and Modern (1936, essays)
Old Possum's Book of Practical Cats (1939, children's poetry)
East Coker (1940, poetry)
The Idea of a Christian Society (1940, essays)
Burnt Norton (1941, poetry)
The Dry Salvages (1941, poetry)
Four Quartets (1943)


Wrote plays:
Sweeney Agonistes (1923)
The Rock (1934)
Murder in the Cathedral (1935)
The Family Reunion (1939)
The Cocktail Party (1949)
The Confidential Clerk (1954)
The Elder Statesman (1959)


Appears on postage stamps:
USA, Scott #2239 (22¢, issued 26-Sep-1986)





Requires Flash 7+ and Javascript.



Do you know something we don't?
Submit a correction or make a comment about this profile






Copyright ©2019 Soylent Communications