Alexander Solzhenitsyn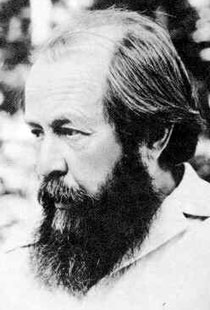 AKA Aleksandr Isayevich Solzhenitsyn
Born: 11-Dec-1918
Birthplace: Kislovodsk, Russia
Died: 3-Aug-2008
Location of death: Moscow, Russia
Cause of death: Heart Failure
Remains: Buried, Donskoi Monastery, Moscow, Russia

Gender: Male
Race or Ethnicity: White
Sexual orientation: Straight
Occupation: Author, Activist, Victim
Nationality: Russia
Executive summary: The Gulag Archipelago
Military service: Soviet Army (1941-45, WWII)
Alexandr Solzhenitsyn was raised by his mother, after his father died in battle in World War I. As a young man he studied mathematics, until joining the Russian military for World War II. He was first arrested for violations of censorship rules in his letters home from the war front -- letters that did not mention Stalin by name, but mocked the Russian leader by insinuation -- and in 1945 he was sentenced to eight years hard labor. While imprisoned, after time as a bricklayer, factory worker, and miner, he was ordered to teach mathematics. Seeing other laborers literally worked to death, he later credited these teaching stints with saving his life.
After serving his prison sentence, an administrative decision -- with no hearing or trial -- ordered that Solzhenitsyn be imprisoned at Kazakhstan until his death. "This measure was not directed specially against me", he later wrote, "but was a very usual procedure at that time". During his subsequent years of imprisonment he secretly wrote, always wary to keep his manuscripts from being discovered. In 1956 he was declared rehabilitated by the Military Section of the Soviet Supreme Court, and at the age of 37 he returned to European Russia. After Stalin's death and an early-1960s ever-so-slight lessening of the Soviet Union's political persecutions, he submitted his short novel One Day in the Life of Ivan Denisovich, based on his prison experiences, for publication. It was an opportune moment -- the new Soviet leader Nikita Khrushchev had just uttered the first public criticism of Stalin, and after much internal debate, Khrushchev himself reportedly approved publication of Solzhenitsyn's novel. The book met with universal praise, and for a few years Solzhenitsyn was a free-spoken literary figure the likes of which the Soviet Union rarely saw.
When Khrushchev was toppled from power in 1964, however, Solzhenitsyn's writings were again questioned. Publication of his novels The First Circle and The Cancer Ward was blocked, and in 1965 his home was raided and manuscripts were confiscated. In 1968 he was expelled from the Soviet Writers Union, which was tantamount to revocation of his ability to write and publish legally, but he continued to write and be published outside the Soviet Union. When he was awarded the Nobel Prize in 1970, Solzhenitsyn was smeared in the Soviet press, the honor deemed mere politics from the hostile Western world. He did not attend his Nobel ceremony, because Soviet officials had made it clear that he would be allowed to leave the nation, but it was doubtful he would be allowed to return.
He had already written what would become his most famous work, The Gulag Archipelago, but knowing it would be controversial, he withheld it from publication. When the KGB interrogated his former assistant Elizaveta Voronyanskaya, she revealed the location of a copy of the manuscript and promptly hung herself; after this Solzhenitsyn was determined to see the book widely read. A literary but historically accurate epic of Soviet labor camps over the decades, The Gulag Archipelago was published in France in December 1973, and within weeks Solzhenitsyn was arrested and charged with treason. Instead of more prison time, however, he was stripped of his citizenship and deported to West Germany. With his family he eventually settled in Cavendish, Vermont, where he wrote prolifically for many years, and arguably exposed the horrors of the authoritarian state more vividly than any other single writer of his century. Among American intellectuals, however, Solzhenitsyn lost some of his luster when he expanded his characteristically outspoken criticism to include the faults of "Western pluralistic democracy", in a famed speech at Harvard in 1978.
His Soviet citizenship was restored by President Mikhail Gorbachev in 1990, and after the collapse of the Soviet Union Solzhenitsyn returned to his homeland, promising to speak "the whole truth about Russia until they shut my mouth like before". In his later years he repeatedly condemned Russian President Boris Yeltsin, and demanded, to no effect, that Yeltsin be prosecuted for high crimes.
Solzhenitsyn had a difficult relationship with his first wife, Natalia Reshetovskaia. They married and divorced twice, and after his expulsion from Russia she said that he had "brought government censorship upon himself" by writing unrelenting criticism of the Soviet system. She wrote an autobiography shortly thereafter, which alleged -- unsurprisingly, since it was published by the KGB -- that his horrid descriptions of life in Soviet penal camps had been "exaggerated". She later married the KGB agent who had edited her book.
Wife: Natalia Reshetovskaia (scientist-pianist, b. 1919, m. 1940, div. 1950, m. 1957, div. 1972, d. 2003)
Wife: Dmitrievna Svetlova (mathematics teacher, m. 1973)
Son: Ignat Solzhenitsyn (conductor, Chamber Orchestra of Philadelphia, b. 1972)
Son: Stepan Solzhenitsyn (translator)
Son: Yermolai Solzhenitsyn

University: Moscow State University
University: BS Mathematics, Rostov University (1941)
University: Institute of History, Philosophy and Literature (correspondence courses)

Nobel Prize for Literature 1970
Templeton Prize 1983
Treason 12-Feb-1974
Citizenship Revoked 1974 (Soviet Union; restored 1990)
Risk Factors: Cancer

Author of books:
One Day in the Life of Ivan Denisovich (1963)
An Incident at Krechetovka Station (1963)
Matryona's Place (1963)
For the Good of the Cause (1964)
The First Circle (1968)
The Cancer Ward (1969)
August 1914 (1971)
Stories and Prose Poems (1971)
We Never Make Mistakes (1971)
The Gulag Archipelago (1973, non-fiction, three volumes)
Candle in the Wind (1974)
Letter to the Soviet Leaders (1974)
Prussian Nights (1974, poetry)
Solzhenitsyn: A Pictorial Autobiography (1974, memoir)
From under the Rubble (1975)
Lenin v. Tsyurikhe (1975)
Détente: Prospects for Democracy and Dictatorship (1976)
Warning to the West (1976)
Lenin in Zurich (1976)
The Oak and the Calf: Sketches of Literary Life in the Soviet Union (1980)
The Mortal Danger: How Misconceptions about Russia Imperil America (1980)
November 1916 (1983)
Victory Celebration (1983)
Prisoners (1983)
March 1917 (1990)
April 1917 (1991)
Rebuilding Russia: Reflections and Tentative Proposals (1991, non-fiction)
The Russian Question: At the End of the Twentieth Century (1995)
Invisible Allies (1995)
Invisible Allies (1997)
Two Hundred Years Together (2003)

Wrote plays:
The Love-Girl and the Innocent (1969)

Do you know something we don't?
Submit a correction or make a comment about this profile

Copyright ©2019 Soylent Communications