Martha Plimpton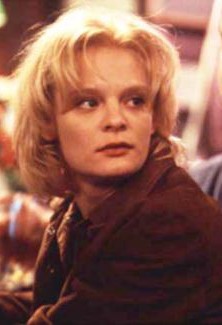 AKA Martha Campbell Plimpton
Born: 16-Nov-1970
Birthplace: New York City

Gender: Female
Race or Ethnicity: White
Sexual orientation: Straight
Occupation: Actor
Nationality: United States
Executive summary: The Goonies
Martha Plimpton was born out-of-wedlock to actress Shelley Plimpton and absent father Keith Carradine. Her mother is best known as the female lead from the original Broadway cast of Hair, and her father went on to win an Oscar for his song, "I'm Easy", in Robert Altman's Nashville. She is no relation to author George Plimpton, despite frequent media claims that she is variously his daughter, granddaughter, or cousin.[1].
Plimpton first met her father when she was four, and decided to become an actress at eight. She began taking acting lessons and appearing in amateur stage productions, and made her film debut at 10, in the political thriller Rollover with Jane Fonda and Kris Kristofferson. At 11 she was featured in controversial Calvin Klein underwear ads that, while showing no nudity, were derided by many as borderline child pornography.
Her first substantial role on film came opposite Tommy Lee Jones and Brian Dennehy in The River Rat. In her next film, The Goonies, she kissed Corey Feldman, and argued against collecting coins from a wishing well. The Goonies remains her biggest box office success, but she has done much better work, in vastly superior films. In The Mosquito Coast, she told River Phoenix, "I think about you when I go to the bathroom." In Parenthood, she told Keanu Reeves, "I wouldn't live with you if the world were flooded with piss and you lived in a tree!" In I Shot Andy Warhol, she played Lili Taylor's girlfriend.
Plimpton's career faded somewhat once she entered her thirties. Her recent movies include Eye of God, Music from Another Room with Jude Law and Jennifer Tilly, and John Waters' Pecker. She is an ensemble member at the Steppenwolf Theater Company in Chicago, and for years worked more frequently on stage than in film. In the 2002 documentary Searching for Debra Winger, she complained about Hollywood's disinterest in graying actresses: "I don't know what I'm more disgusted with," she has said, "Hollywood or the audience." From 2010 to 2014 played a white trash mother on the underrated sit-com Raising Hope.
Plimpton's grandfather John Carradine starred in The Grapes of Wrath with Henry Fonda, and her uncle David Carradine snatched the pebble from Master's hand in Kung Fu.
---
[1] Wikipedia has long stated that they are cousins, citing gossip columnist Cindy Adams of the New York Post. For the two Plimptons to be cousins, Martha's unmarried mother, Shelley, would have to be the daughter of either Calvin Plimpton, former President of Amherst College, or of Emily Plimpton, a nurse who married Allen T. Smith in 1949. As neither is the case, they cannot be cousins, and the claim erroneous.

Father: Keith Carradine (actor)
Mother: Shelley Plimpton (b. 27-Feb-1947, stage actress, unmarried)
Father: Daniel Sullivan (stepfather, b. 1940, stage director, m. Shelley Plimpton)
Boyfriend: Christian Slater (actor)
Boyfriend: River Phoenix (actor)
Boyfriend: Jon Patrick Walker (actor, dated and engaged in mid-1990s)


High School: Professional Children's School, New York, NY


The Creative Coalition Board Member
People for the Ethical Treatment of Animals
Risk Factors: Vegetarian, Smoking


TELEVISION
Raising Hope Virginia Chance (2010-14)
ER Meg Corwin (1999)


FILMOGRAPHY AS ACTOR
Company (2011)
Small Town Murder Songs (14-Sep-2010) · Sam
Hair High (17-Apr-2004) [VOICE]
Searching for Debra Winger (16-May-2002) · Herself
The Sleepy Time Gal (24-Jan-2001)
200 Cigarettes (26-Feb-1999) · Monica
Music From Another Room (12-Nov-1998)
The Defenders: Taking the First (25-Oct-1998)
Pecker (11-Sep-1998)
Eye of God (17-Oct-1997)
The Defenders: Payback (12-Oct-1997)
Colin Fitz Lives! (1997) · Ann
I'm Not Rappaport (24-Dec-1996) · Laurie
Beautiful Girls (9-Feb-1996) · Jan
I Shot Andy Warhol (20-Jan-1996)
Last Summer in the Hamptons (13-Sep-1995) · Chloe Garfield
Forbidden Choices (23-Nov-1994)
Mrs. Parker and the Vicious Circle (7-Sep-1994)
Josh and S.A.M. (24-Nov-1993)
Chantilly Lace (18-Jul-1993)
Daybreak (8-May-1993)
My Life's in Turnaround (21-Apr-1993) · Herself
Samantha (Nov-1992)
Inside Monkey Zetterland (12-Sep-1992)
A Woman at War (1991)
Stanley & Iris (9-Feb-1990)
Parenthood (2-Aug-1989) · Julie
Another Woman (18-Nov-1988) · Laura
Running on Empty (7-Sep-1988) · Lorna Phillips
Shy People (17-Jun-1988)
Stars and Bars (18-Mar-1988)
The Mosquito Coast (20-Nov-1986)
The Goonies (7-Jun-1985) · Stef
The River Rat (28-Sep-1984) · Jonsy
Rollover (11-Dec-1981)





Requires Flash 7+ and Javascript.



Do you know something we don't?
Submit a correction or make a comment about this profile






Copyright ©2019 Soylent Communications