Debbie Gibson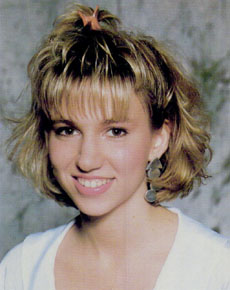 AKA Deborah Ann Gibson
Born: 31-Aug-1970
Birthplace: Brooklyn, NY

Gender: Female
Religion: Roman Catholic
Race or Ethnicity: White
Sexual orientation: Straight
Occupation: Singer
Nationality: United States
Executive summary: Arch-nemesis: Tiffany
Deborah Gibson is the new improved Debbie Gibson, a pubescent pop star who became a teen idol in the mid-1980s. She was often confused with her contemporary, Tiffany, and their careers had similar trajectories, but Gibson was the one with some actual talent -- she wrote most of her own songs, even arranged and engineered the recordings, and sang on key without excessive audio "tweaking".
At 12, Gibson won a $1,000 prize in a songwriting contest with her patriotic ditty "I Come From America". She soon signed with Atlantic Records and had several hits while still in high school. Her big singles were "Only in My Dreams", "Electric Youth", "Lost in Your Eyes", and "Out of the Blue", but by the 1990s Gibson had slipped out of the top 40 and off the teenybopper magazine covers.
She has since re-invented herself as a stage star, and sang on Broadway in Les MisÚrables, Grease, Caberet, and as Belle in Disney's Beauty and the Beast. Gibson has also announced that her preferred first name is now Deborah, not Debbie, and in 2005 she posed for Playboy at the age of 35. Tiffany beat her to the pages of Playboy, appearing in 2002.
Mojo Nixon recorded his tribute to Gibson in 1990, on his album Unlimited Everything, titled "Debbie Gibson is Pregnant With My Two Headed Love Child".
Father: Joe Gibson
Mother: Diane Gibson (Deborah Gibson's manager)
Sister: Denise
Sister: Karen
Sister: Michele
Boyfriend: Darren Day (ex-)
Boyfriend: Rutledge Taylor (physician, dated late 2000s)

High School: Sanford H. Calhoun High School, Merrick, NY (1988)

Posed Naked for Playboy 2005
Risk Factors: Yoga

FILMOGRAPHY AS ACTOR
Mega Shark vs. Mecha Shark (28-Jan-2014)
Mega Python vs. Gatoroid (29-Jan-2011) · Nikki
Mega Shark vs. Giant Octopus (26-May-2009)
Coffee Date (10-Nov-2006)
Celeste in the City (7-Mar-2004)
Soulkeeper (13-Oct-2001) · Herself
My Girlfriend's Boyfriend (1999)
Michael Jackson: HIStory on Film - Volume II (1997) · Herself

Official Website:
http://www.deborah-gibson.com/
Author of books:
Between the Lines (1989, autobiography, with Mark Bego)

Do you know something we don't?
Submit a correction or make a comment about this profile

Copyright ©2019 Soylent Communications