Roger Ebert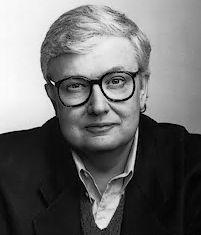 AKA Roger Joseph Ebert
Born: 18-Jun-1942
Birthplace: Urbana, IL
Died: 4-Apr-2013
Location of death: Chicago, IL
Cause of death: Cancer - unspecified
Remains: Buried, Graceland Cemetery, Chicago, IL

Gender: Male
Religion: Agnostic [1]
Race or Ethnicity: White
Sexual orientation: Straight
Occupation: Critic
Nationality: United States
Executive summary: Siskel and Ebert
Roger Ebert was the film critic for the Chicago Sun-Times for decades, but he was of course much more famous for his movie reviews on television. In 1978, Ebert was paired with his cross-town rival Gene Siskel, film critic for the Chicago Tribune, for a weekly movie review show on PBS, Sneak Previews. A concept never before tried on television, it quickly clicked with audiences, and it helped that Siskel and Ebert often disagreed. There was mutual respect, but the two men said they simply did not like each other enough to ever become friends. After four years, it was clear there was money to be made off their peculiar chemistry, so Siskel and Ebert left PBS and syndicated their show, first as At the Movies, later as Siskel and Ebert & the Movies, then as just plain Siskel & Ebert.
In his years opposite Siskel, Ebert was often called "the fat one", distinguishing him from "the bald one", Ebert. After Siskel's death, and thanks to both an improved diet and a recurring cancer, Ebert reduced his corpulence and the program was renamed Roger Ebert & the Movies, with Ebert reviewing movies alone, then sharing the screen with a series of "one-week stands" auditioning for the co-host's chair. The job eventually went to Richard Roeper, another writer at Ebert's Chicago Sun-Times, and the show was renamed Ebert & Roeper.
As a child, Ebert wrote and published a hektographed neighborhood newspaper. In elementary school he published a zine about stamp collecting, and in high school he became a science fiction geek, and wrote and published Stymie, a mimeographed sci-fi zine. His first paid job was with his home town's News-Gazette, in Champaign-Urbana, Illinois, covering high school sports while he himself was in high school. At 16, he was transferred to the paper's local pages, working as a beat reporter -- in remembering this, Ebert always stressed that he did real reporting, not "intern stuff," and the pride was always evident in his voice. He edited his high school paper, and in college at the University of Illinois, he edited The Daily Illini.
He was 23 when he was hired by the Sun-Times in 1966, and six months later he began reviewing films for the paper. He said that the job came to him without warning; the paper's previous movie critic retired, and Ebert was already known as the office movie buff. By the mid-1990s, Ebert said he believed he was the longest-running critic at any American daily newspaper. He wrote more than a dozen books about movies, and several thousand movie reviews. He won the Pulitzer Prize for criticism in 1975, and for the rest of his life he discreetly made sure the Prize was always mentioned near the top of any interview or biography.
Audiences might not suspect it from his schlumpy small-screen persona and his quick thumb-up or thumb-down TV reviews, but Ebert really was a very good writer. Whether he liked a movie or hated it, his written reviews in the Sun-Times were usually crisp, clever, and enlightening, and among his many books, The Great Movies and The Great Movies II are infectious fun for even casual movie fans.
With mammary maven Russ Meyer, Ebert co-wrote the 1970 film Beyond the Valley of the Dolls, a campy X-rated film that is more a satire of Valley of the Dolls than a sequel. Ebert himself described it as "pure cinema, combining shameless melodrama, highly charged images of violence, sledge-hammer editing and musical overkill." Most audiences describe it as hilarious camp, although Sex Pistol Johnny Rotten once said he loved the movie because it was so true to life.
Ebert also wrote occasional political columns for the Sun-Times, from a generally moderate-to-left position, but those writings rarely made a ripple outside Chicago. An exception was a column Ebert wrote in the waning days of the 2000 election, not endorsing Al Gore but questioning George W. Bush's competence. "The support for Bush puzzles me," he wrote. "Read the transcripts and you will see he does not answer, he does not engage, and he will not clearly say where he stands on core issues."
He dated Oprah Winfrey long before she was nationally famous, and married another strong black woman, attorney Chaz Hammelsmith Ebert, who co-produced the last incarnation of At the Movies. From 1999 until his death, Ebert oversaw an annual Overlooked Film Festival, held in a beautifully restored movie palace in Champaign. He publicly feuded with film writer-director Vincent Gallo, who responded to a bad review for The Brown Bunny by announcing he had placed a cancer curse on Ebert's colon.
Ebert officially left Ebert & Roeper in 2008, but he hadn't been seen on the show for several years, due to his recurring battles against cancer. A malignant tumor on his thyroid gland was surgically removed in 2002, and in 2003 cancer was cut from his salivary gland, leaving Ebert's face lopsided. In 2006 he underwent emergency surgery to remove another cancerous growth on his salivary gland, and then endured two follow-up surgeries to repair burst blood vessels. In January 2008 he underwent another series of surgeries, but no further details were announced. After about 2008 he was unable to eat or drink, and received nourishment intravenously. On his website, he continued sharing his literate observations on movies, life, politics, and philosophy, until his death in 2013.
---
[1] Quoting from Ebert's memoir Life Itself (2011): "No, I am not a Buddhist. I am not a believer, not an atheist, not an agnostic. I am more content with questions than answers." As this is essentially the textbook definition of agnosticism (despite the denial stuck in the middle), we list him as agnostic.

Girlfriend: Oprah Winfrey (dated in 1970s)
Wife: Chaz Hammelsmith Ebert (trial attorney, dated 1989-93, m. 18-Jul-1993, until his death)
Daughter: Sonia (stepdaughter)
Son: Jay (stepson)


High School: Urbana High School, Urbana, IL (1960)
University: BS, University of Illinois at Urbana-Champaign (1964)
University: University of Cape Town (graduate study)
University: University of Chicago (graduate study, one year)


The Chicago Sun-Times Film Critic (1966-2013)
Alcoholics Anonymous 1979
John Kerry for President
Phi Delta Theta Fraternity
Hollywood Walk of Fame 6834 Hollywood Blvd (motion pictures)
Pulitzer Prize for Criticism 1975
Parodied As A Muppet
Tracheotomy 2007
Risk Factors: Obesity, Alcoholism, Thyroid Cancer, Bell's Palsy


TELEVISION
At the Movies Producer & Critic (2011-12)
At the Movies Host (1982-2006)


FILMOGRAPHY AS ACTOR
Life Itself (19-Jan-2014) · Himself
Birth of the Living Dead (18-Oct-2013) · Himself
Manufacturing Dissent (11-Feb-2007)
Midnight Movies: From the Margin to the Mainstream (13-May-2005) · Himself
The Outsider (22-Apr-2005) · Himself
Searching for Debra Winger (16-May-2002) · Himself
Welcome to Hollywood (27-Oct-2000) · Himself


Official Website:
http://www.rogerebert.com/

Author of books:
A Kiss Is Still A Kiss: Roger Ebert at the Movies (1984, film commentary)
Roger Ebert's Movie Home Companion (1985-93, annual; film commentary)
The Perfect London Walk (1986, tourism guide; with Daniel Curley)
The Future of the Movies (1994, film commentary; with Gene Siskel)
Two Weeks in the Midday Sun: A Cannes Notebook (1987, film commentary)
Behind the Phantom's Mask (1993, novel)
Roger Ebert's Video Companion (1993-98, annual; film commentary)
Ebert's Little Movie Glossary: A Compendium of Movie Clichés (1994, film commentary)
Roger Ebert's Pocket Video Guide (1995, film commentary)
Roger Ebert's Book of Film (1996, film commentary)
Questions for the Movie Answer Man (1997, film commentary)
The Bigger Little Book of Hollywood Clichés (1999, film commentary)
Roger Ebert's Movie Yearbook (1999-, annual; film commentary)
I Hated, Hated, Hated This Movie (2000, film commentary)
The Great Movies (2001, film commentary)
The Great Movies II (2005, film commentary)
Awake in the Dark: The Best of Roger Ebert (2006, film commentary)
Roger Ebert's Four-Star Reviews, 1967-2007 (2007, film commentary)
Your Movie Sucks (2007, film commentary)
Mad about the Movies: Director's Cut (2008, film commentary)
Scorsese by Ebert (2008, film commentary)
The Great Movies III (2005, film commentary)
The Pot and How to Use It: The Mystery and Romance of the Rice Cooker (2010, cooking)
Life Itself: A Memoir (2011, memoir)





Requires Flash 7+ and Javascript.



Do you know something we don't?
Submit a correction or make a comment about this profile






Copyright ©2019 Soylent Communications