Laurell K. Hamilton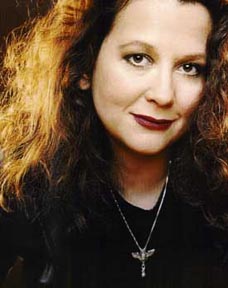 AKA Laurell Kaye Klein
Born: 19-Feb-1963
Birthplace: Heber Springs, AR

Gender: Female
Race or Ethnicity: White
Sexual orientation: Straight
Occupation: Novelist
Nationality: United States
Executive summary: Anita Blake, Vampire Hunter series
Fantasy and horror writer Laurell K. Hamilton is the author of the best selling series Anita Blake: Vampire Hunter and Meredith Gentry (the latter about a fairy princess turned detective). Although she has also done novelizations for Star Trek and Ravenloft gaming, she is best known for dark, sexy tales of vampires, werewolves, and alternate realities. Her work is notable for successfully combining some rather unlikely elements and for appealing to a wide variety of fans, from seasoned street cops to Goth teens to stereotypical Harlequin Romance addicts.
Hamilton grew up in the tiny hamlet of Sims, Indiana. After a tragic car crash claimed her mother's life in 1969, Laurell was principally raised by her grandmother, Laura Gentry, whom she credits with her interest in the supernatural and with tales of horror. It was Gentry who regaled her with chilling folktales from the rural Arkansas hills: Hamilton recalls "rawhide and bloody bones will get you if you aren't good."
At 13 she discovered Robert E. Howard's Pigeons from Hell, a short story collection which she describes as "the first heroic fantasy I'd read". This sudden dark and exciting plunge into "fights, swords, and monsters" hooked Hamilton, causing her to decide then and there that she wanted to be a writer of dark fantasy. This decision was reinforced when she discovered, in high school, The Natural History of the Vampire (Anthony Masters, 1972), a somewhat gory work of pseudoscience that so mesmerized Hamilton that she read it over and over, committing large portions of it to memory.
Hamilton's first novel was published in 1992. Entitled Nightseer, it is described by Hamilton as a more straightforward fantasy, "in the vein of Robert E. Howard meets Tolkien." But a mere year later she produced her first installment in the Anita Blake series, Guilty Pleasures. The series went on to tremendous success, and in 2000 Hamilton branched out with yet another popular series, featuring fey heroine Merry Gentry, with A Kiss of Shadows.
Mother: Suzie Kline (d. 1969 automobile accident)
Husband: Gary Hamilton (div.)
Daughter: Trinity
Husband: Jonathon D. Green (m. 2001)

University: BA English, Christian Marion College

Official Website:
http://www.laurellkhamilton.org/
Author of books:
Nightseer (1992)
Nightshade (1992)
Guilty Pleasures (1993, first Anita Blake novel)
The Laughing Corpse (1994)
Death of a Darklord (1995)
Circus of the Damned (1995)
The Lunatic Cafe (1996)
Bloody Bones (1996)
The Killing Dance (1997)
Club Vampyre (1997)
The Midnight Cafe (1997, collection)
Burnt Offerings (1998)
Blue Moon (1998)
A Spill of Shadows (1999)
Obsidian Butterfly (2000)
A Kiss of Shadows (2000)
Narcissus In Chains (2001)
Out of This World (2001)
A Caress of Twilight (2002)
Cerulean Sins (2003)
Cravings (2004)
Incubus Dreams (2004)
Seduced by Moonlight (2004)
A Stroke of Midnight (2005)

Do you know something we don't?
Submit a correction or make a comment about this profile

Copyright ©2019 Soylent Communications