Joseph Califano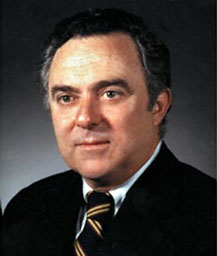 AKA Joseph Anthony Califano, Jr.
Born: 15-May-1931
Birthplace: Brooklyn, NY

Gender: Male
Religion: Roman Catholic
Race or Ethnicity: White
Sexual orientation: Straight
Occupation: Government
Nationality: United States
Executive summary: Carter's HEW Secretary
Military service: US Navy; US Army (civilian, General Counsel for the US Army)
Califano worked in the Pentagon under Robert McNamara, and became a close aide to Lyndon B. Johnson (essentially in charge of domestic policy), which he relates in his memoir:
"It was my first time on the South Lawn of the White House, 1 a.m. on Tuesday, July 13, 1965. We had just landed in President Lyndon Johnson's helicopter. I was returning from my first weekend at the LBJ ranch, where the President had asked me to be his special assistant for domestic affairs. As the President said goodbye, he smiled. 'They tell me you're pretty smart, way up in your class at Harvard. Well, let me tell you something. What you learned on the streets of Brooklyn will be a damn sight more helpful to your president than anything you learned at Harvard."
Well prior to the situation exploding, Califano recommended to Alexander Haig that he have Richard M. Nixon burn the Watergate tapes, but Nixon thought the tapes crucial to his legacy. Nixon certainly was correct in that regard.

House Speaker Tip O'Neill warned Califano that smoking companies were capable of murdering him, if he went too far in his anti-smoking campaign. Califano advocated a "smoke-free" nation by the year 2000.

Once famously calling billionaire George Soros the "Daddy Warbucks of drug legalization", Califano currently serves as Chair of the National Center on Addiction and Substance Abuse at Columbia University, which he founded in 1992.

Wife: Hilary Paley Byers
Son: Mark
Son: Joseph III
Daughter: Claudia Califano
Daughter: Brooke Byers
Son: John F. Byers IV


High School: Brooklyn Preparatory School, Brooklyn, NY
University: BA, College of the Holy Cross (1952)
Law School: LLB, Harvard Law School (1955)


US Secretary of Health, Education, and Welfare (1977-79)
Dewey Ballantine Senior Partner (1983-92)
Williams & Connolly Partner (1971-77?)
Member of the Board of CBS
Member of the Board of Chrysler
Member of the Board of Midway Games (2004-)
Member of the Board of Viacom (2003-05)
Member of the Board of Willis Group Holdings (2004-)
American Ditchley Foundation Board of Directors
amfAR National Council
Caring Institute Honorary Trustee
Council on Foreign Relations
The Century Foundation Trustee
John Kerry for President
Kennedy Center Trustee
Knights of Malta
Urban Institute Life Trustee
District of Columbia Bar
New York State Bar Association
Harvard Law Review Editor
Sued by the ACLU 8-Aug-1977
Contempt of Congress 6-Aug-1978
Italian Ancestry Paternal
Irish Ancestry Maternal


Author of books:
A Presidential Nation (1975)
Governing America: An Insider's Report from the White House and the Cabinet (Jan-1981, memoir)
America's Health Care Revolution: Who Lives? Who Dies? Who Pays? (1-Mar-1986, nonfiction)
The Triumph & Tragedy of Lyndon Johnson: The White House Years (1-Oct-1992, biography)
Radical Surgery: What's Next for America's Health Care (1-Dec-1994, nonfiction)
Inside: A Public and Private Life (30-Mar-2004, memoir)





Requires Flash 7+ and Javascript.



Do you know something we don't?
Submit a correction or make a comment about this profile






Copyright ©2019 Soylent Communications