Johann Winckelmann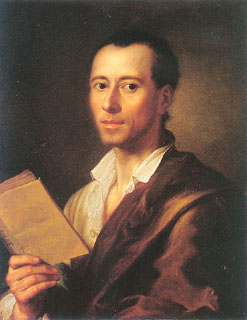 AKA Johann Joachim Winckelmann
Born: 9-Dec-1717
Birthplace: Stendal, Prussia, Germany
Died: 8-Jun-1768
Location of death: Trieste, Austria-Hungary
Cause of death: Murder

Gender: Male
Religion: Roman Catholic
Race or Ethnicity: White
Sexual orientation: Gay
Occupation: Archaeologist, Historian
Nationality: Germany
Executive summary: Geschichte der Kunst des Alterthums
German archaeologist, born at Stendal in Brandenburg on the 9th of December 1717, the son of a poor shoemaker. He attended a gymnasium at Berlin and the school at Salzwedel, and in 1738 was induced to go as a student of theology to Halle. But he was no theologian, and he soon devoted himself with enthusiasm to Greek art and literature. With the intention of becoming a physician he attended medical classes at Jena; but means were insufficient and he was obliged to accept a tutorship near Magdeburg. From 1743 to 1748 he was associate-rector of a school at Seehausen in the Altmark. He then went to Nöthenitz near Dresden as librarian to Count Henry von Bünau, for whose history of the Holy Roman empire he collected materials. The treasures in the Dresden gallery awakened an intense interest in art, which was deepened by association with various artists, and especially with A. F. Oeser, who afterwards exercised so powerful an influence over Goethe. Winckelmann's study of ancient literature had inspired him with a desire to visit Rome, and he became librarian to Cardinal Passionei in 1754. This compelled him reluctantly to join the Roman Catholic Church.
In 1755, before leaving for Rome, Winckelmann published his Gedanken über die Nachahmung der griechischen Werke in Malerei und Bildhauerkunst ("Thoughts on the Imitation of Greek Works in Painting and Sculpture"), followed by a pretended attack on the work, and a defense of its principles, nominally by an impartial critic. The Gedanken contains the first statement of the doctrines he afterwards developed, and was warmly admired not only for the ideas it contained but for its style. Augustus III, elector of Saxony and King of Poland, granted him a pension of 200 thalers, that he might prosecute his studies in Rome. He arrived in Rome in November 1755, became librarian to Cardinal Archinto, and received much kindness from Cardinal Passionei. After their deaths he was received as librarian and as a friend into the house of Cardinal Albani, who was forming his magnificent collection at Porta Salara. In 1763, while retaining this position, Winckelmann was made prefect of antiquities.
He devoted himself earnestly, at first with the aid of his friend A. R. Mengs, to the study of Roman antiquities, and gradually acquired an unrivalled knowledge of ancient art. In 1760 appeared his Description des pierres gravées du feu Baron de Stosch; in 1762 his Anmerkungen über die Baukunst der Alten (" Observations on the Architecture of the Ancients"), including an account of the temples at Paestum. In 1758 and 1762 he visited Naples, and from his Sendschreiben von den herculanischen Entdeckungen (1762) and his Nachricht von den neuesten herculanischen Entdeckungen (1764) scholars obtained their first real information about the treasures excavated at Pompeii and Herculaneum. Winckelmann again visited Naples in 1765 and 1767, and wrote for the use of the electoral prince and princess of Saxony his Briefe an Bianconi, which were published, eleven years after his death, in the Antologia Romana. His masterpiece, the Geschichte der Kunst des Alterthums ("History of Ancient Art"), issued in 1764, was soon recognized as a permanent contribution to European literature. In this work Winckelmann sets forth both the history of Greek art and the principles on which it seemed to him to be based. He also presents a glowing picture of the conditions, political, social and intellectual, which tended to foster creative activity in ancient Greece. The fundamental idea of his theory is that the end of art is beauty, and that this end can be attained only when individual and characteristic features are strictly subordinated to the artist's general scheme. The true artist, selecting from nature the phenomena fitted for his purpose, and combining them through the imagination, creates an ideal type marked in action by "noble simplicity and calm greatness" -- an ideal type in which normal proportions are maintained, particular parts, such as muscles and veins, not being permitted to break the harmony of the general outlines. In the historical portion he used not only the works of art he himself had studied but the scattered notices on the subject to be found in ancient writers; and his wide knowledge and active imagination enabled him to offer many fruitful suggestions as to periods about which he had little direct information. Many of his conclusions based on the inadequate evidence of Roman copies have been modified or reversed by subsequent research, but the fine enthusiasm of the work, its strong and yet graceful style, and its vivid descriptions of works of art give it enduring value and interest. It marked an epoch by indicating the spirit in which the study of Greek art should be approached, and the methods by which investigators might hope to attain to solid results. To Winckelmann's contemporaries it came as a revelation, and exercised a profound influence on the best minds of the age. It was read with intense interest by Gotthold Ephraim Lessing, who had found in the earliest of Winckelmann's works the starting-point for his Laocoon.
Winckelmann contributed various admirable essays to the Bibliothek der schönen Wissenschaften; and in 1766 he published his Versuch einer Allegorie, which, although containing the results of much thought and reading, is not conceived in a thoroughly critical spirit. Of far greater importance was the splendid work entitled Monumenti antichi inediti (1767-68), prefaced by a Trattato preliminare, presenting a general sketch of the history of art. The plates in this work are representations of objects which had either been falsely explained or not explained at all. Winckelmann's explanations were of the highest service to archaeology, by showing that in the case of many works of art supposed to be connected with Roman history the ultimate sources of inspiration were to be found in Homer.
In 1768 Winckelmann went to Vienna, where he was received with honor by Maria Theresa. At Trieste on his way back he was murdered in an hotel by a man named Arcangeli to whom he had shown some coins presented by Maria Theresa (June 8th, 1768). He was buried in the churchyard of the cathedral of St. Giusto at Trieste.
An edition of his works was begun by Fernow in 1808 and completed by Meyer and Schulze (1808-20). There are admirable studies of his character and work in Goethe's Winckelmann und sein Jahrhundert (1805), to which contributions were made by Meyer and Wolf, and in Walter Pater's Renaissance (1902). The best biography of Winckelmann is by Justi, Winckelmann und seine Zeitgenossen (2nd ed., 3 vols., Leipzig, 1898). A collection of letters, Briefe an seine Züricher Freunde, was published by Blümner (Freiburg, 1882).
University: University of Halle
University: University of Jena

Converted to Catholicism 1754
Risk Factors: Insomnia

Do you know something we don't?
Submit a correction or make a comment about this profile

Copyright ©2019 Soylent Communications