Gordon Getty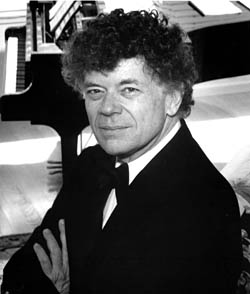 AKA Gordon Peter Getty
Born: 20-Dec-1934
Birthplace: San Francisco, CA

Gender: Male
Race or Ethnicity: White
Sexual orientation: Straight
Occupation: Business, Composer
Party Affiliation: Republican [1]
Nationality: United States
Executive summary: Heir to the Getty Oil fortune
Favorite of his father after the death of his half-brother, he became head of Getty Oil, selling it to Texaco in the 1980's for $10.1 billion. San Francisco mayor Gavin Newsom's father William Newsom is a longtime friend (they met in high school) who administers the Gordon P. Getty Family Trust. The only Getty family member on the board of the Getty Museum.
Net worth $2.1B (Forbes). In 1999, his three illegitimate children by Cynthia Beck lobbied him to be included in the Getty inheritance.
After his business interests, Getty's main pursuit is composing classical music and operas, such as the rarely-performed Plump Jack. Getty also fancies himself an economist: one of his theories is "fertile money", where he would have solved Russia's post-breakup inflation by replacing its currency with mutual funds.
---
[1] Republican, though he has contributed to Democrats Nancy Pelosi, John Kerry, and Willie Brown.

Father: J. Paul Getty, Sr.
Mother: Ann Rork
Brother: J. Paul Getty, Jr.
Wife: Ann Gilbert (m. 1964, four children)
Son: Gordon Peter Getty
Son: Andrew Rork Getty (d. 2015)
Son: William Paul Getty (restaurateur, business partner of Gavin Newsom)
Son: John Gilbert Getty (aspiring rock musician)
Mistress: Cynthia Beck (three children)
Daughter: Nicolette Beck Getty (with Beck)
Daughter: Kendalle Beck Getty (with Beck)
Daughter: Alexandra Beck Getty (with Beck)


High School: St. Ignatius High School, San Francisco, CA
University: BA, San Francisco Conservatory of Music


Getty Family
J. Paul Getty Trust (past)
Obama Victory Fund 2012
San Francisco Symphony Board of Governors
Wedding: Gavin Newsom and Jennifer Siebel (2008)





Requires Flash 7+ and Javascript.



Do you know something we don't?
Submit a correction or make a comment about this profile






Copyright ©2019 Soylent Communications