C. M. Kornbluth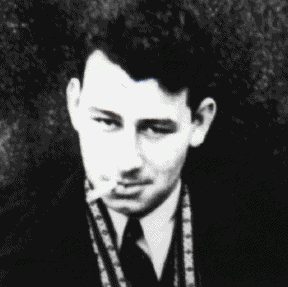 AKA Cyril M. Kornbluth
Born: 23-Jul-1923
Birthplace: New York City
Died: 21-Mar-1958
Location of death: Waverly, NY
Cause of death: Heart Failure

Gender: Male
Race or Ethnicity: White
Sexual orientation: Straight
Occupation: Novelist
Nationality: United States
Executive summary: The Space Merchants
Military service: US Army (infantry, WWII, Europe)
Part of the early formative years that underlay science fictionís Golden Age, author C.M. Kornbluth is best known for his collaborative work with Frederik Pohl. Besides his collaborative novels with Pohl (Space Merchants, Search the Sky, and Wolfbane) Kornbluth also produced a host of excellent short fiction, both singly and collaboratively, including his famous "The Marching Morons", and "The Little Black Bag," plus "The Altar at Midnight," "Mute Inglorious Tam", "The Advent of Channel 12", and many others. Kornbluth was especially noted for introducing an awareness of the soft sciences (sociology, psychology, etc.) into the sci-fi genre. Although not amongst the living since 1958, Kornbluth continues to win awards (Hugo, 1973) and to publish new work with a vigor that only deceased friend Isaac Asimov could rival. Of him Asimov once said, "He was, perhaps, more brilliant than I was..."
Cyril M. Kornbluth was born in New York City in 1923. In his teens he became part of the Futurians club (to which Pohl, Merril, and Asimov all belonged) where he socialized and traded ideas with many who would become important authors in the sci-fi genre. He had a reputation both for a short temper (backed up at times with his fists), and a creative, brilliant mind. At 15 Kornbluth began his professional writing career, and within a few years he already had an impressive list of published short fiction to his credit.
He attended the University of Chicago but left to serve in World War II as a heavy machine gunner. Kornbluth fought at the battle of the Bulge and was awarded the bronze star. Kornbluth is said to have returned from the war more mature but also more cynical. He returned to Chicago, finishing his education while working as editor for the Chicago bureau of Trans Radio Press. In 1951 he took up writing full time. Unfortunately by this time he was also having health problems and for a brief time was put on tranquilizers. But the pills interfered with his writing, making his mind dull and lethargic and eventually he quit them and went back to the less intrusive mood regulators of alcohol and tobacco. He died in 1958 at the age of 34, an age when most writers begin to hit their stride and begin producing their best work (especially novel length). At the time of his death he was (newly) the editor of The Magazine of Fantasy and Science Fiction
Kornbluth was awarded the Hugo, posthumously in 1973, for "The Meeting", an honor he shared with co-author Frederik Pohl (who, over the years, has completed a great deal of Kornbluth's unfinished work and saw it to publication). His solo novel the Syndic received the Prometheus Hall of Fame Award for Best Classic Libertarian SF Novel in 1986. In 2001 he was awarded the retro Hugo for his novelette The Little Black Bag, which first appeared in Astounding Science Fiction in July of 1950.
Father: Samuel Kornbluth
Mother: Deborah Unger
Brother: Lewis Kornbluth
Wife: Mary G. Byers (m. 1943)
Son: John
Son: David

High School: George Washington High School, Manhattan, NY
University: University of Chicago

Bronze Star Battle of the Bulge (WWII)
Hugo 1973 Best Short Story, for The Meeting (with Frederik Pohl)

Author of books:
Mars Child (1951, novel)
Gunner Cade (1952, novel, with Judith Merril, as Cyril Judd)
Takeoff (1952, novel)
The Space Merchants (1953, novel, with Frederik Pohl)
The Syndic (1953, novel)
The Explorers (1954, short stories)
Search the Sky (1954, novel, with Frederik Pohl)
1954 Gladiator-at-Law (1954, novel, with Frederik Pohl)
The Mindworm and Other Stories (1955, short stories)
Not This August (1955, novel)
A Mile Beyond the Moon (1958, short stories)
Wolfbane (1959, novel, with Frederik Pohl)
Marching Morons (1959, short stories)
Sin in Space (1961, novel)
Best SF Stories of C.M. Kornbluth (1968, short stories)
The Best of C.M. Kornbluth (1976, short stories)
His Share of Glory (1997, short stories)

Do you know something we don't?
Submit a correction or make a comment about this profile

Copyright ©2019 Soylent Communications