David Duke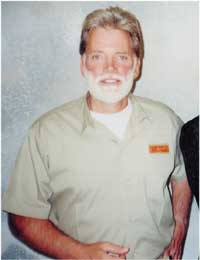 AKA David Ernest Duke
Born: 13-Jul-1950
Birthplace: Tulsa, OK

Gender: Male
Religion: Christian
Race or Ethnicity: White
Sexual orientation: Straight
Occupation: Activist, Politician
Party Affiliation: Republican [1]
Nationality: United States
Executive summary: Former KKK Grand Wizard
David Duke is probably America's most famous unapologetic racist and anti-Semite. "Our clear goal," he has said, "must be the advancement of the white race and separation of the white and black races. This goal must include freeing of the American media and government from subservient Jewish interests." He opposes integration, calls himself a "white nationalist", and his political perspectives are colored almost entirely by race.
His father was an engineer for Shell Oil, his mother was an alcoholic, and his family employed a black maid Duke called Pinky, who was always careful to use the toilet in the utility room, not the home's main toilet. Growing up in Louisiana, he rooted for the South in every Civil War movie, and came to believe that the South had been right. At 13, he was reading racist material from the New Orleans office of the White Citizens Council, and at 17 he joined the Ku Klux Klan (KKK).
At Louisiana State University he founded the White Youth Alliance. He was active in the school's ROTC program, winning the Outstanding Cadet Award before being booted from the group for his racist activism. He was known on campus as the guy who wore his Nazi uniform while handing out hate literature.
He was elected Grand Wizard of the KKK, and held that office from 1974-78. He was something of a moderate for the Klan, referring to himself as the group's "National Director" instead of Grand Wizard, wearing a suit and tie instead of the traditional white robes, and urging members to mainstream the group by getting "out of the cow pasture and into hotel meeting rooms." He established the National Association for the Advancement of White People in 1980.
In 1988 he ran in several Democratic Presidential campaigns, winning no primaries and gaining substantial votes only in the South, but the campaign was given widespread media coverage, which made Duke famous. In 1989 he switched parties and was elected to the Louisiana House as a Republican. In 1990 he ran for the US Senate, receiving 44% of the vote against the Democratic incumbent, J. Bennett Johnston. In his 1991 campaign for Louisiana Governor, he received 39% of the vote, losing to Edwin Edwards. Remarkably, however, Duke received somewhere between 55% and 60% of the white vote.
In 1996, when Johnson retired from the Senate, Duke ran in a crowded field, garnering about 11.5% as Democrat Mary Landrieu was elected. In 1999 he ran for US Congress, getting 19% of the vote as Republican David Vitter defeated fellow Republican and former Governor David C. Treen.
In 2002 Duke was convicted of mail fraud and tax evasion, and served a brief prison term. In 2003 he founded yet another white power group, the European-American Unity and Rights Organization. In 2005, he obtained a doctorate in history from the Interregional Academy of Personnel Management, a privately-run anti-Semitic university in Ukraine where he now teaches. His book, The Jewish Question Through the Eyes of an American, is used as a text.
Other books written by Duke include African Atto, a guide aimed at radical African-Americans where Duke used the pen name Mohammad X, and Finders-Keepers, a sex manual for women offering Duke's expert technique for vaginal exercises, fellatio, and anal sex, written under the pseudonym Dorothy Vanderbilt.
In 2006, as Iranian President Mahmoud Ahmadinejad hosted an international gathering of Holocaust deniers, Duke was the most well-known American in attendance.
Duke met his wife, Chloe Hardin, at a college meeting of the White Youth Alliance. They were married for ten years, and after their divorce she married Stephen Myron "Don" Black, who had replaced Duke as Grand Wizard of the KKK.
---
[1] Member of the Democratic Party prior to 1989, switched to Republican.

Father: David Hedger Duke (Shell Oil engineer)
Mother: Alice Maxine Crick Duke (d. 1993)
Sister: Dotti (b. circa 1945)
Wife: Chloe Eleanor Hardin (dated 1972-74, m.. 1974, div. 1984, two daughters)
Daughter: Erika
Daughter: Kristin


University: BA History, Louisiana State University (1974)
University: PhD History, Interregional Academy of Personnel Management, Ukraine (2005)
University: History and International Relations, Interregional Academy of Personnel Management, Ukraine


Louisiana State House of Representatives 81st (1989-92)
National Association for the Advancement of White People (1978-89)
Ku Klux Klan National Director (1974-78)
White Supremacists
Rhinoplasty
Tax Evasion (convicted 2002)
Mail Fraud (convicted 2002)
Deported from the Czech Republic (25-Apr-2009)
Assisted by the ACLU Providence, RI (7-Jan-1992)
Assisted by the ACLU Miami, FL (Jan-1992)
Assisted by the ACLU Atlanta, GA (13-Sep-2012)


FILMOGRAPHY AS ACTOR
Alt-Right: Age of Rage (9-Mar-2018) · Himself


Official Website:
http://www.davidduke.com/

Rotten Library Page:
David Duke




Requires Flash 7+ and Javascript.



Do you know something we don't?
Submit a correction or make a comment about this profile






Copyright ©2019 Soylent Communications