Patti Page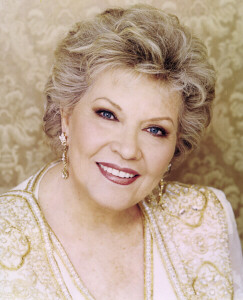 AKA Clara Ann Fowler
Born: 8-Nov-1927
Birthplace: Claremore, OK
Died: 1-Jan-2013
Location of death: Encinitas, CA
Cause of death: unspecified

Gender: Female
Race or Ethnicity: White
Sexual orientation: Straight
Occupation: Singer
Nationality: United States
Executive summary: The Tennessee Waltz
The second youngest of eleven siblings, Clara Ann Fowler originally sought to pursue a career as an artist; while still in high school, she secured a job in the art department of the Tulsa radio station KTUL. Upon hearing her sing, however, the station manager enlisted Fowler to become the new voice of the Meet Patti Page Show -- a 15 minute segment sponsored by the Page Milk Company. This exposure soon led to an invitation to tour with the Jimmy Joy Band by its manager Jack Rael, launching her into an unplanned life as a professional musician. Even after leaving the radio program she retained the name with which she had established herself, and before long Clara Fowler legally became Patti Page.
In 1947 Page left the Joy band to pursue a solo career, enlisting her friend Rael's services as manager and bandleader -- a role he would maintain for nearly 50 years. Rael wasted no time in arranging national exposure for his singer through an appearance on the Chicago-based Breakfast Club radio showcase, where Page was backed by Benny Goodman's septet. The broadcast almost immediately resulted in a contract with the recently-founded label Mercury Records, and her first single -- Confess -- was released in early 1948. The song is significant not only for initiating the start of Page's recording career, but also for the fact of its being the first instance of a singer using multi-track technology to act as her own backing chorus (a tactic necessitated by a lack of money to pay for real backing singers).
Throughout the remainder of the 1940s Page released a series of increasingly successful singles, culminating in 1950's The Tennessee Waltz -- at the time, the largest-selling single by a female performer. An almost endless string of popular songs followed over the next two decades, ranging from romantic ballads like Would I Love You, Love You, Love You to the novelty fare of (How Much Is) That Doggie in the Window. The 50s also saw the start of Page's prodigious television work, with guest spots on variety programs such as The Ed Sullivan Show and The Steve Allen Show eventually leading to a Patti Page special on ABC, and later to consecutive series of her own on all three major networks. In addition to these musical appearances, she also made a number of ventures into acting during this period, beginning with a role on the CBS series Playhouse 90 and later making her big-screen debut in the 1960 feature film Elmer Gantry.
A final charting single -- Hush, Hush, Sweet Charlotte, taken from the film of the same name -- was to surface in 1965. Ms. Page subsequently moved away from her work in the studio to focus instead on club and concert performances, the most notable of these being a 50th anniversary show at Carnegie Hall in 1997 (a recording of this event would earn the singer her first Grammy the following year). In the 1980s she signed to a country label, having terminated her long association with Mercury/Columbia; in the late 1990s she founded her own label, C.A.F., with whom she has released three records, including a 2003 collection of children's songs.
Husband: Charles O'Curran (choreographer, b. 1913, m. 1956, div. 1972, d. 1984, one daughter, one son)
Daughter: Kathleen O'Curran Ginn (adopted)
Son: Danny O'Curran (adopted)
Husband: Jerry Filiciotto (aerospace engineer, m. 1990, d. 2009)

Grammy Best Traditional Pop Vocal Performance (1998)

FILMOGRAPHY AS ACTOR
Boys' Night Out (21-Jun-1962) · Joanne McIllenny
Dondi (26-Mar-1961)
Elmer Gantry (7-Jul-1960) · Sister Rachel

Official Website:
http://www.misspattipage.com/
Do you know something we don't?
Submit a correction or make a comment about this profile

Copyright ©2019 Soylent Communications