Eddy Arnold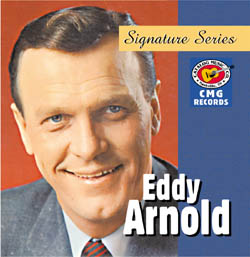 AKA Richard Edward Arnold
Born: 15-May-1918
Birthplace: Henderson, TN
Died: 8-May-2008
Location of death: Nashville, TN
Cause of death: Illness
Remains: Buried, Woodlawn Memorial Park, Nashville, TN

Gender: Male
Race or Ethnicity: White
Sexual orientation: Straight
Occupation: Country Musician
Nationality: United States
Executive summary: The Tennessee Plowboy
Born to a farming family in Tennessee, Eddy Arnold was encouraged in the development of his musical abilities by his parents, both of whom had a background in performing. Despite their financial hardships, his father put enough money aside to buy a guitar for young Eddy, and his mother tutored him on the instrument after his chores had been completed. The death of his father on his eleventh birthday resulted in a bank foreclosure of the farm, but the family stayed on the land as sharecroppers; Arnold subsequently began working to establish a career in music, determined not to ever live through such an experience again. The ensuing years were a constant struggle, the aspiring singer supporting himself through farm and (eventually) mortuary work while perfoming at local events as often as possible.
Arnold's radio debut was finally achieved in 1936 on the Jackson station WTJS, after which he gradually expanded his reputation into cities such as Memphis and St. Louis. By 1940 he had landed a job with Pee Wee King's Golden West Cowboys, providing him with regular appearances on the Grand Ole Opry and a place in their associated touring shows; towards the end of 1943 he emerged from the group as a solo performer to host an almost-daily radio program on WSM under his nickname "The Tennessee Ploughboy". Before long, a contract with the RCA label was secured, and by 1944 his recording career was underway.
With the release 1945's Each Minute Seems A Million Years Arnold began an unprecedented run on the country charts, placing 58 consecutive songs in the top ten and reaching the #1 position 21 times over the next ten years. Appearances on television variety shows like Ed Sullivan broadened his exposure to mainstream audiences, giving a few of his singles (Bouquet Of Roses, I'll Hold You In My Heart (Till I Can Hold You In My Arms), Just A Little Lovin' Will Go A Long Way) a life in the pop charts as well. The shift in popular taste in the late 1950s towards rock and roll brought about a momentary decline in Arnold's popularity, as was the case with many performers of his era; but -- with the help of new manager Jerry Purcell (his old manager, Colonel Tom Parker, moving on to direct the career of Elvis Presley) and a shift from his hillbilly roots to Chet Atkins' more commercial orchestral backing -- by 1964 the singer had once again managed to re-assert his presence on the charts. The ballad Make The World Go Away ushered in a second run of 16 more consecutive charting singles during the remainder of the 1960s, as well as shift to venues such as Carnegie Hall and showrooms in Las Vegas and Los Angeles.
After decades of musical activity, Arnold eventually retired from public performance in the early 2000s, concentrating instead on his business interests -- amongst which are included a variety of real estate holdings and membership on corporate board of directors.
Wife: Sally Gayhart (m. 28-Nov-1941, d. 11-Mar-2008, one son, one daughter)

Country Music Hall of Fame 1966
Grammy Hall of Fame Award (1999)

Official Website:
http://www.eddyarnold.com/
Do you know something we don't?
Submit a correction or make a comment about this profile

Copyright ©2019 Soylent Communications