Ted Rall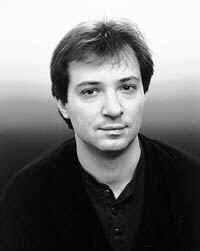 Born: 26-Aug-1963
Birthplace: Cambridge, MA

Gender: Male
Religion: Atheist
Race or Ethnicity: White
Occupation: Cartoonist, Columnist
Nationality: United States
Executive summary: Godless heathen cartoonist
Ted Rall's parents were divorced long before he started school, and he was raised by his French-speaking mother. When young Rall started kindergarten, he barely spoke English. His mother encouraged him to read the newspaper, so while other 5-year-olds were reading about Dick and Jane, Rall was reading about the Vietnam war and the assassination of Robert F. Kennedy. He was especially drawn to the editorial cartoons, and started doodling his own. By the time he was 17, Rall was selling his cartoons to a local biweekly paper, The Kettering-Oakwood Times.
He attended Columbia University for three years, majoring in physics. He published a "really obscene and violent" zine called The New York Lost, in which he taunted the university's hierarchy until he was expelled in 1984. After that, Rall gave up cartooning and stepped into the mass-marketed American life.
"I was working on Wall Street, which I hated, was driving a cab at night, getting no sleep, totally exhausted, totally broke, just miserable. In '88 I was thinking about the fact that I hated my life and [that cartooning was] the only thing that I had ever done that I enjoyed doing. So I decided that no matter what, whether I was successful or not, I was going to draw."
Rall resumed cartooning, and posted his cartoons on telephone poles and newspaper boxes. His work started to appear in tiny publications, and eventually was syndicated through The San Francisco Chronicle, and later the giant Universal Press Syndicate. In 1990, he returned to Columbia, switched majors, and earned his degree in history. His thesis was about America's plans (never followed through, but seriously considered) to occupy France when World War II ended.
Perhaps his most famously offensive cartoon was "Terror Widows", drawn in February on 2002, mocking widows of September 11 who were, in Rall's view, cashing in on America's grief. "I keep waiting for Kevin to come home, but I know he never will," says a mourning wife in one panel. "Fortunately, the $3.2-million I collected from the Red Cross keeps me warm at night." He struck a similar vein in a 1993 cartoon, when 12-year-old kidnap victim Polly Klaas was found dead. The cartoon, says Rall, "attacked her father for having abandoned their family and never having taken care of her until she croaked, and then he showed up at her funeral with Linda Ronstadt and all these politicians. I took him to task, which was considered kicking someone when they're down. It was called 'tasteless'." When Ronald Reagan died, Rall wrote that he was sorry that Reagan "didn't die in prison, where he belonged."
His comics and columns have been syndicated in many alternative weeklies, and newspapers as mainstream as The Los Angeles Times and New York Times. Rall also writes a weekly newspaper column, and he covered the American war in Afghanistan for The Village Voice. His illustrated war reports were published in book form as To Afghanistan and Back. As you might guess, Rall receives a lot of hate mail and death threats, so he's understandably tight-lipped about his personal life.
In 2015, he described being stopped for jaywalking by Los Angeles police, then handcuffed and physically accosted by a policeman who threw Rall's driver's license into the sewer while dozens of onlookers watched and shouted in protest. Rall's initial complaint about the incident mentioned no physical violence or handcuffing but said that the police officer was "belligerent and hostile" and that he threw Rall's license into the gutter. The policeman responded by releasing audiotape of their interaction, which seems polite at the beginning, but then becomes largely inaudible. In response, the Los Angeles Times announced that it would no longer carry Rall's work.
High School: Fairmont West High School, Kettering, OH (1981)
University: BA History, Columbia University (1991)

Official Website:
http://www.rall.com/
Author of books:
Waking Up In America (1992)
All The Rules Have Changed (1995)
Real Americans Admit: The Worst Thing I've Ever Done (1996)
Revenge of the Latchkey Kids (1998)
Revenge of the Disgruntled Employee (1998)
My War With Brian (1998)
2024 (2001)
Search and Destroy (2001)
To Afghanistan and Back (2002)
Gas War: The Truth Behind the American Occupation of Afghanistan (2002)
Generalissimo El Busho: Essays & Cartoons on the Bush Years (2004)
Wake Up, You're Liberal!: How We Can Take America Back from the Right (2004)

Do you know something we don't?
Submit a correction or make a comment about this profile

Copyright ©2019 Soylent Communications