Samuel Crompton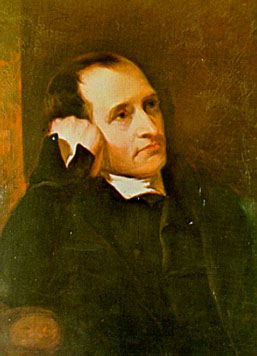 Born: 3-Dec-1753
Birthplace: Firwood, Lancashire, England
Died: 26-Jun-1827
Location of death: Bolton, Lancashire, England
Cause of death: unspecified

Gender: Male
Religion: See Note [1]
Race or Ethnicity: White
Sexual orientation: Straight
Occupation: Inventor
Nationality: England
Executive summary: Invented the spinning mule
English inventor, born on the 3rd of December 1753 at Firwood near Bolton-le-Moors, Lancashire. While yet a boy he lost his father, and had to contribute to the family resources by spinning yarn. The defects of the spinning jenny imbued him with the idea of devising something better, and for five or six years the effort absorbed all his spare time and money, including what he earned by playing the violin at the Bolton theater.
About 1779 he succeeded in producing a machine which span yarn suitable for use in the manufacture of muslin, and which was known as the muslin wheel or the Hall-in-the-Wood wheel (from the name of the house in which he and his family resided), and later as the spinning mule. After his marriage in 1780 a good demand arose for the yarn which he himself made at Hall-in-the-Wood, but the prying to which his methods were subjected drove him, in the absence of means to take out a patent, to the choice of destroying his machine or making it public. He adopted the latter alternative on the promise of a number of manufacturers to pay him for the use of the mule, but all he received was about £60. He then resumed spinning on his own account, but with indifferent success.
In 1800 a sum of £500 was raised for his benefit by subscription, and when in 1809 Edmund Cartwright, the inventor of the power loom obtained £10,000 from parliament, he determined also to apply for a grant. In 1811 he made a tour in the manufacturing districts of Lancashire and Scotland to collect evidence showing how extensively his mule was used, and in 1812 parliament allowed him £5000. With the aid of this money he embarked in business, first as a bleacher and then as a cotton merchant and spinner, but again without success. In 1824 some friends, without his knowledge, bought him an annuity of £63. He died at Bolton on the 26th of June 1827.
---
[1] Swedenbourgianism

Father: George Crompton
Mother: Elizabeth Holt
Wife: Mary Pimlott (m. 16-Feb-1780, d. 1796)
Son: George (b. 8-Jan-1781, d. 1858)
Son: Samuel (b. 1782, d. 1840)
Daughter: Betty (b. 1784)
Son: William (b. 1786, d. 1838)
Son: John (b. 1791, d. 1864)
Son: James (b. 1793, d. 1836)
Son: Peter (b. 1795, d. 1798)
Son: Joseph (b. 1796, d. 1796)






Do you know something we don't?
Submit a correction or make a comment about this profile






Copyright ©2019 Soylent Communications