Iyad Allawi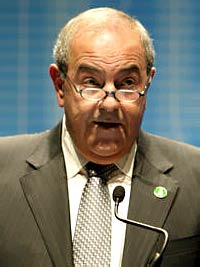 Born: 31-May-1944
Birthplace: Baghdad, Iraq

Gender: Male
Religion: Shia Muslim
Race or Ethnicity: Middle Eastern
Sexual orientation: Straight
Occupation: Head of State
Nationality: Iraq
Executive summary: Iraqi Prime Minister, 2004-05
In early 2004 an Arabic newspaper in London published a letter by Dr. Haifa al-Azawi, a former classmate of Allawi's:
Any physician who graduated from Baghdad Medical School between the years 1962 and 1970 will remember this big, husky man. The Baath party union leader, who carried a gun on his belt and frequently brandished it terrorizing the medical students, was a poor student and chose to spend his time standing in the school courtyard or chasing female students to their homes.

When I entered medical school, Iyad Allawi was a student there and when I graduated he was still a student there. He tried to form a political party and, according to some friends of his, he faked names to make the party seem larger than it really was. His medical degree is bogus and was conferred upon him by the Baath party, soon after a WHO (World Health Organization) grant was orchestrated for him to go to England and study public health accompanied by his Christian wife, whom he dumped later to marry a Muslim woman.

In England he was a poor student, visiting the Iraqi embassy at the end of each month to collect his salary as the Baath party representative. According to his first wife and her family members, he spent his time dealing with assassins doing the dirty work for the Iraqi government, until his time was up and he became their target.
Father: (member of Iraqi Parliament)
Wife: Athour (Christian, div. 1981)
Wife: Thana (Muslim, two daughters, one son)


University: MS Science, London University
Medical School: MD, London University


Prime Minister of Iraq (28-May-2004 to 7-Apr-2005)
Iraqi Minister Defense (2003)
Assassination Attempt 1978 (axe attack)
Declared Martial Law Nov-2004
Assassination Attempt 20-Apr-2005 (suicide car bomb)
Iraqi Ancestry





Requires Flash 7+ and Javascript.



Do you know something we don't?
Submit a correction or make a comment about this profile






Copyright ©2019 Soylent Communications