Beenie Man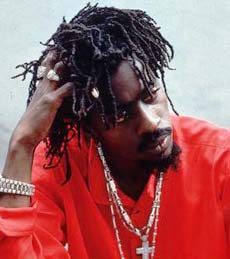 AKA Moses Davis
Born: 22-Aug-1973
Birthplace: Craig Town, Kingston, Jamaica

Gender: Male
Religion: Rastafarian [1]
Race or Ethnicity: Black
Sexual orientation: Straight
Occupation: Rapper
Nationality: Jamaica
Executive summary: Prominent Jamaican dancehall rapper
Beenie Man began performing as a dancehall rapper in his home of Jamaica at the age of 10. He broke into the UK market in the 1990s, where he has since been vilified for lyrics seeming to praise violence against homosexuals.
Beenie Man maintains that the lyrics in his music have been misconstrued due to cultural differences, and are actually aimed at child-molesters in his country. "Jamaica is not against gay people," he says in a thick Jamaican lilt. "Gay [here means] consented sex. [Yet] what we have in Jamaica is not what it is in England where two men live together. That's not it in Jamaica and these people fail to understand that. In Jamaica, gay [implies] rape. It's a big man with their money going into the ghetto and picking these little youth who ain't got nothing [...]

"But I'm not fighting against gay and lesbian life. As a man, you don't like to see two men together, you find it disgusting. But that's their life. To you it's disgusting, but to them it's happy. That's why they call themselves gay, they are happy people. They are happy with their life and they're doing their thing. So it's not for you to come and make these people feel sad and unhappy. And dancehall music never set out to do that because people are people. When I see a gay man, I see a man."
---
[1] "I'm a Rastafarian. And I believe in the Bible." Matilda Egere-Cooper, "Beenie Man: 'I'm not homophobic'", The Independent, 11 August 2006.

Beenie Man
Grammy Best Reggae Album (2000)
Mugged Brixton (Jan-2006)
Risk Factors: Homophobia


FILMOGRAPHY AS ACTOR
Dancehall Queen (13-Sep-1997) · Himself


Official Website:
http://www.beenieman.net/

Selected albums:
The Invincible Beenie Man, the Ten Year Old DJ Wonder (1983)





Requires Flash 7+ and Javascript.



Do you know something we don't?
Submit a correction or make a comment about this profile






Copyright ©2019 Soylent Communications