Anita Bryant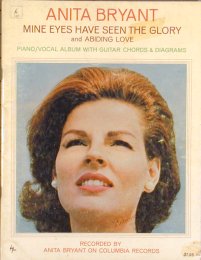 AKA Anita Jane Bryant
Born: 25-Mar-1940
Birthplace: Barnsdall, OK

Gender: Female
Religion: Baptist
Race or Ethnicity: White
Sexual orientation: Straight
Occupation: Activist, Singer
Nationality: United States
Executive summary: Anti-homosexuality activist
Anita Bryant was a singer, beauty queen, and celebrity spokesperson who became best known for her work in favor of bigotry against gays and lesbians. She was born and raised in Oklahoma, where she was singing on stage at local fairgrounds at age six. She sang occasionally on radio and television, and was invited to audition when Arthur Godfrey's talent show came to town. Her family, though, was extremely religious, and her father at first refused to allow her to go on Godfrey's famous show, relenting only when he was told his daughter had a God-given talent, and it would be a sin not to share it.
She won first prize on Godfrey's show, and had her first minor hit with "Sinful to Flirt" when she was 16. At 18, she won the Miss Oklahoma beauty pageant, and she was second runner-up for Miss America. In 1959 and 1960, she had three million-selling singles, "Til There Was You", "Paper Roses", and "My Little Corner of the World." She then married a Miami disc jockey, and settled in Florida to start a family. She vanished from the pop charts, but released several albums of Christian music.
Projecting a wholesome, maternal image, Bryant plugged Coca-Cola, Kraft Foods, Holiday Inn, and Tupperware in assorted TV, billboard, and magazine ad campaigns. Her most famous celebrity endorsement deal began in 1968, when she sang an upbeat jingle in commercials for the Florida Citrus Commission, closing each ad with their tag line, "A day without orange juice is like a day without sunshine." By the mid-1970s, Bryant was also a celebrity spokesperson for Christ, singing Christian music and writing books offering inspirational advice. Her popular books included tips for Christian parents Raising God's Children and her cookbook, Bless This Food: An Inspiring Personal Guide to Christian Family Togetherness Through Home Cooking, Faith and Love. For three consecutive years, she won the "Most Admired Woman in America" poll in Good Housekeeping.
Then, in 1977, Bryant became obsessed when Miami-Dade County added an amendment to its human rights ordinance, making it illegal to discriminate in housing, employment, loans, and public accommodations based on "affectional or sexual preference." Announcing, "I will lead such a crusade to stop it as this country has not seen before", she founded Save Our Children. As the group's name implies, Bryant's central -- and ludicrous -- argument was her fear that children would be molested or converted by gay perverts. "As a mother," she famously explained, "I know that homosexuals cannot biologically reproduce children; therefore, they must recruit our children."
Bryant's Old Testament activism drew many followers, and within a year the law was repealed, making it legal again to fire workers, deny people housing, or refuse their business based on how and with whom consenting adults have sex. Celebrating her victory in a sound bite that aired nationwide, Bryant promised she would "seek help and change for homosexuals, whose sick and sad values belie the word 'gay' which they pathetically use to cover their unhappy lives."
Even after the local amendment was repealed, Bryant fanned the flames with speaking tours that made her a national spokesperson against "homosexual rights." She was the star attraction at rallies that led to the repeal of gay rights in numerous cities, and she came to California to support the Briggs Initiative in 1978, which failed, but would have banned homosexuals or anyone advocating the "gay lifestyle" from teaching in public schools. "I don't hate the homosexuals," she wrote in a fundraising letter. "But as a mother, I must protect my children from their evil influence."
Not surprisingly, Bryant's outspoken activism inspired the gay rights movement like nothing since Stonewall. The response included pickets, petitions, and a boycott of Florida orange juice, which led the Citrus Commission to let her endorsement contract lapse. She was one of the first political figures to be "pied" when she was banana-creamed in Des Moines, Iowa, and National Lampoon published a parody ad for "Anita Bryant's Homo No Mo Macho-Building Course." Her record and book sales declined, she eventually sold her 33-room mansion, and her marriage ended in divorce -- which left Bryant "shunned as a sinner" by many of the judgmental people who had joined her campaign against equal rights for gays.
Through the 1980s and '90s Bryant continued to proclaim her Christianity, but had little to say about politics. She opened her own Anita Bryant Theater in Branson, Missouri, but ticket sales were weak, and Bryant relocated her stage show to an Arkansas tourist town, where she declared bankruptcy. She then opened the Anita Bryant Music Mansion in Pigeon Forge, Tennessee, where the auditorium was rarely more than one-quarter full. In all three states employees and bills were left unpaid when the Bryant operation went out of business. According to newspaper accounts, her unpaid taxes totaled $116,000 in Missouri, $172,000 in Arkansas, and about $490,000 in Tennessee.
In 1998, Miami-Dade county reinstated human rights protections for gays and lesbians.[1] Five years later, the Christian Coalition backed a county-wide effort to repeal the law, but lost.
Bryant was a high school classmate of future Bread singer David Gates.
---
[1] "Dade Outlaws Bias Against Gays: Narrow Vote Spurs Joy, Prayer, Demonstrations", The Miami Herald, 2 December 1998.

Husband: Bob Green (disc jockey, m. 1960, div. 1980, four children)
Son: Bobby
Daughter: Gloria
Husband: Charlie Hobson Dry (NASA test crewman, m. 1990)


High School: Will Rogers High School, Tulsa, OK (1958)


Council for National Policy
Endorsement of Florida Citrus Commission
Endorsement of Minute Maid orange juice (1970s)
Endorsement of Coca-Cola sang "Zing! What a Feeling with a Coke" (early 1960s)
Beauty Contest Miss Oklahoma (1958)
Pied banana cream, Des Moines, IA (14-Oct-1977)
Bankruptcy $10 million in debt (1997)
Bankruptcy Dec-2001
Risk Factors: Homophobia


FILMOGRAPHY AS ACTOR
Roger & Me (9-Sep-1989) · Herself





Requires Flash 7+ and Javascript.



Do you know something we don't?
Submit a correction or make a comment about this profile






Copyright ©2019 Soylent Communications