Pierre Teilhard de Chardin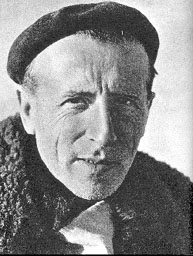 AKA Pierre Marie Joseph Teilhard de Chardin
Born: 1-May-1881
Birthplace: Sarcenat, France
Died: 10-Apr-1955
Location of death: New York City
Cause of death: unspecified
Remains: Buried, St. Andrew-on-Hudson Jesuit Cemetery, Poughkeepsie, NY

Gender: Male
Religion: Roman Catholic [1]
Race or Ethnicity: White
Occupation: Philosopher, Geologist, Paleontologist
Nationality: France
Executive summary: The Phenomenon of Man
Military service: Moroccan Army (1915-19, 8th riflemen regiment)
As a child, the future French Jesuit priest and paleontologist Pierre Teilhard de Chardin was fascinated by geology and the natural sciences. Even in the priesthood, he never abandoned his scientific curiosity, a pursuit which, he believed, gave glory to God. As part of his Jesuit training, he was assigned to teach at the Jesuit College of the Holy Family in Cairo, Egypt, a post which allowed him to observe Egyptian ruins and ignited his interest in geology and paleontology. He later read Henri Bergson's Creative Evolution, which irrevocably convinced him of the fact of evolution.
He lectured in Paris on the science of biological evolution, but his teachings were seen as a challenge to the Catholic theology, though he never meant them as such. He remained a devout Christian all his life, but he was effectively silenced by the Church, forbidden to lecture or publish on his theological and scientific perspectives, and exiled from his native France. After completing his doctorate in 1922, he joined a paleontological expedition to China, where he remained for almost twenty years and took a scientific post at China's Peking Union Medical College. From 1929 he oversaw the excavations at the "Peking man" site near Zhoukoudian.
His best-known works, including The Divine Milieu and The Phenomenon of Man, were written in the 1920s and '30s, but were not allowed to be published until after his death in 1955. By Papal order, Teilhard's books were banned from Catholic libraries and bookshops in 1957.
In his writings, Teilhard sought to reconcile the seeming conflict between his religious and scientific training by proposing what is called the Omega Point, which stipulates that humanity occupies a special rank among the species and a special place within the spiritual universe, and that human beings are evolving toward an "Omega Point" as the culmination of human existence on Earth. In The Divine Milieu, Tielhard wrote, "We may, perhaps, imagine that the creation was finished long ago. But that would be quite wrong. It continues still more magnificently, and at the highest levels of the world."
According to family lore, his father was distantly related to Blaise Pascal. His mother claimed to be a great-grandniece of the French Enlightenment writer Francois-Marie Arouet, commonly known as Voltaire.
---
[1] Jesuit.

Father: Alexandre-Victor Emmanuel Teilhard de Chardin (b. 1844, d. 1932)
Mother: Berthe-Adèle de Dompierre d'Hornoy (b. 1853, m. 18-May-1875, d. 1936)
Brother: Albéric (b. 1875, d. 1902)
Sister: Françoise (nun, b. 1879, d. 1911)
Sister: Marguerite Teillard-Chambon (b. 1880, d. 1959)
Sister: Marie-Louise (b. 1891, d. 1904)
Sister: Marguerite-Marie (b. 1883, d. 1936)
Brother: Gabriel (b. 1885, d. 1941)
Brother: Olivier (b. 1887, d. 1918 WWI)
Brother: Joseph (b. 1889, d. 1978)
Brother: Gonzague (b. 1893, d. 1914 WWI)
Brother: Victor (d. 1934)


High School: Notre Dame de Mongré, Villefranche-sur-Saône, France (1898)
University: Lycee Sacre-Coeur, Aix-en-Provence, France
Lecturer: Physics & Chemistry, Jesuit College of the Holy Family, Cairo (1905-08)
University: PhD Paleontology, Sorbonne (1922)
Teacher: Ass't Prof. of Geology, Catholic Institute of Paris (1922-23)
Scholar: Cenozoic Laboratory, Peking Union Medical College (1928-46)


Croix de Guerre (1-Sep-1915)
French Legion of Honor Chevalier (21-May-1921)
Ordained Society of Jesus (1911)
French Geological Society (President, 1922-23)
Royal Anthropological Institute (1937)
French Academy of Sciences (1950)
Heart Attack (1947)
French Ancestry


Author of books:
Le Phénomène humain (The Phenomenon of Man) (1955)
L'Apparition de l'homme (The Appearance of Man) (1956, essays)
La Vision du passé (Visions of the Past) (1957)
Le Milieu divin (The Divine Milieu) (1960)
Science et Christ (Science and Christ) (1965)





Requires Flash 7+ and Javascript.



Do you know something we don't?
Submit a correction or make a comment about this profile






Copyright ©2019 Soylent Communications