Abraham Maslow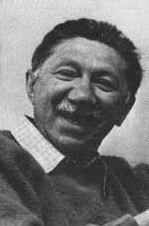 AKA Abraham Harold Maslow
Born: 1-Apr-1908
Birthplace: Brooklyn, NY
Died: 8-Jun-1970
Location of death: Menlo Park, CA
Cause of death: Heart Failure

Gender: Male
Religion: Jewish
Race or Ethnicity: White
Sexual orientation: Straight
Occupation: Psychologist
Nationality: United States
Executive summary: Hierarchy of Needs
One of the founders of humanistic psychology, Abraham Maslow is best known for his theory of human motivation centered on self-actualization and the phrase "hierarchy of needs". He maintained that the basic human drive is for self-actualization, the need to fulfill ones full potential (a painter must paint in order to be truly happy, a potentially great teacher must teach, and so on). But, said Maslow, the individual whose basic needs are clamoring to be met finds it harder to achieve self-actualization. (Successful people, he observed, are those who are skilled at balancing their higher order needs.)
Furthermore, he claimed, even our most basic needs have an order of importance – therefore we must be able to breathe sufficiently before we can address our thirst, and we must quench our thirst (at least somewhat) before we can give attention to our hunger, etc. (Sexual urges he placed after food.) Of secondary importance to these physical needs were our desire for safety and stability, followed by social/psychological needs such as love, acceptance, self-esteem, and a sense of belonging. Finally, at the top of the hierarchy, was self-actualization.
Born in Brooklyn, New York in 1908 Maslow initially studied law in college (at his parents' urging) but ultimately switched to psychology, earning his Ph.D. in 1934 from the University of Wisconsin. Among his influences were Harry Harlow and Alfred Adler and, later, Gestalt psychologist Max Wertheimer and anthropologist Ruth Benedict.
He was a professor at Brandeis University from 1951 until 1969, and then a resident fellow of the Laughlin Institute in California. He died of heart failure in 1970. His most influential books were Motivation and Personality (1954) and Toward a Psychology of Being (1964), Toward a Psychology Psychology of Being (1962), and Farther Reaches of Human Nature (1971). He was co-founder of the Journal of Humanistic Psychology.
Wife: Bertha Goodman (his first cousin, two daughters)

University: City College of New York
University: Cornell University
University: BA Psychology, University of Wisconsin (1930)
University: MA Psychology, University of Wisconsin (1931)
University: PhD Psychology, University of Wisconsin (1934)
Professor: Psychology, Brooklyn College (1937-51)
Professor: Psychology, Brandeis University (1951-69)
Administrator: Chair, Dept. of Psychology, Brandeis University (1951-69)

Humanist of the Year 1967

Author of books:
Motivation and Personality (1954)
Toward a Psychology of Being (1968)
The Further Reaches of Human Nature (1971)

Do you know something we don't?
Submit a correction or make a comment about this profile

Copyright ©2019 Soylent Communications