Merrie Spaeth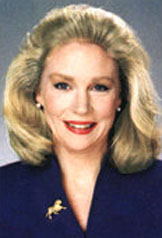 Born: 23-Aug-1948
Birthplace: Charlottesville, VA

Gender: Female
Race or Ethnicity: White
Sexual orientation: Straight
Occupation: Business, Activist
Party Affiliation: Republican
Nationality: United States
Executive summary: PR guru for Reagan, Swift Boat Vets
"Until you've lived through a White House Easter Egg Hunt, you don't know what hell is."

-- Merrie Spaeth, former aide to Nancy Reagan, 1992
Spaeth served as Special Assistant to FBI Director William Webster, before being transferred to the White House to as Director of Media Relations and Special Assistant to President Reagan.
During Ken Starr's preparations for testifying before the House Judiciary Committee regarding during the impeachment hearings against President Bill Clinton, friend and associate Ted Olson insisted that he rehearse his testimony with Merrie Spaeth. An expert at selecting just the right turn of phrase, it's a fair bet that Spaeth helped refine Starr's word choices.
During the 24 August 2004 episode of Scarborough Country on MSNBC, host Joe Scarborough grilled Spaeth on whether she had been part of an effort to smear Senator John McCain during his 2000 Presidential run:
| | |
| --- | --- |
| SCARBOROUGH: | The New York Times says that you've been involved with the Swift Boat Vets. New York Times also said that you were the spokesperson for that fringe veterans group that also smeared John McCain. Is that true? |
| SPAETH: | No. Absolutely, positively not. I run a corporate firm, we've been in business for 17 years. I -- I am -- I'm astounded that they would say things like that, and even more astounded that journalists wouldn't take the time to go check it out. |
| SCARBOROUGH: | What's the real story there? |
| SPAETH: | Well you'd have to go ask the people who put on the ads in South Carolina. The guy who put on the ads in New York has come forward, sent a letter to the Times, and tried to clarify the record. But the idea that the Kerry campaign can repeat things that aren't true, it's very disturbing to me. I'll give you another example -- |
| SCARBOROUGH: | Did -- did you -- did you have no connection with the McCain ads in South Carolina in 2000? |
| SPAETH: | None. None. Zero. What's lower than zero? Nothing. |
| SCARBOROUGH: | You, you, you, you didn't act as a spokesperson for one day, for one minute, for one -- for one second? |
| SPAETH: | No! No. |
Well, not exactly. According to an article printed three days prior in The Dallas Morning News, Spaeth actually did briefly work for the group which produced some of those anti-McCain ads, Republicans for Clean Air. By her own admission, she volunteered to spend a couple of days fielding press inquiries:
[During the 2000 campaign] Dallas businessmen Sam and Charles Wyly created a group called Republicans for Clean Air to attack Sen. John McCain's environmental record.

For two days when that story broke, Spaeth juggled phone messages for the group. She and Dallas Republican consultant Rob Allyn, who produced the ads, say that all she did was field phone calls as a favor because Allyn was traveling.

"She was not responsible for creating, producing or serving as a spokeswoman for Republicans for Clean Air," Allyn said Friday, dismissing how Democrats and media outlets now portray her role.

[...]

Spaeth calls it a "dumbo" thing that she agreed to do anything for Republicans for Clean Air, speaking somewhat dismissively of that effort.
Husband: Tex Lezar (m. 1984, d. 5-Jan-2004)
Son: Beau Lezar (stepson)
Son: Philip Lezar (b. Jul-1988)
Daughter: Maverick Lezar (b. 1992, godfather is Ted Olson)


High School: Germantown Friends School, Philadelphia, PA
University: BA, Smith College (1970)
University: Columbia Business School (1980)
Professor: Adjunct Professor, Southern Methodist University


White House Staff
The New York Daily News
The Philadelphia Inquirer
Bush-Cheney '04
George W. Bush for President
John McCain 2008
Rudy Giuliani Presidential Committee
Swift Boat Veterans for Truth Public Relations Consultant
White House Fellows


TELEVISION
20/20 Producer


FILMOGRAPHY AS ACTOR
The World of Henry Orient (19-Mar-1964) · Gil Gilbert





Requires Flash 7+ and Javascript.



Do you know something we don't?
Submit a correction or make a comment about this profile






Copyright ©2019 Soylent Communications