Robert Atkins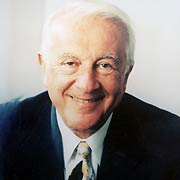 AKA Robert Coleman Atkins
Born: 17-Oct-1930
Birthplace: Columbus, OH
Died: 17-Apr-2003
Location of death: New York City
Cause of death: Accident - Fall
Remains: Cremated

Gender: Male
Race or Ethnicity: White
Sexual orientation: Straight
Occupation: Doctor
Nationality: United States
Executive summary: Atkins Diet doctor
Atkins' 1972 diet was revolutionary, and in direct opposition to the conventional wisdom of dieticians: lower carbohydrates, and increase meat and fat. While one would lose weight on such a diet, most of the loss is from water and muscle mass. The former is pointless and the latter can be dangerous. These inconvenient facts did not stop the public from buying 30 million of his books.
He suffered a heart attack in 2002, but one that he claimed was unrelated to diet. Atkins died after he purportedly slipped on a sidewalk in New York City, sustaining a brain injury. At the time of his death, Dr. Atkins weighed 258 pounds, and at his height of six feet, the U.S. government considers him obese.
Atkins' widow, Veronica, became furious at the release of her husband's records.
Mother: Norma
Wife: Veronica

University: University of Michigan (1951)
Medical School: MD, Cornell University (1955)

Coma 2003
Heart Attack 2002

Author of books:
Dr. Atkins' Diet Revolution (1972, diet)
Dr. Atkins' New Diet Revolution (1992, diet)

Do you know something we don't?
Submit a correction or make a comment about this profile

Copyright ©2019 Soylent Communications