Alicia Keys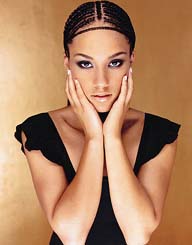 AKA Alicia J. Augello-Cook
Born: 25-Jan-1981 [1]
Birthplace: Manhattan, NY

Gender: Female
Religion: Christian
Race or Ethnicity: Multiracial
Occupation: Singer
Nationality: United States
Executive summary: Fallin'
A particularly well-resolved combination of her Jamaican and European heritage, Alicia Cook made her entrance into the world in Manhattan, and almost immediately launched into a lifestyle of musical performance. At the age of four she was performing in The Wizard of Oz; the following year she was provided with piano lessons by her mother, who had recognized the budding potential possessed by her daughter. By her teens she was composing her own songs and pursuing a major in choir at Manhattan's Professional Performance Arts School. Alicia's exceptional academic achievements allowed her to graduate at the age of 16, and an acceptance into Columbia University followed immediately; a dedication to her music outweighed her academic interests, however, and before long she made the decision to make the pursuit of the former her full-time occupation.
Industry awareness of Key's talents spread quickly, and a lively bidding competition between major labels hungry for fresh blood ensued. It was Clive Davis and Arista Records that ultimately claimed the talented young pianist's soul in 1998, but two years later, before any releases had materialized, Davis left to form J Records and took Keys with him as the new label's first signing. The result was 2001's Songs In A Minor, an album that subsequently entered the charts straight into the #1 position, instantly tranforming the then-21-year-old into an international star (and may the industry have mercy on her). Although some contribution was made to the album by established R&B performers such as Jermaine Dupri and Isaac Hayes, and a cover of a song by Prince was included, the bulk of the album was either written on co-written by Keys herself. The featured singles Fallin' and A Woman's Worth also proved extremely successful -- in some part due to the high rotation of their video clips, which added the highly photogenic nature of the composer to the basic appeal of the music itself.
After a two year whirlwind of touring and publicity, 2003 saw Alicia Keys releasing her sophomore effort, The Diary Of Alicia Keys. A more fully-developed exploration of Keys' blending of various styles, this second album lived up to the high standards set by its predecessor, and once again achieved both a #1 position on the mainstream charts and multi-platinum sales status. Yet another popular hit was scored in the 70s-style soul ballad You Don't Know My Name, indicating that Keys is more likely to be in it for the long haul, rather than just another flavor-of-the-moment. With the strong family support that she has, she may even be able to survive it with her psychological well-being intact. Deepak Chopra officiated at her 2010 wedding with Swizz Beatz.
---
[1] "Alicia Keys, the girl who made Bob Dylan weep", The Sunday Times, 24 February 2008, gives her birthdate as 1981. Numerous sources have her birth date listed varyingly as 1980 or 1981. As entertaiment personalities are apt to lie about their birthdates, it is probably impossible to ascertain without a birth certificate.

Father: Craig Cook
Mother: Terri Augello
Husband: Swizz Beatz (music producer, together since 2008, m. 31-Jul-2010, one son)
Son: Egypt Daoud Dean (b. 14-Oct-2010)


High School: Professional Performing Arts High School, Manhattan, NY
University: Columbia University (dropped out)


Alicia Keys
Grammy 2002 (New Artist)
Grammy 2003 for Fallin' (Female R&B Vocal Performance)
Grammy 2005 for If I Ain't Got You (Female R&B Vocal Performance)
Grammy 2008 for No One (Female R&B Vocal Performance)
Endorsement of ProActiv acne treatment
Endorsement of Megaupload (2011)
Jamaican Ancestry Paternal
Irish Ancestry Maternal
Italian Ancestry Maternal


FILMOGRAPHY AS ACTOR
Jem and the Holograms (22-Oct-2015)
Nas: Time Is Illmatic (16-Apr-2014) · Herself
12-12-12 (1-Nov-2013) · Herself
Girl Rising (7-Mar-2013) [VOICE]
Muscle Shoals (26-Jan-2013) · Herself
The Secret Life of Bees (5-Sep-2008)
The Nanny Diaries (24-Aug-2007)
Smokin' Aces (12-Jan-2007)
We Are Together (Thina Simunye) (26-Nov-2006) · Herself
America: A Tribute to Heroes (21-Sep-2001) · Herself


Official Website:
http://www.aliciakeys.net/




Requires Flash 7+ and Javascript.



Do you know something we don't?
Submit a correction or make a comment about this profile






Copyright ©2019 Soylent Communications