Paul Baran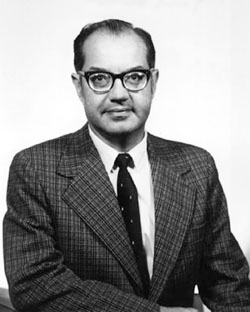 Born: 29-Apr-1926
Birthplace: Grodno, Poland [1]
Died: 26-Mar-2011
Location of death: Palo Alto, CA
Cause of death: Cancer - Lung

Gender: Male
Race or Ethnicity: White
Sexual orientation: Straight
Occupation: Engineer, Inventor
Party Affiliation: Democratic
Nationality: United States
Executive summary: Packet-sharing in computer communications
American computer engineer Paul Baran worked as a technician at Eckert-Mauchly Computer Company, on the project that developed the Universal Automatic Computer (UNIVAC), the first commercial computer. Concerned about defending American computers from a possible Soviet attack, he proposed a computer design with built-in redundancy, to mimic how the brain can sometimes recover from injuries by bypassing a damaged region. Furthering that concept, he laid out the principles of a distributed network — a centralized computer system could be rendered useless if the main hub was damaged or destroyed, but a distributed network, with myriad and varied interconnections between individual stations, could withstand attack by redirecting communications to link a network's surviving computers across different lines.
In 1961 he first proposed a system now called packet sharing, wherein data would be divided into "message blocks" prior to transmission, and sent block-by-block instead of in one piece. As each block is received at any given node in the system, it is briefly stored as a computer determines the optimal route to forward it to its destination and almost instantly transmits it along. Baran said years later that the immediate response by his superiors at RAND Corporation was, "The kid's crazy. It couldn't possibly work", but packet sharing offers the advantage of maximizing the use of limited transmission routes, making a much more efficient use of bandwidth. It was the basis for the transmission system adopted a few years later as Larry Roberts laid out the structure of the Advanced Research Projects Agency Network (ARPANET), forerunner to today's internet.
Packet switching was also developed independently by American engineer Leonard Kleinrock, almost concurrently, and by English engineer Donald Davies, some years later.
---
[1] Relocated to the United States in 1928.

Wife: Evelyn Murphy (m. 1955, d. 2007, one son)
Son: David


University: BS Electrical Engineering, Drexel University (1949)
University: MS Computer Engineering, University of California at Los Angeles (1959)


GoBackTV Co-Founder (2003)
Com21 Modem Founder (1995)
InterFax Founder (1989)
Metricom Founder (1986)
Cabledata Associates Founder (1972)
Institute for the Future Co-Founder (1968-72)
RAND Corporation Computer Engineer (1959-68)
Hughes Aircraft Engineer (1952-59)
Unisys Technician, Eckert-Mauchly Computer Corp. (1949-52)
Raymond Rosen Engineering
IEEE Edwin H. Armstrong Award 1987
IEEE IEEE Alexander Graham Bell Medal 1990
Marconi Prize 1991
EFF Pioneer Award 1993
Franklin Institute's Henry Bower Award 2001
Computer History Museum Hall of Fellows 2005
National Inventors Hall of Fame 2007
National Medal of Technology and Innovation 2007
American Association for the Advancement of Science Fellow
Association for Computing Machinery
Charles Babbage Foundation Trustee
IEEE Life Fellow
National Research Council
SPIE
World Technology Network
Polish Ancestry
Jewish Ancestry
Naturalized US Citizen





Requires Flash 7+ and Javascript.



Do you know something we don't?
Submit a correction or make a comment about this profile






Copyright ©2019 Soylent Communications