Edwin Feulner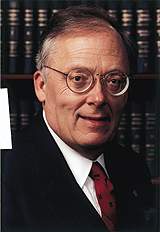 AKA Edwin J. Feulner, Jr.
Born: 12-Aug-1941
Birthplace: Chicago, IL

Gender: Male
Religion: Roman Catholic
Race or Ethnicity: White
Sexual orientation: Straight
Occupation: Activist
Party Affiliation: Republican
Nationality: United States
Executive summary: Heritage Foundation founder
During an August 1985 speech at the Menzies Hotel, in Sydney, Australia:
"It takes an institution to help propagandize an idea -- to market an idea. [...] organizations like the Institute of Economic Affairs or the Adam Smith Institute in London, my own Heritage Foundation in the U.S. and the Centre for Policy Studies and the Centre for Independent Studies here in Australia. [...] Proctor and Gamble does not sell Crest toothpaste by taking out one newspaper ad or running one television commercial. They sell and re-sell it every day, by keeping the product fresh in the consumers' mind. The institutes I have mentioned sell ideas in much the same manner."
Father: Edwin J. Feulner
Wife: Linda Claire Leventhal
Son: Edwin J. Feulner III
Daughter: Emily Lown


University: BS, Regis University (1963)
University: MBA, University of Pennsylvania (1974)
University: London School of Economics
University: PhD, University of Edinburgh


President's Commission on White House Fellowships
Crisis Advisory Board
America's Future Foundation Executive Council
Bush-Cheney '04
Center for Security Policy
Center for Strategic & International Studies Former fellow
Club for Growth
Council for National Policy Board of Governors, Executive Committee
Demaris Miller for Congress
Friends of George Allen
Friends of Lisa Cheney
Friends of Nick Reid
Fund for a Free Market America
Herb Meyer for Congress
The Heritage Foundation President (1977-)
Hoover Institution Former Public Affairs Fellow
Intercollegiate Studies Institute Board of Trustees
International Republican Institute Trustee
Jim Gilmore for Senate
John McCain 2008
John Shadegg's Friends
Marco Rubio for US Senate
Mont Pelerin Society President (1996-98)
National Conservative Campaign Fund
Pete Coors for Senate
Philadelphia Society Board of Trustees
Pro-Growth Action Team
Rely on Your Beliefs Fund
Santorum 2006
Senator John Warner Committee
Steele for Maryland
Trump Transition Team





Requires Flash 7+ and Javascript.



Do you know something we don't?
Submit a correction or make a comment about this profile






Copyright ©2019 Soylent Communications