Bat Masterson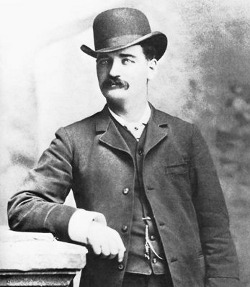 AKA William Barclay Masterson
Born: 26-Nov-1853 [1]
Birthplace: Iberville County, Quebec, Canada
Died: 25-Oct-1921
Location of death: New York City
Cause of death: Heart Failure
Remains: Buried, Woodlawn Cemetery, Bronx, NY

Gender: Male
Race or Ethnicity: White
Sexual orientation: Straight
Occupation: Government, Journalist
Nationality: United States
Executive summary: Frontier peace officer
Perhaps the most famous lawman of America's 19th century wild west, "Bat" Masterson was raised in Kansas, and worked as a buffalo hunter, Indian fighter, and army scout before turning to police work. At barely twenty years of age, he was one of the few dozen white men who held off hundreds of Comanche and Cheyenne attackers in the 1874 Battle of Adobe Walls, and a few years later he was hired as a deputy in the notoriously lawless town of Dodge City, Kansas.
His reputation as a gunslinger grew with his involvement in the 1876 "Sweetwater shootout", and, as a lawman, his 1878 capture of noted killer, cattle rustler, and gunfighter "Dirty Dave" Rudabaugh. When he ran for sheriff of Ford County, KS, he was endorsed by the Dodge City Times, which described him as "a young man of nerve and coolness in cases of danger. He has served on the police force of this city, and also as undersheriff, and knows just how to gather in the sinners. He is well qualified to fill the office, and, if elected, will never shrink from danger." He is said to have killed some two dozen men, but Masterson himself said his exploits as lawman were not as violent as many pulp writers claimed.
After just one term as sheriff he left Kansas, and for several years he supported himself through gambling or, when his luck ran dry, farming. He was known to have visited his friend Wyatt Earp in Tombstone just before the famous gunfight at the O.K. Corral. By the early 1890s he had relocated to Denver, where he bought a performance hall and parlayed his wild west fame into a new career as a boxing promoter. In 1902 he moved to New York City, where he was soon arrested for running illegal gambling games. He became a popular sportswriter for the New York Telegraph, but left that job in 1905, when he was appointed US marshal for southern New York by his friend, President Theodore Roosevelt. Masterson soon resigned from that position, however, preferring the quieter life of a newspaper writer. He died in 1921, at his desk in the Telegraph offices, while proofreading his column for the next morning.
His brothers James and Edward were both frontier lawmen. James Masterson served as deputy and later as marshal at Dodge City, and later was marshal of Trinidad, Colorado, and deputy sheriff of Logan County, Oklahoma. Edward Masterson also served as deputy in Dodge, and was promoted to marshal, then killed in a shoot-out shortly after announcing a policy of disarming everyone at the town limits.
In addition to his own legendary exploits, Bat Masterson served as the inspiration for two famous fictional characters. For his efforts as marshal of Dodge City, seeking to hold the criminal element at bay while preferring to avoid gunfights, Masterson was at least part of the inspiration for the fictitious marshal "Matt Dillon" of Gunsmoke, TV's longest-running western. And for his later involvement in New York nightlife as a colorful gambler and tough guy, he became the basis for Damon Runyon's "Sky Masterson" character in the musical Guys and Dolls.
Masterson was played by Gene Barry in the popular TV series Bat Masterson, which added the fictional touch of having Masterson frequently use his gold-topped cane as a weapon. In the movies, Masterson has been played by Randolph Scott in Trail Street (1947), George Montgomery in Masterson of Kansas (1954), Joel McCrea in The Gunfight at Dodge City (1959), and Tom Sizemore in Wyatt Earp (1994).
---
[1] Some sources list Bat Masterson's birthdate as 26 or 27 Nov 1853, and claim his birthplace as Henryville, Quebec, Canada.

Father: Thomas Masterson
Mother: Catherine Masterson
Brother: Edward Masterson (lawman, b. 1852, d. 1878 murder)
Brother: James P. Masterson (lawman, b. 1855 d. 1895 tuberculosis)
Wife: Emma Walters (actress, m. 21-Nov-1891)


The New York Morning Telegraph Columnist
Shot Sweetwater, TX (24-Jan-1876)
Disturbing the Peace Dodge City, KS (16-Apr-1881)
Unlawful Gambling New York City (1902), charge dropped
Unlawful Possession of a Firearm carrying a concealed weapon, New York City (1902)
Risk Factors: Smoking





Requires Flash 7+ and Javascript.



Do you know something we don't?
Submit a correction or make a comment about this profile






Copyright ©2019 Soylent Communications