Willie Sutton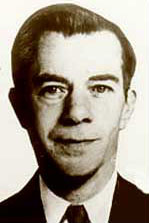 AKA William Francis Sutton, Jr.
Born: 30-Jun-1901
Birthplace: Brooklyn, NY
Died: 2-Nov-1980
Location of death: Spring Hill, FL
Cause of death: Emphysema
Remains: Buried, Holy Cross Cemetery, Brooklyn, NY

Gender: Male
Race or Ethnicity: White
Sexual orientation: Straight
Occupation: Criminal
Nationality: United States
Executive summary: Because that's where the money is
When asked why he robbed banks, Sutton reportedly replied, "Because that's where the money is." Over the years he claimed to have robbed over $2M from banks (pre-1970's inflation money), but that astonishing figure must be tempered with the 33 years he had to spend in prison. He began his career with a 1930 Manhattan bank robbery, escaped from prison twice, and was on the lam 1947-52. He retired after he achieved parole in 1969, though he did do an advertisement for a credit card during the 1970's.
In his autobiography Sutton wrote of his most famous quote that he read it but had never said it. "The credit", he wrote, "belongs to some enterprising reporter who apparently felt a need to fill out his copy."
Father: William Francis Sutton, Sr. (blacksmith)
Mother: (Catholic)
Brother: Jimmy
Sister: Helen
Sister: Agnes (d., meningitis)
Girlfriend: Carrie Wagner
Wife: Louise Leudemann (m. 21-Oct-1929, div.)
Daughter: Jeanie (b. 26-Sep-1930)
Wife: Olga Kowalska (m. 1933)

Bank Robbery
Kidnapping
Burglary
Larceny
Unlawful Possession of a Firearm
Assault (Jun-1931)
Robbery (Jun-1931)
Escaped from Prison (11-Dec-1932)
Murder acquitted
Escaped from Prison Philadelphia County Prison, Holmesburg, PA (10-Feb-1947)
Inmate: Sing Sing Prison
FBI's Ten Most Wanted Fugitives (20-Mar-1950)
Irish Ancestry
Risk Factors: Smoking, Depression

Author of books:
I, Willie Sutton (1953, memoir, with Quentin Reynolds)
Where the Money Was (1976, memoir, with Edward Linn)

Do you know something we don't?
Submit a correction or make a comment about this profile

Copyright ©2019 Soylent Communications