Christa McAuliffe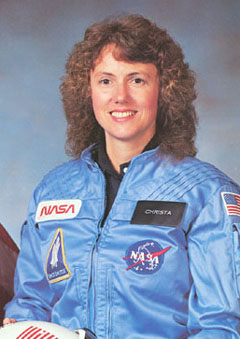 AKA Sharon Christa Corrigan
Born: 2-Sep-1948
Birthplace: Boston, MA
Died: 28-Jan-1986
Location of death: Space Shuttle Challenger
Cause of death: Accident - Misc
Remains: Missing

Gender: Female
Race or Ethnicity: White
Sexual orientation: Straight
Occupation: Astronaut
Nationality: United States
Executive summary: First teacher in space
Christa McAuliffe was selected for the NASA Teacher in Space Project on 19 July 1985. She was to be the first civilian sent into space. NASA hoped that having a civilian on the space shuttle would generate more enthusiasm for the space program on the part of ordinary citizens. A teacher, they believed, would be especially well suited to serve as a pro-NASA spokesperson -- and, of course, who better to inspire the minds of the next generation of astronauts than a school teacher.
Billed by her own students as "inspirational human being, a marvelous teacher who made their lessons come alive", McAuliffe was a high school teacher, selected out of 11,500 applicants. She began training at NASA's Houston facility in September 1985. Concerned about pulling her own weight on the mission, she worked actively during 114 hours of training.
Making the most of her "Teacher in Space" role, McAuliffe was to have taught two lessons from space. In the first she would introduce each crew member to the viewing audience (which included many children), explain their job aboard the shuttle and how they lived, ate, and exercised during the flight. She would also explain a little about the shuttle itself, especially the cockpit with its 1,300 dials and switches. Her second lesson was to explain how the shuttle flew and how human beings benefit from space exploration and the technological advances that it continues to generate.
73 seconds after lift-off, the space shuttle Challenger exploded, killing McAuliffe and the six other crewmembers aboard.
Following the Challenger disaster, numerous funds and awards were created to immortalize McAuliffe's enthusiasm for teaching and for the field of social science. The Christa McAuliffe Planetarium, an ongoing memorial to McAuliffe and her love for hands on learning opened in June 1990 in Concord, New Hampshire. It receives roughly 30,000 visitors per year.
Though her time as an astronaut was short, McAuliffe has been the subject of several books including: Christa McAuliffe, Teacher In Space (Corrinne J. Naden and Rose Blue), Christa McAuliffe, Reaching For The Stars (Patricia Stone Martin), I Touch the Future, The Story of Christa McAuliffe (Robert T. Hohler), and A Journal for Christa: Christa McAuliffe, Teacher in Space written by Grace George Corrigan, Christa McAuliffe's mother.
Mother: Grace George Corrigan
Husband: Steven McAuliffe
Son: Scott Corrigan (b. 11-Sep-1976)
Daughter: Caroline Corrigan (b. 24-Aug-1979)

High School: Marian High School, Framingham, MA (1966)
University: BA History, Framingham State College (1970)
University: MA School Administration, Bowie State College (1978)

Asteroid Namesake 3352 McAuliffe

Is the subject of books:
A Journal For Christa: Christa McAuliffe, Teacher in Space, Sep-1993, BY: Grace George Corrigan

Do you know something we don't?
Submit a correction or make a comment about this profile

Copyright ©2019 Soylent Communications