Celeste Holm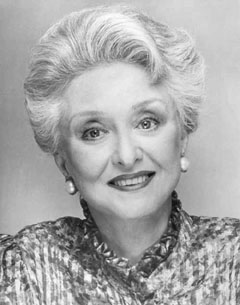 Born: 29-Apr-1917
Birthplace: New York City
Died: 15-Jul-2012
Location of death: New York City
Cause of death: Heart Attack [1]
Remains: Cremated

Gender: Female
Race or Ethnicity: White
Sexual orientation: Straight
Occupation: Actor
Nationality: United States
Executive summary: Gentleman's Agreement
Oscar-winning actress Celeste Holm was raised in a liberal, liberated family. Her grandmother was an outspoken suffragist, her mother worked as a writer and author, and her family was very supportive of the arts. Young Celeste was educated in a French boarding school and a Chicago private school, studied drama at the University of Chicago, and as a beginning actress she learned stage enunciation with the help of her mother: To practice reaching the back row of the theater, the two women went to open parkland where they would each climb adjacent hills and shout dialogue to each other over the distance.
She made her Broadway debut at the age of 19. Among her many roles on the New York stage, she starred with Gene Kelly in The Time of Your Life and with Howard Da Silva in the original run of Oklahoma!. She was already a successful stage actress when she began working in films, which made Holm more willing than most women in Hollywood to decline demeaning or uninteresting roles. Her first film was a mostly forgotten musical, Three Little Girls in Blue, which was effectively stolen by Holm. In the delightfully snarky backstage melodrama All About Eve, it was Holm who introduced the larger-than-life star Bette Davis to her greatest fan, Anne Baxter.
In 1948, Holm worked with Olivia de Havilland in Snake Pit, a dramatic exposť of the mental health system that has been credited with opening debate that led to serious reform of what had been starkly cruel practices. After making the film and for the rest of her life, Holm remained an activist on mental health issues.
Among her lesser-known but utterly riveting performances, she provided the comedy in a nun's habit in Come to the Stable, and she played the floozy sent to seduce a game show contestant in Champagne for Caesar. In Gentleman's Agreement, still Hollywood's most eloquent statement against subtle day-to-day racism, it was Holm who provided the wit and sparkle to counter a rather dull performance by leading man Gregory Peck. The film won Holm her only Oscar.
She said that winning the award only hurt her career, as afterward she was deemed a high actress and was rarely considered for parts in musicals or light comedies, previously her forte. She eventually wrote a check to Twentieth Century Fox to buy out her own contract, and returned to the New York stage. In subsequent years Holm came back to Hollywood, but always and only under her own terms. After the 1970s, she worked often on stage and occasionally on television, including recurring roles on As the World Turns, Archie Bunker's Place, and Touched by an Angel. In 1982, she was arrested at a protest against the demolition of two Broadway theaters. She died in 2012.
Holm's son, Ted Nelson, is a computer expert and noted philosopher who founded Project Xanadu. Nelson coined the term "hypertext" in the early 1960s, and pioneered notions that later became word processors and the Internet.
---
[1] Suffered dehydration stemming from a fire in Robert De Niro's apartment, situated in the same apartment building. Holm was brought to Roosevelt Hospital where she suffered a heart attack, and was discharged on 13 July 2012. She died two days later, in a general state of poor health.

Father: Theodor Holm (insurance adjuster, Lloyds)
Mother: Jean Parke Holm (author, artist)
Husband: Ralph Nelson (film director, m. 1938, div. 1939, d. 1987, one son)
Son: Ted Nelson (hypertext pioneer, b. 1937)
Husband: Francis Davies (accountant, m. 1940, div.)
Husband: A. Schuyler Dunning (public relations executive, m. 1946, div. 1952, one son)
Son: Daniel Dunning
Husband: Wesley Addy (actor, m. 1961, d. 31-Dec-1996)
Husband: Frank Basile (opera singer, dated 2000-04, m. 29-Apr-2004, until her death)


High School: Francis W. Parker School, Chicago, IL
University: University of Chicago


UNICEF Spokesman
Oscar for Best Supporting Actress 1948 for Gentleman's Agreement
Golden Globe 1948 for Gentleman's Agreement
Hollywood Walk of Fame 1500 Vine St. (television)
Hollywood Walk of Fame 6841 Hollywood Blvd. (motion pictures)


TELEVISION
The Beat Frances Robinson (2000)
Promised Land Hattie Greene (1996-99)
Touched by an Angel Hattie Greene (1996-98)
Falcon Crest Anna Rossini (1985)
Archie Bunker's Place Estelle Harris (1981-83)
Nancy Abigail (1970-71)


FILMOGRAPHY AS ACTOR
Alchemy (25-Apr-2005) · Iris
Broadway: The Golden Age (Apr-2003) · Herself
Still Breathing (Sep-1997)
Polly: Comin' Home! (18-Nov-1990)
Polly (12-Nov-1989)
Three Men and a Baby (25-Nov-1987) · Jack's Mother
Backstairs at the White House (29-Jan-1979)
The Private Files of J. Edgar Hoover (Dec-1977)
Bittersweet Love (Oct-1976) · Marian
Captains and the Kings (30-Sep-1976)
Death Cruise (30-Oct-1974)
Tom Sawyer (14-Mar-1973) · Aunt Polly
Doctor, You've Got to Be Kidding! (28-Apr-1967) · Louise Halloran
Cinderella (22-Feb-1965)
Bachelor Flat (8-Jan-1962) · Helen Bushmill
High Society (17-Jul-1956) · Liz Imbrie
The Tender Trap (4-Nov-1955) · Sylvia Crewes
All About Eve (13-Oct-1950) · Karen
Champagne for Caesar (11-May-1950)
Everybody Does It (25-Oct-1949)
Come to the Stable (27-Jul-1949) · Sister Scholastica
Chicken Every Sunday (18-Jan-1949)
The Snake Pit (4-Nov-1948) · Grace
Road House (22-Sep-1948) · Susie Smith
Gentleman's Agreement (11-Nov-1947) · Anne Dettrey
Carnival in Costa Rica (28-Mar-1947)
Three Little Girls in Blue (3-Sep-1946)





Requires Flash 7+ and Javascript.



Do you know something we don't?
Submit a correction or make a comment about this profile






Copyright ©2019 Soylent Communications