Jean Moulin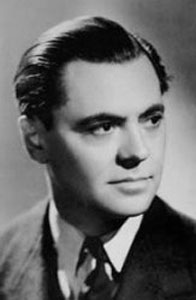 Born: 20-Jun-1899
Birthplace: Beziers, France
Died: 8-Jul-1943
Location of death: En route to a concentration camp in Germany
Cause of death: Murder
Remains: Cremated, Panthéon, Paris, France

Gender: Male
Race or Ethnicity: White
Sexual orientation: Straight
Occupation: Government, Artist
Nationality: France
Executive summary: Martyr of the French Resistance
Military service: French Army (1918)
Jean Moulin was an able administrator of the French Republic prior to the Second World War and became the youngest prefect in France at the age of 37. Charles de Gaulle called him the primary leader of the French Resistance on French soil and later, as President, decreed his remains be transfered to The Panthéon.
After the German invaders took Chartres in 1940, Moulin, then prefect of Eure-et-Loir, attempted to guarantee the safety of the town's citizens by meeting with some German officers. Unfortunately the officers wanted him to sign a document confirming alleged atrocities committed by Senegalese French soldiers in the area. Moulin was reluctant to do so without proof, and the officers became agitated. They knocked Moulin down and started kicking him. He told them they were a disgrace to their uniforms. One officer screamed at him, "You're just a raisonneur de français. You're a nation of degenerates, of Jews and niggers." Then in order to furnish his "proof" the two officers pushed him into a car and drove him to a hamlet of La Taye where he was led to a large barn. One of the officers threw open the doors saying, "How's that for evidence?" His book Premier Combat describes the scene that he encountered there:
"He waved his hand at nine bodies lying side by side, swollen, disfigured and shapeless, with torn and stained clothes. You could hardly distinguish their sex, and there were several children among them... The Nazi said: 'That's what your charming niggers have done.' I replied: 'These unlucky people have been hit by shells...'"

"They shoved me towards a corner where the limbless trunk of a woman lay on a table. I was projected onto human debris. It was cold and sticky, and my own bones turned to ice. In this dark corner, overcome by the nauseous odor from the bodies, I shivered feverishly."

"I realize I am now at the limits of my endurance, and if they start again tomorrow, I will end up by signing. It was a terrible choice: to sign or die."
Moulin chose death, and slit his throat with a shard of glass, however he was hospitalized by the Germans and later recovered. Subsequently Moulin almost always wore a scarf to hide the ugly scar he had given himself. Moulin remained prefect of Eure-et-Loir until Nov-1940 when he was removed by the Vichy Government for failure to comply with orders to remove certain left-wing elements of local government. At this point he decided to go to London to meet with De Gaulle.
Moulin was later arrested by the Gestapo for his activities in the Resistance movement and his interrogation was carried out by sadist's sadist Klaus Barbie. At one point Barbie, apparently believing his subject to be broken, handed him a sheet of paper and instructed him to write down the names of key Resistance figures. When Moulin returned the paper it contained only a caricature of Barbie, whereupon Klaus ordered Moulin to be scalded. While being transferred by train to Germany he died outside Frankfurt of injuries sustained during his weeks of torture.
Father: Antonin Moulin (Freemason, history professor)
Wife: Marguerite Cerruti (m. Sep-1926, div. 1928)

Law School: Montpellier University

Tortured
Suicide Attempt
Exhumed remains removed from Père Lachaise Cemetery, reinterred at The Panthéon (1964)
French Ancestry

Is the subject of books:
L'affaire Jean Moulin, 1990, BY: Charles Benfredj
Resistance and Betrayal: The Death and Life of the Greatest Hero of the French Resistance, 2002, BY: Patrick Marnham
Jean Moulin: Le Politique, Le Rebelle, Le Résistant, 2003, BY: Jean-Pierre Azéma

Author of books:
Premier combat (1965, memoirs)

Do you know something we don't?
Submit a correction or make a comment about this profile

Copyright ©2019 Soylent Communications