Elizabeth Moon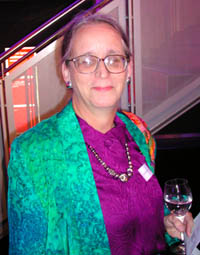 Born: 7-Mar-1945
Birthplace: McAllen, TX

Gender: Female
Race or Ethnicity: White
Sexual orientation: Straight
Occupation: Novelist
Nationality: United States
Executive summary: The Speed of Dark
Military service: USMC (joined 1968-71, 1st Lt.,)
Science fiction and fantasy author Elizabeth Moon is best known for the award-winning Sheepfarmer's Daughter (1988), from her fantasy series "The Deed of Paksennarion", as well as Remnant Population (1996), The Speed of Dark (2002), and Trading Danger (2003), part of the "Vatta's War" series. Moon holds degrees in history and biology and, during the Vietnam War, she served in the US Marine Corps.
Moon's fiction combines vigorous adventure with a compelling exploration of exotic situations and ideas. Her stories do not lack for strong, unconventional female characters, not surprising given that both Moon and her mother broke the female mold by pursuing unusual careers and lifestyles. Her mother served as an aeronautical engineer during World War II, and later worked in a hardware store for a time (after the G.I.s returned from overseas), before becoming a draftsman for a small oil company. In an era besotted with Ward & June Cleaver, the elder Moon was a single mother.
In 1963, Moon entered college, dreaming of a career in science. But the dream was quickly derailed when she found that her physics courses required a ready knowledge of calculus, something she was expected to have learned in high school. When she sought tutoring to rectify the problem, she was dismissively informed, "girls can't learn calculus". She switched majors and took her degree in history.
After a stint in the Marine Corps (1968-71), where she logged some time programming for now-outdated mainframe computers, Moon eventually returned to college for a second degree, this time in biology. She furthered her interest in the field by studying along with her husband while he was in medical school. After training in an army hospital, she spent 6 years as an ambulance driver and paramedic for her husband's rural clinic. The adoption of their son Michael, who later proved to be autistic, eventually forced her to retire to a more stay-at-home lifestyle and opened the door to a career as a writer.
Moon's other roles over the years have included 4 years as a city alderman, office assistant in the medical clinic, math tutor, choir member and director, church youth leader, volunteer teacher in a public school first-response course, and all-purpose small-town volunteer -- serving on the library board, the chamber of commerce, etc. Moon currently lives in Florence, Texas.
Father: (d. when she was four)
Mother: (draftsman, WWII aeronautical engineer)
Husband: (medical doctor, one son)
Son: Michael (autistic)

University: BA History, Rice University
University: BA Biology, University of Texas

Nebula 2003 for The Speed of Dark

Official Website:
http://www.sff.net/people/Elizabeth.Moon/
Author of books:
Rules of Engagement (2000)
Sheepfarmer's Daughter (2001)
The Speed of Dark (2003)
Change of Command (1999)
Phases (1997)
The Legacy of Gird (1996)
Winning Colors (1995)
Sporting Chance (1994)
Hunting Party (1994)
Liar's Oath (1992)
The Deed of Paksenarrion (1992)
The Generation Warriors (1991)
Divided Allegiance (1990)
Oath of Gold (1990)

Do you know something we don't?
Submit a correction or make a comment about this profile

Copyright ©2019 Soylent Communications