Katherine Harris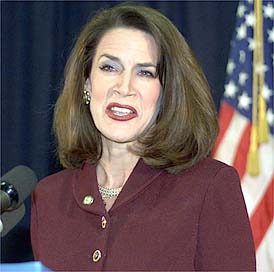 Born: 5-Apr-1957
Birthplace: Key West, FL

Gender: Female
Religion: Presbyterian
Race or Ethnicity: White
Sexual orientation: Straight
Occupation: Politician
Party Affiliation: Republican
Nationality: United States
Executive summary: Congresswoman from Florida, 2003-07
Katherine Harris was immortalized at 7:30pm on 26 November 2000. In a live press conference carried worldwide by CNN, Florida's 5'4" Secretary of State finally got to declare: "In accordance with the laws of the State of Florida, I hereby declare Governor George W. Bush the winner of Florida's 25 electoral votes for the President of the United States."
Whatever your personal preference, Harris was only following the Florida election laws. As far as the county vote totals were concerned, Bush had received 537 more votes than Vice President Al Gore, granting the Texas governor a comfortable 536-vote margin of victory. Florida state election law didn't require the Secretary of State to order a statewide recount, not even in such a ridiculously tight election (where the candidates' vote totals are separated by a mere .009786%), not even when the most powerful position on Earth hangs in the balance.
Only much later did someone discover that Database Technologies had scrubbed 57,700 legal voters off the Florida rolls, most of whom would have probably voted for Gore. At least 8,000 of those disenfranchised voters came from a list of Texas felons provided by ChoicePoint Inc. -- except that those people had actually only committed misdemeanors and not felonies. Thus, they had been improperly barred from casting their ballots. A spokesman for ChoicePoint ultimately admitted, "I guess that's a little bit embarrassing in light of the election." What's more, ChoicePoint had contributed large amounts of money to Republican candidates in 2000, leading to the observation that the company's error coincidentally benefited its partisan leanings. But that hardly surprised anyone.
Bear in mind that Katherine Harris had been the co-chair of George W. Bush's Florida election campaign. She served as a delegate to the Republican National Convention. And she took time off from her job to campaign for Bush in New Hampshire. She even hired retired general Norman Schwarzkopf for a state-funded TV commercial encouraging people to vote, despite the fact that he was actively campaigning for Bush in Florida.
No, Harris ascribed blame for the election debacle to the Democrats:
"Give voters a pencil and a piece of paper and they can do anything they like," she says, pointing out how many ballot papers had to be invalidated because Democrat voters tried to vote for someone else as president besides Al Gore. Does that mean that Democrats are generally more stupid than Republicans, I ask? She doesn't answer.
In 1994, Republican voters who actually understood how to use a pencil elected Katherine Harris to the Florida state Senate. Some $30,000 of her warchest were donations from an insurance company named Riscorp Inc., which Harris repaid two years later by sponsoring a piece of legislation written entirely by a Riscorp lobbyist. When the story finally broke in 1997 that Riscorp had made $382,000 in illegal campaign contributions in 1994 -- including the $30,000 given to Harris -- the ensuing scandal made things difficult for her. By this time, she was running for Secretary of State. During the course of their investigation, the feds had uncovered a memo from a Riscorp executive secretary:
Katherine's office called and asked if we could give them different addresses to list for each of the checks. All the checks show the P.O. Box 1598 address and if we submit these, the newspaper will probably make the connection and track them all to Riscorp.
The company's founder Bill Griffin was ultimately jailed for five months for the illegal campaign contributions. Harris managed to deflect any blame by returning the money three years after the fact, even though prosecutors had described her 1994 campaign manager as an unindicted co-conspirator in the scheme. Harris went on to win the election for Secretary of State after spending more than $1 million of her own money, making it the most expensive state campaign in Florida history.
Don't feel too bad for Katherine Harris. A year later she was worth about $6.6 million, according to financial disclosure statements. That's not counting the assets of her husband, millionaire Anders Ebbeson. Nor does it include her share of a $500 million inheritance from her grandfather, Florida state senator (as well as prominent citrus and cattle tycoon) Ben Hill Griffin, Jr. Even though the man died in 1990, it took more than 11 years of acrimonious legal wrangling for his inheritors to settle the estate. In the end, after Katherine's mother accused her siblings of fraud and conspiracy, Katherine's side of the family is now shunned by the others. They do not talk to each other anymore.
Friends say Harris developed a thick skin after the unpleasantness of both the probate situation and the 2000 election crisis. In 2002, she mused: "In retrospect, if I knew what I knew today, perhaps I would think about it differently. On the other hand, it wouldn't have mattered if I were co-chair. I'm still going to be Cruella de Vil." Perhaps. Even so, she still would have earned the gratitude of the newly-elected President of the United States:
Did Katherine Harris talk to George W. on Inauguration Day, or did he shy away from being photographed with the person who is still so widely suspected of having stolen the election for him? "We did shake hands at one of the Inauguration Night balls," she says, "and he had one or two words for me". Did they include "thank you"? She won't say.
Father: George W. Harris, Jr. (banker)
Mother: Harriett Harris
Brother: George Walter Harris III ("Walt")
Sister: Fran Harris
Boyfriend:
Husband: Thomas R. Arnold (m. 1985, div. 1989)
Husband: Sven Anders Axel Ebbeson ("Anders Ebbeson", d. 19-Nov-2013 suicide)
Daughter: Louise (stepdaughter)


High School: Bartow High School, Bartow, FL (1975)
University: University of Madrid, Madrid, Spain (1978)
University: BA History, Agnes Scott College (1979)
University: MPA International Trade, John F. Kennedy School of Government (1996)


US Congressman, Florida 13th (2003-07)
Florida Secretary of State (1999-2002)
Florida State Senate (1994-98)
IBM Marketing Manager
Friends of Katherine Harris
National Republican Congressional Committee
W Stands for Women 2004
Florida 2000 Recount





Requires Flash 7+ and Javascript.



Do you know something we don't?
Submit a correction or make a comment about this profile






Copyright ©2019 Soylent Communications