Lloyd Alexander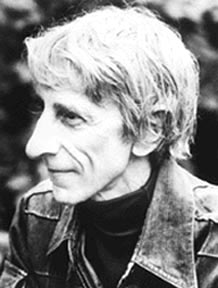 AKA Lloyd Chudley Alexander
Born: 30-Jan-1924
Birthplace: Philadelphia, PA
Died: 17-May-2007
Location of death: Drexel Hill, PA
Cause of death: Cancer - unspecified
Remains: Buried, Arlington Cemetery, Drexel Hill, PA

Gender: Male
Race or Ethnicity: White
Sexual orientation: Straight
Occupation: Novelist
Nationality: United States
Executive summary: The Chronicles of Prydain
Military service: US Army (WWII, military intelligence)
The author of over forty books, Lloyd Alexander is best known for his Chronicles of Prydain novels as well as numerous other fantasy novels for young people. Many of his works have been selected as ALA Notable Children's Books and School Library Journal Best Books of the Year. Alexander has also been awarded the Newbery Medal, the Newbery Honor Award, The Boston Globe-Horn Book Award, and the National Book Award. The 1985 Disney animated film The Black Cauldron was based on the first and second books in the Prydain series.
Despite being born to parents who had never read a single book, Alexander had an elderly aunt who loved literature, and she read to him often. He learned to read by the age of three, and his literary interests, which included Mark Twain and Charles Dickens, grew to embrace the King Arthur legends as well as Greek and Celtic mythology. By the time he was thirteen he was attempting his own poetry, and by fifteen he was determined to be an author, a career choice that his parents abhorred.
Having no money for college, Alexander took a job at Philadelphia bank, as a messenger boy. Eventually he had earned enough to enroll in school, but at age nineteen, restless and dissatisfied, he quit college to join the U.S. Army. In the Army he trained to help the French resistance but ended up stationed variously in Wales and in the German Rhineland, locations that later served as inspiration for the enchanted kingdoms of his novels. Scenes of violence and warfare also provided fodder for later works. As the war drew to a close, Alexander was finally transferred to Paris. After being released from service he attended the University of Paris. In Paris that he met author Gertrude Stein as well as future wife Janine Denni. Eventually he moved, along with his new wife and young step-daughter, back to Pennsylvania, to settle in the Drexel Hill area. He lived there until his death in 2007, just two weeks after his wife's death.
Initially he supported himself with an assortment of publication-related jobs (including cartoonist, advertising writer, and magazine editor) while trying to get his start as a novelist. After several years of rejections he published And Let the Credit Go (1955), the first of a series of early autobiographical novels. It was followed in 1956 by My Five Tigers, a book about his cats. Pets, and especially pet cats, soon became an recurring theme for Alexander, and in 1963 he made the switch to the juvenile fantasy market with Time Cat: The Remarkable Journeys of Jason and Gareth. Originally inspired by the mysterious comings and goings of his own cat, the novel featured a cat who spirits his owner to various significant places in history. It was while doing research for Time Cat that he revisited Welsh mythology and became inspired to write his extremely popular and award-winning Pyrdain novels.
Wife: Janine Denni (French, m. 8-Jan-1946, d. 2007, one child)

High School: Upper Darby High School, Upper Darby, PA
University: University of Paris

Newbery Medal 1969 for The High King

Author of books:
And Let the Credit Go (1955, non-fiction)
My Five Tigers (1956, non-fiction)
August Bondi: Border Hawk (1958, non-fiction)
Aaron Lopez: The Flagship Hope (1960, non-fiction)
My Love Affair with Music (1960, non-fiction)
Park Avenue Vet (1962, novel, with Louis Camuti)
Fifty Years in the Doghouse (1963, novel)
Time Cat: The Remarkable Journeys of Jason And Gareth (1963, novel)
Coll and His White Pig (1965, novel)
The Book of Three (1964, novel)
The Black Cauldron (1965, novel)
The Castle of Llyr (1966, novel)
Taran Wanderer (1967, novel)
The Truthful Harp (1967, novel)
The High King (1968, novel)
The Marvelous Misadventures of Sebastian (1970, novel)
The King's Fountain (1971, novel)
The Four Donkeys (1972, novel)
The Cat Who Wished to Be a Man (1973, novel)
The Wizard in the Tree (1974, novel)
The Town Cats: And Other Tales (1977, collection)
The First Two Lives of Lukas-Kasha (1978, novel)
Westmark (1981, novel)
The Kestrel (1982, novel)
The Beggar Queen (1984, novel)
The Illyrian Adventure (1986, novel)
The El Dorado Adventure (1987, novel)
The Drackenberg Adventure (1988, novel)
The Jedera Adventure (1989, novel)
The Prydain Companion: A Reference Guide to Lloyd Alexander's Prydain Chronicles (1989, non-fiction, with Michael O. Tunnell)
The Philadelphia Adventure (1990, novel)
The Big Book of Peace (1990, novel)
The Remarkable Journey of Prince Jen (1991, novel)
The Fortune-Tellers (1992, novel)
The Arkadians (1995, novel)
The House Gobbaleen (1995, novel)
The Iron Ring (1997, novel)
Gypsy Rizka (1999, novel)
How the Cat Swallowed Thunder (2000, novel)
The Gawgon and the Boy (2001, novel)
The Rope Trick (2002, novel)
The Xanadu Adventure (2005, novel)

Do you know something we don't?
Submit a correction or make a comment about this profile

Copyright ©2019 Soylent Communications