Rainn Wilson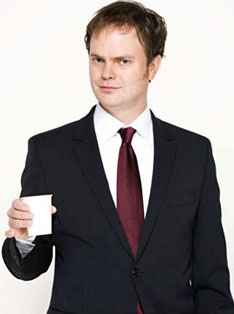 AKA Rainn Dietrich Wilson
Born: 20-Jan-1966
Birthplace: Seattle, WA [1]

Gender: Male
Religion: Bahai
Race or Ethnicity: White
Sexual orientation: Straight
Occupation: Actor
Nationality: United States
Executive summary: Dwight on The Office
On Six Feet Under, Rainn Wilson played the apprentice undertaker from Cypress Mortuary College. On The Office, he plays Dwight Schrute, the creepy but lovably maladjusted suck-up assistant to boss Steve Carell.
He was named for the German poet Rainer Maria Rilke, and his family has long been active in the Bahai faith. His uncle owns Jim Dandy Sewer and Plumbing Services, a longtime Seattle business that laid much of the city's downtown sewer infrastructure. Wilson's father worked at Jim Dandy as a dispatcher, and his mother sold handmade jewelry at Seattle's Pike Place Market.
Wilson made his stage debut playing Schroeder in a grade school production of You're a Good Man, Charlie Brown, and describes his high school self as a nerd -- a member of the model United Nations, pottery club, computer club, debate club, and chess club, who hung out with the Dungeons and Dragons crowd. He studied drama in college, and made his New York stage debut in dead serious Shakespeare plays in the late 1980s. In 1989, he directed an off-Broadway collection of sketches and clown acts called The New Bozena; the production ran three months and Fox expressed some interest in the television rights, but talk was all they offered.
His big break came in 1997, with a recurring role on the daytime soap opera One Life to Live, where he played an aspiring comedian who had secret connections to organized crime. In movies, Wilson's memorable supporting roles include Melvin Van Peebles' stoned hippie producer in Baadasssss, a merman in House of 1,000 Corpses, and Luke Wilson's best friend and source for bad advice in My Super Ex-Girlfriend.
His wife is author Holiday Reinhorn, who wrote Big Cat, a well-received collection of funny and intensely personal short stories, and adapted one of her stories into the bizarre low-budget mystery movie Last Seen. Wilson and Reinhorn own a pit bull named Harper Lee, and Wilson writes his character Dwight's blog at NBC's fictional Dunder-Mifflin website and publishes the website soulpancake.com.
---
[1] University of Washington Medical Center.

Father: Robert Wilson (truck dispatcher)
Mother: Shay Cooper (jewelry maker)
Wife: Holiday Reinhorn (author, m. 1995)
Son: Walter Mckenzie Wilson (b. 2004)


High School: Shorecrest High School, Shoreline, WA
High School: New Trier High School, Winnetka, IL (1984)
University: Tufts University
University: MA Drama, University of Washington (1986)
University: MFA Drama, New York University


TELEVISION
The Office (U.S.) Dwight Schrute (2005-)
Six Feet Under Arthur Martin (2003-05)


FILMOGRAPHY AS ACTOR
The Meg (8-Aug-2018)
The Death of Superman (24-Jul-2018) [VOICE]
Shimmer Lake (9-Jun-2017)
Smurfs: The Lost Village (23-Mar-2017) [VOICE]
The Boy (14-Mar-2015)
Cooties (18-Jan-2014)
Peep World (15-Sep-2010) · Joel
Super (10-Sep-2010) · Frank Darbo
Hesher (22-Jan-2010) · Paul
Transformers 2: Revenge of the Fallen (19-Jun-2009)
Monsters vs Aliens (19-Mar-2009) [VOICE]
The Rocker (12-Jun-2008)
Juno (1-Sep-2007)
The Last Mimzy (2007)
My Super Ex-Girlfriend (20-Jul-2006)
Sahara (24-Mar-2005) · Rudi Gunn
Wheelmen (2005) · Barny
Baadasssss! (7-Sep-2003) · Bill Harris
House of 1000 Corpses (13-Mar-2003) · Bill Hudley
Full Frontal (2-Aug-2002)
America's Sweethearts (17-Jul-2001) · Dave O'Hanlon
When Billie Beat Bobby (16-Apr-2001) · Dennis Van De Meer
Almost Famous (15-Sep-2000) · David Felton
Galaxy Quest (23-Dec-1999) · Lahnk


Official Website:
http://www.soulpancake.com/




Requires Flash 7+ and Javascript.



Do you know something we don't?
Submit a correction or make a comment about this profile






Copyright ©2019 Soylent Communications