John G. Schmitz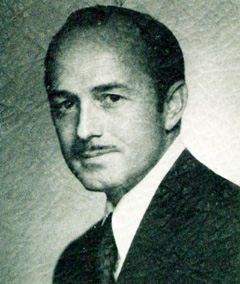 AKA John George Schmitz
Born: 12-Aug-1930
Birthplace: Milwaukee, WI
Died: 10-Jan-2001
Location of death: Bethesda, MD
Cause of death: Cancer - Prostate
Remains: Buried, Arlington National Cemetery, Arlington, VA

Gender: Male
Religion: Roman Catholic
Race or Ethnicity: White
Sexual orientation: Straight
Occupation: Politician
Party Affiliation: Republican
Nationality: United States
Executive summary: Congressman from California, 1970-73
Military service: USMC (1952-60); USMC Reserve (1960-83)
Ultraconservative, known for his outrageous sound bites, total disregard for his mistress and illegitimate children, and especially for the one legitimate child who emulated her father's sexual indiscretions -- Mary Kay Letourneau.
In 1982 his staff issued a press release entitled "Senator Schmitz and His Committee Survive 'Attack of the Bulldykes'" after a contentious public hearing on abortion rights. The statement described attorney Gloria Allred as a "slick, butch lawyeress." Allred filed suit, and Schmitz made a rare public apology.
While teaching political science at Santa Ana College, Schmitz began a longterm extramarital affair with one of his young students, who secretly gave birth to two illegitimate children. This only became known after a court inquiry into circumstances surrounding their baby son's near-castration, ultimately ascribed as accidental. The surgeon who treated the infant claimed that a hair had been tied around the penis "in a square knot."
"Jews are like everybody else, only more so."
"I may not be Hispanic, but I'm close. I'm Catholic with a mustache."
"Martin Luther King is a notorious liar."
Claimed the Watts riot had been "a communist operation."
Father: J. J. Schmitz
Mother: Wilhelmina Frueh
Brother: (2 brothers)
Sister: (3 sisters)
Wife: Mary E. Suehr (m. 10-Jul-1954)
Daughter: Mary Kay Letourneau (teacher/sex offender, b. 30-Jan-1962)
Son: Philip (b. 1970, d. 11-Aug-1973)
Son: John Patrick Schmitz (lobbyist, b. 1955)
Son: Joseph E. Schmitz (Pentagon Inspector General, b. 1956)
Son: Jerome T. Schmitz
Daughter: Theresa Ann Manion
Daughter: Elizabeth Louise Crnkovich
Mistress: Carla Stuckle (d. 1994, diabetes, one son, one daughter)
Son: John George (by Carla)
Daughter: Eugenie (by Carla)


High School: Marquette University High School (1948)
University: BS, Marquette University (1952)
University: MA Education, California State University Long Beach (1960)
Teacher: Santa Ana College (1960-65)
Teacher: Santa Ana College (1973-)


California State Senate (1978-82)
US Congressman, California 35th (1970-73)
California State Senate 34th (1964-70)
American Legion
California Rifle and Pistol Association
John Birch Society National Director, expelled for "extremism"
Knights of Columbus
Liberty Lobby
National Rifle Association


Official Website:
http://www.johngschmitz.com/




Requires Flash 7+ and Javascript.



Do you know something we don't?
Submit a correction or make a comment about this profile






Copyright ©2019 Soylent Communications