Joseph Banks Rhine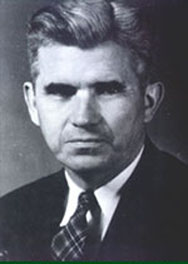 Born: 29-Sep-1885
Birthplace: Juniata County, PA
Died: 20-Feb-1980
Cause of death: unspecified

Gender: Male
Race or Ethnicity: White
Sexual orientation: Straight
Occupation: Paranormal, Scientist
Nationality: United States
Executive summary: Father of modern parapsychology
Joseph Banks Rhine was originally trained a botanist, he was reportedly turned to the study of the paranormal while attending a lecture on spiritualism given by Arthur Conan Doyle. After briefly studying Psychology at Harvard he and his wife Louisa founded a new field which they dubbed "parapsychology" bridging both mainstream psychology and psychic research. They invented the term extrasensory perception (ESP) and defined the four varieties of psi. In 1935 he founded the Parapsychology Laboratory at Duke University. In 1962 he founded the independent Foundation for Research on the Nature of Man (FRNM) to further continue his studies into the paranormal. Later in 1995 (100 years after Rhine's birth), it was renamed as the Rhine Research Center.
Rhine ran large numbers of tests most of which centered around students attempting to guess symbols on "Zener" cards that they could not directly see. The percentage of correct guesses was occasionally significantly above chance, leading Rhine to hypothesize that some students were capable of mind-reading. Rhine's various experiments have attracted a great deal of criticism from other scientists, most notably from the Committee for the Scientific Investigation of Claims of the Paranormal (CSICOP). Attempts to replicate the results of Rhine's experiments have largely failed. It is generally thought that his experiments were poorly designed and allowed for leakages of information between subjects and experimenter.
In skeptic circles Rhine is often used as the prime example of "it takes a crook to catch a crook", as Rhine was infamous for being fooled by the paranormal frauds of his day. In particular, he was allegedly snowed by the mind-reading horse Lady Wonder. As with similar "smart" animals of the past, the horse was later found to be responding to subtle signals from its owner.
Wife: Louisa E. Rhine

University: Ohio Northern University
University: College of Wooster
University: MA Botany, University of Chicago (1923)
University: PhD Botany, University of Chicago (1925)

Author of books:
Extra-Sensory Perception (1934)
New Frontier of the Mind (1937)
The Reach of the Mind (1947)
New World of the Mind (1953)

Do you know something we don't?
Submit a correction or make a comment about this profile

Copyright ©2019 Soylent Communications