Prospero Alpini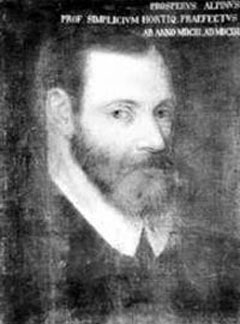 Born: 23-Nov-1553
Birthplace: Marostica, Vicenza, Italy
Died: 23-Nov-1616
Location of death: Padua, Italy
Cause of death: Kidney failure

Gender: Male
Race or Ethnicity: White
Sexual orientation: Straight
Occupation: Botanist
Nationality: Italy
Executive summary: De Plantis Aegypti liber
Military service: Milanese Army
Italian physician and botanist, born at Marostica, in the republic of Venice, on the 23rd of November 1553. In his youth he served for a time in the Milanese army, but in 1574 he went to study medicine at Padua. After taking his doctor's degree in 1578, he settled as a physician in Campo San Pietro, a small town in the Paduan territory. But his tastes were botanical, and to extend his knowledge of exotic plants he traveled to Egypt in 1580 as physician to George Emo or Hemi, the Venetian consul in Cairo.
In Egypt he spent three years, and from a practice in the management of date-trees, which he observed in that country, he seems to have deduced the doctrine of the sexual difference of plants, which was adopted as the foundation of the Linnaean system. He says that "the female date-trees or palms do not bear fruit unless the branches of the male and female plants are mixed together; or, as is generally done, unless the dust found in the male sheath or male flowers is sprinkled over the female flowers."
On his return, he resided for some time at Genoa as physician to Andrea Doria, and in 1593 he was appointed professor of botany at Padua, where he died on the 6th of February 1617. He was succeeded in the botanical chair by his son Alpino Alpini. His best-known work is De Plantis Aegypti liber (Venice, 1592). His De Medicina Egyptiorum (Venice, 1591) is said to contain the first account of the coffee plant published in Europe. The genus Alpinia, belonging to the order Zingiberaceae, was named after him by Linnaeus.
Son: Alpino Alpini (d. 1637)

University: University of Padua (1578)
Professor: Botany, University of Padua (1593-1617)

Author of books:
De Medicina Aegyptorum (1591)
De Plantis Aegypti liber (1592)
De praesagienda vita et morte aegrotontium (1601)

Do you know something we don't?
Submit a correction or make a comment about this profile

Copyright ©2019 Soylent Communications