Ruth Graves Wakefield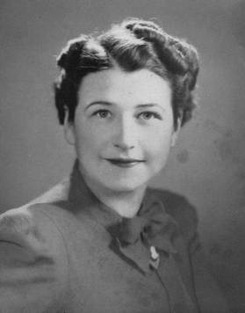 AKA Ruth Jones Graves
Born: 17-Jun-1903
Birthplace: East Walpole, MA
Died: 10-Jan-1977
Location of death: Duxbury, MA
Cause of death: unspecified
Remains: Buried, Mayflower Cemetery, Duxbury, MA

Gender: Female
Race or Ethnicity: White
Sexual orientation: Straight
Occupation: Chef
Nationality: United States
Executive summary: Inventor of chocolate chip cookies
Ruth Wakefield was an excellent cook who worked as a home economics teacher until 1930, when she and her husband used their life savings to buy a more than 200-year-old house in Whitman, Massachusetts, that had once been a roadway toll house. They turned it into the Toll House Inn, which became known for its lobster dinners and Mrs Wakefield's cookies for dessert.
It is said that on a busy but fateful day in 1930, the Toll House Inn ran out of bakers' chocolate, a necessary ingredient for her "Butter Drop Do" cookies, and Mrs Wakefield substituted a Nestle's Chocolate Bar, cut it into tiny pieces, thinking that the chocolate bits would melt into the batter as the cookies baked. Instead the chips became hot and soft, and made the cookies even more delicious.
The story is charming but dubious. Mrs Wakefield had worked as a cook, dietician, and restauranteur, had prepared chocolatey recipes thousands of times, and certainly would have known that chocolate chips dropped into batter would not dissipate and simply become chocolate cookies. Much more likely, she expected the cookies would turn out exactly as they did, with little luscious liquidy lumps of chocolate dispersed throughout.
Whatever the genesis of her genius, "Toll House cookies" became the most famous item on the menu at the Toll House Inn, and in 1939, responding to the recipe's increasing popularity, Nestlé started selling pre-packaged chocolate chips.
The Wakefields sold the restaurant when they retired in 1966, and Mrs Wakefield died in 1977. The Toll House Inn was destroyed by a fire in 1984.
Father: Fred Luther Graves (b. 26-Oct-1875, d. 1942)
Mother: Helen Vesta Jones Graves (b. 1880)
Mother: Harriette Ruggles Graves (stepmother, b. 17-Nov-1885, m. 30-Aug-1915)
Husband: Kenneth Donald Wakefield (restaurateur, b. 1897, d. 1997)
Son: Kenneth Donald Wakefield, Jr. (b. 1928, d. 1993)

University: Household Arts, Framingham State College, Framingham, MA (1924)
Teacher: Home Economics, Brockton High School, Brockton, MA (1924-26)

English Ancestry Paternal

Author of books:
Ruth Wakefield's Toll House Tried and True Recipes (1938)

Do you know something we don't?
Submit a correction or make a comment about this profile

Copyright ©2019 Soylent Communications