Michael Richards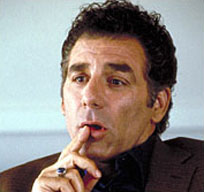 AKA Michael Anthony Richards
Born: 24-Jul-1949
Birthplace: Culver City, CA

Gender: Male
Religion: See Note [1]
Race or Ethnicity: White
Sexual orientation: Straight
Occupation: Actor, Comic
Nationality: United States
Executive summary: Cosmo Kramer on Seinfeld
Military service: US Army (1970-72)
Growing up in a single-parent home, Richards was influenced by a friend of the family, a Freemason. "I didn't have a father, but he was like a father to me. He was very charitable with his time. On Friday nights he would take me to the American Legion Hall where some of the best vaudeville acts in the country were performed." One of the acts they saw was Red Skelton, and young Richards grew up idolizing comedians like Skelton, Charlie Chaplin and Monsieur Hulot, as portrayed by Jacques Tati in French films of the 1960s. After graduating from college in 1975, Richards started a short-lived improvisational act with friend and classmate Ed Begley, Jr. He began doing standup comedy a few years later, and in 1979 he got his first paying job, performing on a Billy Crystal HBO special. In 1980 he was part of the SNL-inspired show Fridays, with Andy Kaufman. Richards created the character "Battle Boy" who was obsessed with blowing up miniature fighting figures.
Richards' Seinfeld character Kramer, based on the real Kenny Kramer, was a bizarre mix of physical comedy and optimism that set off the talky pessimism of the other three main characters, played by Jerry Seinfeld, Julia Louis-Dreyfus, and Jason Alexander. Kramer's trademark wacky entrances began when Richards missed a cue, rushed onto the set, and got a tremendous laugh just for his arrival. After Seinfeld ended, Richards starred in the short-lived The Michael Richards Show, which he has called a poor decision on his part.
While he has had trouble getting away from the role of Kramer, he is fascinated by the role of the clown in popular culture. "That is what comedy is here to tell you, that there's always a tear in the eye." In 1996 Richards was privileged to induct his hero, Red Skelton, into the Comedy Hall of Fame in Lake Tahoe. After learning that Skelton was a Freemason, like the old friend of his family, Richards became a Freemason himself.
In November 2006, he was caught on camera in a racist rant at a Los Angeles nightclub, aiming a tirade of race-based obscenities at a few black patrons who had heckled him on-stage. "Fifty years ago we'd have you upside down with a f*cking fork up your ass", Richards improvised, adding, "He's a n*gger! He's a n*gger! He's a n*gger! A n*gger, look, there's a n*gger!"
---
[1] Richards has no Jewish blood whatsoever (maternal or paternal), and has never undergone conversion to Judaism. He was not raised in any particular religious tradition. A self-proclaimed "crisis management expert", Howard Rubenstein, had made statements that Richards was Jewish, in order to defend anti-Semitic statements made by Richards in a stand-up comedy incident on 22 April 2006. His assertion of Jewishness is not borne out by facts. See Associated Press, "Michael Richards Clarifies Claim About Being Jewish", 28 November 2006.

Father: William Richards (electrical engineer, d.)
Mother: Phyllis Nardozzi (medical records librarian)
Wife: Cathleen Richards (family therapist, m. 1974, div. 1992)
Daughter: Sophia Richards
Girlfriend: Ann Talman (actress, played Robin in Seinfeld episode #37, dated 1992-93)
Girlfriend: Beth Skipp (actress, dated 2007)


High School: Thousand Oaks High School, Thousand Oaks, CA
University: Los Angeles Valley College, Valley Glen, CA
University: California Institute of the Arts, Valencia, CA
University: BFA Drama, Evergreen State College, Olympia, WA


Freemasonry
Shriners
Endorsement of Pepsi 1994
Risk Factors: Smoking, Yoga


TELEVISION
The Michael Richards Show Vic Nardozza (2000-01)
Seinfeld Cosmo Kramer (1990-98)
St. Elsewhere Bill Wolf (1984-85)
Fridays (1980-82)


FILMOGRAPHY AS ACTOR
Bee Movie (28-Oct-2007) [VOICE]
David Copperfield (10-Dec-2000)
Trial and Error (30-May-1997) · Richard Rietti
Unstrung Heroes (9-Sep-1995) · Danny Lidz
Airheads (5-Aug-1994) · Doug Beech
So I Married an Ax Murderer (30-Jul-1993)
Coneheads (23-Jul-1993) · Motel Clerk
Whoops Apocalypse (25-Jul-1991)
Problem Child (27-Jul-1990) · Martin Beck
UHF (21-Jul-1989) · Stanley Spadowski
Fresno (16-Nov-1986)
Transylvania 6-5000 (8-Nov-1985)
The Ratings Game (15-Dec-1984)
The House of God (1984) · Dr. Pinkus
Young Doctors in Love (16-Jul-1982)





Requires Flash 7+ and Javascript.



Do you know something we don't?
Submit a correction or make a comment about this profile






Copyright ©2019 Soylent Communications