Marlo Thomas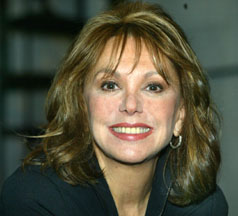 AKA Margaret Julia Thomas
Born: 21-Nov-1937 [1]
Birthplace: Deerfield, MI

Gender: Female
Religion: Roman Catholic
Race or Ethnicity: White
Sexual orientation: Straight
Occupation: Actor
Party Affiliation: Democratic
Nationality: United States
Executive summary: That Girl
Marlo Thomas played That Girl, the titular insecure, accident-prone "Ann Marie" of the sitcom that ran from 1966-71. That Girl was considered groundbreaking in its time. It was one of the first TV series to feature a "career woman" in the big city, more-or-less making it on her own (although her protective boyfriend and overprotective father were always nearby). Ann was supposed to be a struggling actress, and over the course of the show audiences saw her audition for off-Broadway plays and TV commercials for soup, perfume, and fried chicken. She even played a "bad girl" on a soap opera, within the sitcom's insular world.
Though That Girl debuted years after the birth control pill had taken America into the sexual revolution of the 1960s, Ann was always utterly proper and virginal. Much alleged hilarity would ensue if her boyfriend, the seemingly penisless Donald Hollinger, had to spend the night in her hotel room, but there could never be any doubt that he slept on the floor, far from the bed of chaste Ann.
Still, for all its silliness, That Girl's feminist bona fides cannot be disputed. If Ann knew what a feminist was, she would have considered herself one (although Donald was always expected to pick up the tab for dinner). And Thomas was executive producer of the series, although she declined to have the credit listed on screen. Thomas also insisted that there would be no wedding episode of That Girl, even when it was pointed out that as the season's final episode it would be a huge boost for the program's ratings. Her perspective was that the series was fairly certain to be canceled, and she thought having it end with the heroine's wedding would send the wrong message to young girls -- that marriage is the ultimate goal in life, and that a woman's story ends at the altar.
In the 1970s, Thomas became a more outspoken feminist, and produced and hosted the TV movie, Free to Be... You and Me, in which an all-star cast acted out a series of delightful skits for children. Each segment had a different feel-good message not too far under the script, like "feel good about yourself", or "you don't have to be what people expect". Free to Be won an Emmy as Outstanding Children's Special, and is still remembered fondly by adults who saw it decades ago, and still beloved by children who watch it on video. It is also despised and almost a cliché among the rightest of rightwingers, who use the title as shorthand for embracing your inner sinner.
She edited the inspirational book The Right Words at the Right Time, and continues to work as a stage and occasionally screen actress. In the 1990s, Thomas played the mother of Jennifer Aniston's character on Friends. Thomas remains an activist for feminist causes, adamantly pro-choice, and a supporter of liberal candidates for office. Her father was comedian Danny Thomas, star of Make Room for Daddy and founder of St. Jude Children's Hospital, where care for sick children is free, and Thomas still volunteers there.
---
[1] Thomas has given birthdates as recent as 1947, but she was born in 1937.

Father: Danny Thomas (actor)
Mother: Rose Marie Mantell
Brother: Charles Anthony Thomas ("Tony", producer, b. 1947)
Sister: Terre Thomas (fundraising executive, St. Jude Children's Hospital)
Boyfriend: Henry Kissinger
Husband: Phil Donahue (m. 21-May-1980)


High School: Marymount High School, Los Angeles, CA
University: University of Southern California


Al Franken for Senate
Amnesty International
The Creative Coalition Advisory Board
EMILY's List
Gephardt for President
Hillary Clinton for President
John Kerry for President
National Leadership PAC
Voters for Choice
Women's Campaign Forum
Kappa Alpha Theta Sorority
Broadcasting and Cable Hall of Fame
Emmy 4 times
Golden Globe
Peabody
Hollywood Walk of Fame 6904 Hollywood Blvd (television)
Rhinoplasty


TELEVISION
The Joey Bishop Show Stella Barnes (1961-62)
That Girl Ann Marie (1966-71)


FILMOGRAPHY AS ACTOR
Ocean's Eight (5-Jun-2018)
LOL (10-Feb-2012)
Two Against Time (21-Apr-2002)
Playing Mona Lisa (2000)
Starstruck (18-Apr-1998)
The Real Blonde (14-Sep-1997) · Blair
Held Hostage: The Sis and Jerry Levin Story (13-Jan-1991)
In the Spirit (6-Apr-1990)
Nobody's Child (6-Apr-1986)
Consenting Adult (4-Feb-1985)
Act of Passion (24-Jan-1984)
It Happened One Christmas (11-Dec-1977)
Thieves (11-Feb-1977)
Jenny (2-Jan-1970)





Requires Flash 7+ and Javascript.



Do you know something we don't?
Submit a correction or make a comment about this profile






Copyright ©2019 Soylent Communications