Robert Silverberg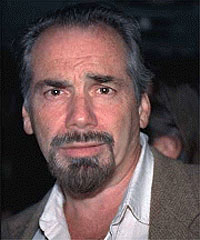 Born: 15-Jan-1935
Birthplace: Brooklyn, NY

Gender: Male
Religion: Jewish
Race or Ethnicity: White
Sexual orientation: Straight
Occupation: Novelist
Nationality: United States
Executive summary: Nightwings
Science fiction and fantasy author Robert Silverberg is known for such novels as Dying Inside, Son of Man, and Lord Valentine's Castle. His short fiction includes "Nightwings" (later an award winning novel), "A Time of Changes", "Good News from the Vatican", and "Born with the Dead". In his 40 years as author Silverberg has won five Nebula Awards and four Hugos and is a past president of the Science Fiction Writers of America. Asimov once said of him, "Where Silverberg goes today, the rest of science fiction will go tomorrow!"
Silverberg became an avid science fiction reader as a child. As a teen he dreamed of seeing his own work published in the pulp science fiction magazines he so loved. In 1949, at age fourteen, he began his own fanzine, and by 1953 he had sold his first professional story. A couple of years later, in 1955, while enrolled at Columbia University, he moved into an apartment building that just happened to house science fiction authors Harlan Ellison and Randall Garrett. Garrett eventually introduced Silverberg to a number of prominent editors and even collaborated with him on several projects (often under the name "Robert Randall") including the novelettes "The Chosen People", "False Prophet", and "The Shrouded Planet".
By 1956, Silverberg had graduated with a degree in Comparative Literature. After a scant three years, riding a wave of commercial success that other writers only dreamt of, he announced his retirement as a science fiction writer. His "professional" strategy of focusing his writing into themes (and styles) that would sell or be well received had burned him out creatively. He began instead to dabble in other genres. He produced approximately 70 non-fiction books, many on pet topics such as archaeology, exploration, and prehistory. During this period he wrote both a large number of books for young people and, ironically, a great many soft-core porn novels (the latter under the pseudonym Don Elliot).
Eventually, Silverberg did return to the science fiction scene, lured back by author/editor Frederik Pohl who suggested to him that editors and readers alike were ready for a new generation of science fiction, one with stories that were more literate and which contained more richly endowed characterization, plot, and language (in addition to the usual preoccupation with gee-whiz new ideas). This suggestion opened the door to the transition from Silverberg the commercial writer to Silverberg the artist, a transition that allowed him to enthusiastically dabble in complex, unconventional tales that were often dark and philosophical.
But the strain of trying to churn out higher caliber work at the same old rapid pace, coupled with the fact that the masses didn't seem to "get" his new material, led to another burn-out and another retirement. But this retirement too would prove only temporary. In 1978 Silverberg published Lord Valentine's Castle, proving to himself, as well as others, that he could walk the balance between artistic depth and popular appeal.
Father: Michael Silverberg
Mother: Helen Silverberg
Wife: Barbara Brown (m. 1956, div. 1986)
Wife: Karen Haber (author, m. 1987)

High School: Erasmus Hall High School, Brooklyn, NY (1952)
University: AB English Literature, Columbia University (1956)

Hugo 1956 for Best New Writer
Hugo For Nightwings
Nebula For A Time of Changes
Hugo For Gilgamesh in the Outback
Hugo For Enter a Soldier. Later: Enter Another
Nebula 1970 for short story Passengers

Official Website:
http://www.majipoor.com/
Author of books:
Revolt on Alpha C (1955, novel)
Collision Course (1961, novel)
The Silent Invaders (1963, novel)
Thorns (1967, novel)
Nightwings (1969, novella)
Downward to the Earth (1969, novel)
The World Inside (1971, novel)
A Time of Changes (1971, novel)
Lord Valentine's Castle (1980, novel)
Valentine Pontifex (1983, novel)
Gilgamesh in the Outback (1987, novel)
At Winter's End (1988, novel)
Enter A Soldier. Later, Enter Another (1989, novel)
Kingdoms of the Wall (1993, novel)
Mountains of Majipoor (1995, novel)
Lord Prestimion (1999, novel)

Do you know something we don't?
Submit a correction or make a comment about this profile

Copyright ©2019 Soylent Communications