A Clockwork Orange (19-Dec-1971)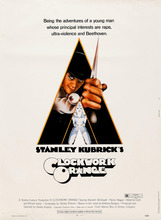 Director: Stanley Kubrick
Writer: Stanley Kubrick
From novel: A Clockwork Orange by Anthony Burgess
Electronic Music Composed and Realised by: Wendy Carlos
Producer: Stanley Kubrick
Keywords: Thriller, Rape, Prison, Dark Comedy, Controversial, Dystopian




Alex DeLarge and his band of droogs fill their nights with "a bit of the old ultraviolence" -- they adopt rape/homicide as a hobby, gaining access to their houses by ruse. After his fellow droogs turn on him, Alex is imprisoned and reprogrammed with experimental mind control techniques. Received Oscar nominations for Best Picture, Best Director, Best Screenplay and Best Editing.
CAST
Malcolm McDowell
... Alex
Patrick Magee
... Mr. Alexander
And Featuring
Michael Bates
... Chief Guard
Warren Clarke
... Dim
John Clive
... Stage Actor
Adrienne Corri
... Mrs. Alexander
Carl Duering
... Dr. Brodsky
Paul Farrell
... Tramp
Clive Francis
... Lodger
Michael Gover
... Prison Governor
Miriam Karlin
... Catlady
James Marcus
... Georgie
Aubrey Morris
... Deltoid
Godfrey Quigley
... Prison Chaplain
Sheila Raynor
... Mum
Madge Ryan
... Dr. Branom
John Savident
... Conspirator
Anthony Sharp
... Minister
Philip Stone
... Dad
Pauline Taylor
... Psychiatrist
Margaret Tyzack
... Conspirator
Also Featuring
Steven Berkoff
... Det. Const. Tom
Lindsay Campbell
... Police Inspector
Michael Tarn
... Pete
David Prowse
... Julian (bodyguard)
Barrie Cookson
...
Jan Adair
... Handmaiden
Gaye Brown
... Sophisto (in milkbar)
Peter Burton
...
John J. Carney
... Detective Sgt.
Vivienne Chandler
... Handmaiden (in fantasy)
Richard Connaught
... Billy Boy (gang leader)
Prudence Drage
... Handmaiden (in fantasy)
Carol Drinkwater
... Nurse Feeley
Lee Fox
... Desk Sgt.
Cheryl Grunwald
... Rape Victim
Gillian Hills
... Sonietta
Craig Hunter
... Doctor
Shirley Jaffe
... Victim
Virginia Wetherell
... Actress
Neil Wilson
... Prison Officer
Katya Wyeth
... Girl in Fantasy
REVIEWS
Review by lola digaletos (posted on 30-Oct-2007)
based on the 1968 novel by Anthony Burgess, A Clockwork Orange is a thrilling dark piece of cinema set in a dystopian future. Alex De Large (Malcolm McDowell) finds euphoria in drinking spiked milk in the Korova milk bar, leading his pack of droogs on ventures of ultra-violence and listening to Beethovens ninth. At the beginning of the film, he seems to epitomize evil. Whether it is his seemingly innocent blue eyes and cheeky side grin, that he refers to the viewer as "Oh my brother" and himself as "Your humble narrator" or the fact that he exudes optimism, charm and charisma, you inevitably end up batting for him and feeling your heart strings pull on his behalf. Through a twist of treachery from his unsatisfied droogs, Alex finds himself at the opposite end of the 'tolchoking' and in jail, where he hears of a new treatment that gets prisoners out of jail earlier. this is where the meaning of the story really comes in, the fragility of the individual. as Alex is being brainwashed, you can't help but feel his sickness as his face convulses with pain and horror. The strange language called Nadsat(meaning 'teenager' in Russian) coined by Anthony Burgess is endearing and Malcolm Macdowell plays the role of Alex with all of his heart, inhabiting the character of Alex rather than acting him, something few actors bother doing nowadays. A Clockwork Orange is stunning in every aspect, visually with the genius of Kubrick and the skills of Macdowell, Aurally with the sounds of Beethoven and other classics and a haunting Moog soundtrack that plays in the most crucial roles and really sets the dark scenes. A Clockwork Orange is a piece of cinematic masterpiece. from beginning to end, it is like watching a heartwrenching, often comedic, realistically (too much so) acted piece of wonderful wonderful art. think carefully before you watch this film, it is very very beautiful and it will utterly break your heart. and make you have little smeck.
---
Do you know something we don't?
Submit a correction or make a comment about this profile

Copyright ©2019 Soylent Communications