Carbine Williams (May-1952)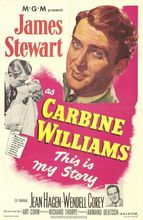 Director: Richard Thorpe
Writer: Art Cohn
Musical Score: Conrad Salinger
Producer: Armand Deutsch




A moonshiner serving a thirty-year prison sentence for shooting a federal officer is allowed to tinker in the machine shop, where he develops the M1 Carbine. His gun, a short repeating rifle, is one of the primary weapons used by the United States during WWII.
| Name | Occupation | Birth | Death | Known for |
| --- | --- | --- | --- | --- |
| James Arness | Actor | 26-May-1923 | 3-Jun-2011 | Marshal Matt Dillon on Gunsmoke |
| Henry Corden | Actor | 6-Jan-1920 | 19-May-2005 | Hanna-Barbara voice actor |
| Wendell Corey | Actor | 20-Mar-1914 | 8-Nov-1968 | Desert Fury |
| Leif Erickson | Actor | 27-Oct-1911 | 29-Jan-1986 | The High Chaparral |
| Jean Hagen | Actor | 3-Aug-1923 | 29-Aug-1977 | Singin' in the Rain |
| Jonathan Hale | Actor | 21-Mar-1891 | 28-Feb-1966 | J. C. Dithers |
| Porter Hall | Actor | 19-Sep-1888 | 6-Oct-1953 | Going My Way |
| Carl Benton Reid | Actor | 14-Aug-1893 | 16-Mar-1973 | The Little Foxes |
| Jimmy Stewart | Actor | 20-May-1908 | 2-Jul-1997 | Mr. Smith Goes to Washington |
| Paul Stewart | Actor | 13-Mar-1908 | 17-Feb-1986 | Citizen Kane |
| Rhys Williams | Actor | 31-Dec-1897 | 28-May-1969 | The Bells of St. Mary's |
REVIEWS
Review by anonymous (posted on 13-Nov-2006)
This is an excellent film about a very proud man, Carbine Williams(James Stewart), who made the best moon-shine in North Carolina. Federal agents raid his still and a gun fight gets started. One of the federal agents is killed during the gun fight. Williams is arrested but the jury will not convict him and the result is a hung jury. He is persuaded to plead guilty to a lesser crime for which he is promised a light sentence. A new judge is brought in and he is sentenced to 30 years in prison. He is devastated at first. The prison guards try to break him by putting him into a tin shack where he cannot sit or stand up completely. The pain in his back is so great that the only way he can cope with the pain is to retreat into his mind. He uses his imagination to completely construct a new type of rifle in his mind. A prison guard(Corey) takes pity on him and gives him a prison job in the repair shop. During the next 8 years in prison, he takes an old wagon axle and only using simple tools, constructs the most advanced automatic rifle ever made up to that time. When the rifle is discovered and confiscated, he is brought up before the disciplinary committee. Williams actually wants to shoot the rifle to prove that it really works. The committee can't imagine such a thing. A prisoner allowed to build his own rifle and then shoot it on prison grounds? Finally, the same prison guard(Corey) speaks up for Williams. It becomes obvious that this guard has a lot of respect for the man. He says that if Carbine Williams uses the gun to escape, that he will serve the remainder of his sentence. When the proud day comes, Williams is allowed to fire his rifle several times on prison grounds. At the same time an expert is brought in to look at the now famous rifle. He lets everyone know that Williams is a genius level gun designer and that he should be out of prison and making guns full time. He is soon released from prison to manufacture his new rifle. During World War II, the M1-Carbine that Williams designed and built in prison became the weapon of choice for United States paratroopers. It had the advantage of being very light weight. James Stewart does a wonderful job of acting in this movie. It is one of his best.
---
Do you know something we don't?
Submit a correction or make a comment about this profile

Copyright ©2019 Soylent Communications